After serving his country, John Bailey among Delta's first black airline pilots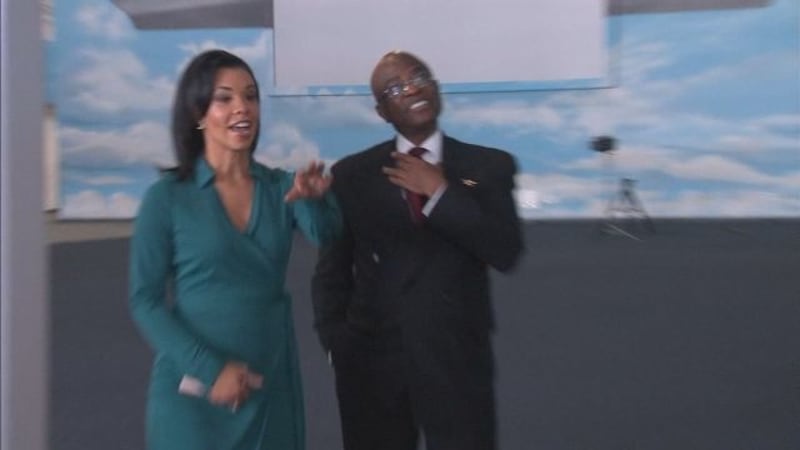 Updated: Mar. 1, 2018 at 11:01 AM EST
ATLANTA, Ga. (CBS46) - Retired Delta Air Lines captain John Bailey still has flying in his blood.
He admits every time an airplane goes overhead, he looks up.
"My mother said that I wanted to be a cowboy at first, but as I recall, even before college I think I wanted to fly," Bailey reminisced.
Bailey eventually did so, first in the U.S. Air Force during the Vietnam War and then for Delta Air Lines as one of the few black pilots who earned their wings in the years following the Civil Rights movement.
PLANES IN HIS ROOM, PLANES IN THE SKY
As a child, Bailey was fascinated by flying. Airplanes hung from his bedroom ceiling at a time when flying was all but reserved for the military and for people who could afford the price of commercial flights.
Bailey received an officer's commission in the U.S. Air Force, a common route for many would-be aviators who sought a career in a cockpit, but a medical examination almost kept him on the ground.
"This airman who gave me the physical, I don't think he liked me," Bailey laughed. "He said I had sickle cell anemia, he said I had poor eye acuity, poor eye accommodation, on and on."
The results forced Bailey to work as a logistics officer. However, his time on the ground was brief, thanks to an invitation from his commanding officer to play basketball. After the game, the officer asked Bailey why he wasn't on flight status. Bailey pointed to the results of his physical.
"You don't have sickle cell anemia," Bailey recalled his colonel's response. "You couldn't run up and down this court the way you did if you had sickle cell anemia."
A new examination confirmed the colonel's on-the-court test of the young pilot, and soon, Bailey was back on flight status. His Air Force career included 120 combat missions and hundreds of hours in the cockpit.
However, Bailey knew his future as an aviator would eventually lead him to a career as a commercial airline pilot.
"It's more humdrum, flying passengers and flying through weather, as opposed to being shot at, so it's much nicer," he joked.
FROM THE AIR FORCE TO DELTA
Bailey's commercial career began at a time when few black pilots flew for airlines. Racial discrimination in the 1950s and early 1960s kept commercial cockpits as whites-only. In 1957, Marlon Green, a U.S. Air Force pilot, applied for a job with Continental Airlines, only to be denied after the airline discovered he was black.
Green's subsequent lawsuit led to a 1963 U.S. Supreme Court decision that found he was the victim of discrimination. The landmark ruling broke the color barrier for commercial pilots, and the following year, American Airlines became the first commercial airline to hire a black pilot. Continental would eventually hire Green in 1965.
In 1968, Delta Air Lines hired its first black pilot, Sam Graddy. Though Bailey, then in the U.S. Air Force, never met Graddy at that time, his name was almost legendary.
He was "bigger than life," Bailey said of Graddy. "I'd heard about Sam, even in Vietnam."
Bailey called Graddy to discuss several job offers from competing airlines. The two spent an hour on the phone, and later met in person for dinner. Bailey recalled Graddy left him with an unforgettable piece of advice.
"Black pilots fly with white pilots every day, but they fly with a black pilot maybe once in a lifetime. It's up to you to establish a degree of comfort in the cockpit, so they're comfortable flying with you," Bailey recalled from his meeting with Graddy, "Let them know that you're just another pilot."
Bailey followed his mentor as a new Delta pilot. The two even flew together, which Bailey remembered as a "great time," though he admits he was nervous because "I wanted to prove myself."
"Imagine the thought of flying with the Sam Graddy," Bailey said with a smile on his face.
Bailey flew numerous planes for Delta in his nearly 30 years as a pilot. One of them, the Spirit of Delta, is now on display at the Delta Flight Museum, within sight of an exhibit honoring him and Delta's other pioneering black pilots and crew members.
He took CBS 46′s Tracye Hutchins on a tour of the plane, which is mostly a museum itself, but the cockpit is still the same as Bailey remembers.
"It's a gorgeous airplane, it really is," Bailey said as he looked over the Boeing 767 and its glass cases of Delta flight memorabilia from prior decades.
INFLUENCING THE PILOTS OF TOMORROW
Now retired from Delta, Bailey hopes his experience will convince more people to follow in his footsteps as a pilot. He speaks to students about careers in commercial and military aviation, from pilots to mechanics and air traffic controllers.
"It's important now that we get kids interested in flying," Bailey said. "It appears the magic, the mystique of flying, isn't there anymore and we've got to somehow convince more kids to want to become pilots."
Government and industry statistics show aviation remains mostly dominated by older white men. The average age of a licensed pilot is nearly 45 years, according to the General Aviation Manufacturers Association. Nine out of 10 pilots are white men, data from U.S. Bureau of Labor Statistics shows, and fewer than one in ten are blacks or women.
These statistics are something Bailey hopes to change by encouraging more people to pursue aviation careers.
"It's not just African-American pilots," he said, "I want more female pilots, I want more Asian pilots. As one of my kids said, the airplane doesn't know your skin color, it's just an airplane."
At Delta, two pilots made history at the airline in 2017 by being the first black women to make up the cockpit crew on one of the airline's main flight routes.
Capt. Stephanie Johnson and First Officer Dawn Cook flew an Airbus A320 from Detroit to Las Vegas in February of that year. Johnson had already made history as Delta's first black female captain.
"There were no pilots in my life growing up, and I think I'm the first person in my family to graduate from college," Johnson said in a video on Delta's website. "But for as long as I can remember, I have been fascinated with airplanes and would think, 'What a great thing it would be to know how to fly.'"
Such milestones are a source of pride for Bailey as he looks back on a long career and a future he hopes will be filled with pilots who shared his dream as a child.
"I do remember asking myself, why me, why was I selected to do this? Maybe a few years ago, after I retired, I thought, why not me," Bailey said, "I've worked hard, I deserve it. That's what I tell [students], why not you?"
Copyright 2022 WGCL. All rights reserved.