Funeral held for 3 killed at Coweta County shooting range
Published: Apr. 8, 2022 at 11:11 PM EDT
|
Updated: Apr. 12, 2022 at 2:54 PM EDT
COWETA COUNTY, Ga. (CBS46) – A funeral for the three victims murdered during an armed robbery at a shooting range in Grantville was held Thursday.
The funeral was held at Unity Baptist Church in Newnan at 2 p.m. McKoon Funeral Home coordinated the funeral.
Family members told CBS46 they want the funeral to be about remembering who Tommy, Evelyn and Luke were as people as they grieve this immeasurable loss.
"I've known Tommy and Evelyn basically my entire life our families came up in the same church together and our families are just intertwined," said Ron Whitlock. "He was a strong silent guy that you could entrust with whatever you needed to talk about."
Whitlock says Evelyn played piano at her church and was known for her cooking and words of wisdom.
Luke Hawk, who was supposed to head off to college in the fall, was helping his grandparents when the nightmare unfolded.
He was long and lanky and growing into himself and excited to go off to college," family member Shelby Wright said fighting back tears.
Meanwhile, the hunt for the killer continues. A reward for information leading to the arrest and conviction of the person responsible for killing Tommy, Evelyn and Luke Hawk has been raised to $25,000.
Gov. Brian Kemp signed an executive order Monday authorizing an additional $10,000 to be added to the reward in the case. Grantville PD is also accepting private donations now to help increase the reward.
According to Grantville police, the robbery took place at Lock Stock and Barrell shooting range sometime after 5:30 p.m. Friday. When police arrived on the scene, they found that the range's owner, his wife, and their grandson had been murdered. Police have identified the owner as Richard "Tommy" Hawk. His wife was Evelyn Hawk and their grandson was Luke Hawk, a senior at East Coweta High School.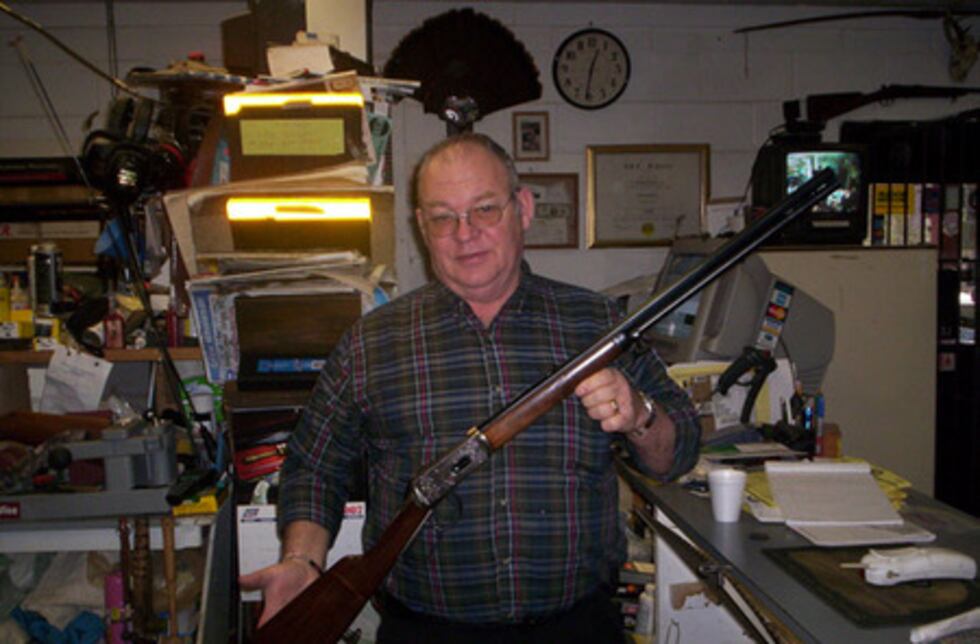 "It's really hard because, we don't have stuff like that here in Grantville like that," Grantville Police Chief Steve Whitlock told CBS46. "I've been doing law enforcement for a little over 40 years and whoever did this, this was, this was kind of different."
The family's pastor said the Hawk family took him under their wing when he started as a new pastor a year and a half ago at their church, Emmanuel Baptist Church. Evelyn played the piano at church.
"Very good God fearing people," said Pastor Ben Sprenger. "Loved life, loved people, you felt it, you knew they love you. Quiet, reserved, they wouldn't always say but they would live it and to me I'm learning that speaks a lot more than words."
Sprenger said Luke was preparing to graduate from East Coweta High School with honors and had a scholarship to attend Abraham Baldwin Agricultural College.
"He's a gem, brilliant," said Sprenger.
He is now leading his congregation through this difficult time.
"You're seeing the full range of emotions, the anger, the questions, the fears, but also for us there's a great sense of inexplicable peace and even joy," the pastor said.
In an emotional letter posted to social media, Coweta County Sheriff Lenn Wood wrote: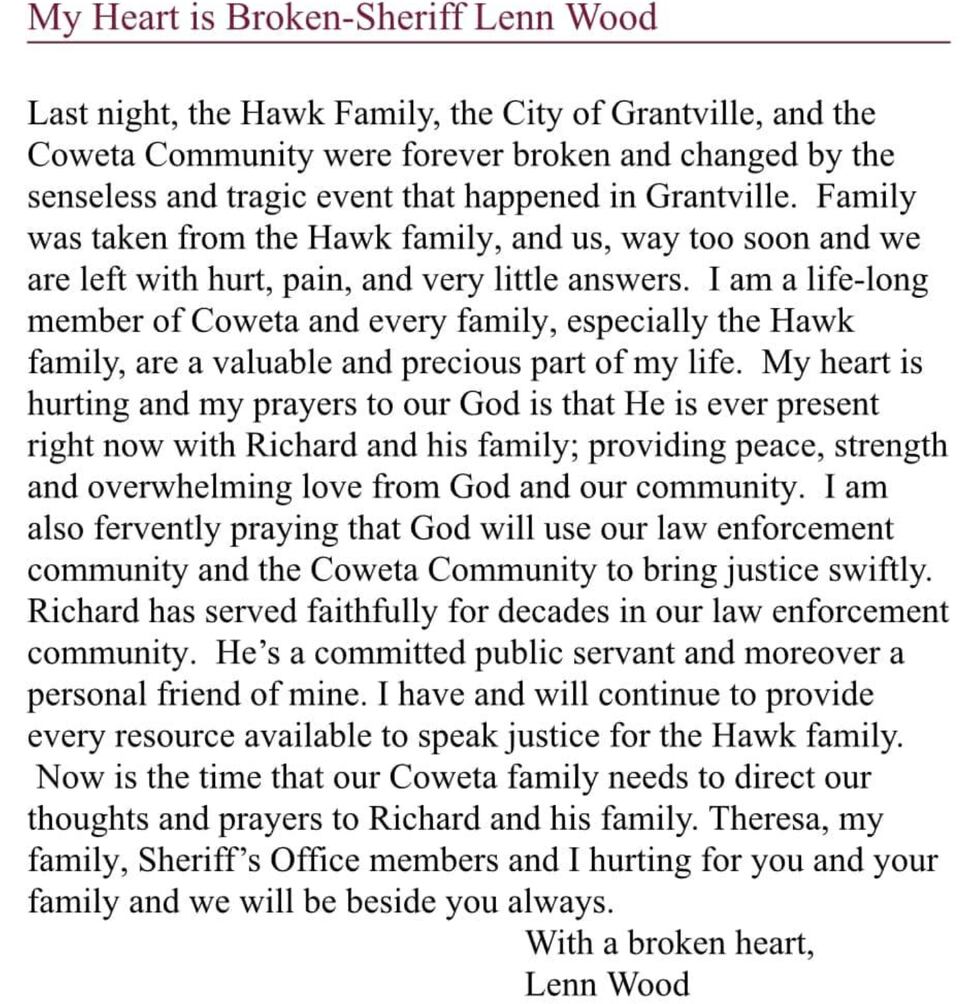 "Let's keep Richard Hawk and family in our prayers," the police added in a Facebook post.
Grantville Police say approximately 40 guns and the security camera DVR were taken from the scene. Both the Georgia Bureau of Investigation and the ATF were called to help investigate the case. The Coweta County Sheriff's Office is also assisting in the investigation.
The ATF along with the National Shooting Sports Foundation announced the combined reward Saturday morning.
"ATF and our law enforcement partners will work tirelessly to bring the killer(s) to justice," said Atlanta Field Division Special Agent in Charge Benjamin P. Gibbons. "The brutality of these senseless murders along with the fact that these killer(s) have acquired additional firearms make solving this case our top priority."
"Armed suspects and stolen firearms pose a potential danger to citizens and communities. ATF is soliciting the public's assistance with any information that leads to those responsible for these crimes."
The Hawk family thanked the community for their support in a written statement to CBS46.
Police are asking for the community's help in gathering any information about the incident. Police say anyone in the area who may have driven by the range between 5:30 p.m. and 6:30 p.m. Friday may have seen vehicles other than a "white Ford dually truck" and a black Ford Expedition or saw anything along Bohannon Road is asked to call the GBI Tip Line at 1-800-597-TIPS.
Police are also asking for everyone to share this information so that more people can be aware of the incident and possibly provide information.
Meanwhile, friends of the family told CBS46 that this loss hits hard for the community.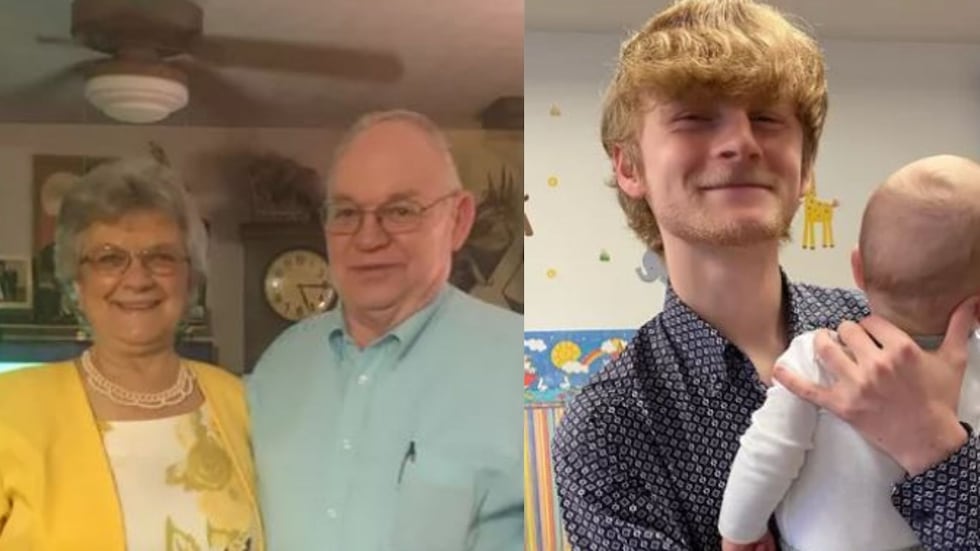 "It's a loss to the community and everyone," said longtime friend Tony. "I don't understand why someone would take their lives, they were so nice, they would do anything. "
A GoFundMe has been set up for the Hawk family here.
NOTE: CBS46 does not vet any GoFundMe pages or promises the money will be used for the stated reasons. Donate at your own risk.
Authorities gave an update on the investigation on April 11. Watch below:
Copyright 2022 WGCL. All rights reserved.