Atlanta PD releases names of protesters arrested, video of Molotov cocktail fire
Published: May. 17, 2022 at 2:16 PM EDT
ATLANTA, Ga. (CBS46) - The Atlanta Police Department has released the names of the 7 people arrested Tuesday during a protest at the future site of a police training facility.
They are 28-year-old Phillip A. Flagg of Worchester, Mass.; 38-year-old Lee Ana-Gypsy of Gainesville; 24-year-old Elizabeth Hoitt-Lange of Sea Cliff, New York; 27-year-old Erin Brault of Sykesville, Maryland; 28-year-old Madeleine Kodat of Philadelphia; and 23-year-old Abigail E. Skapyak of Minneapolis.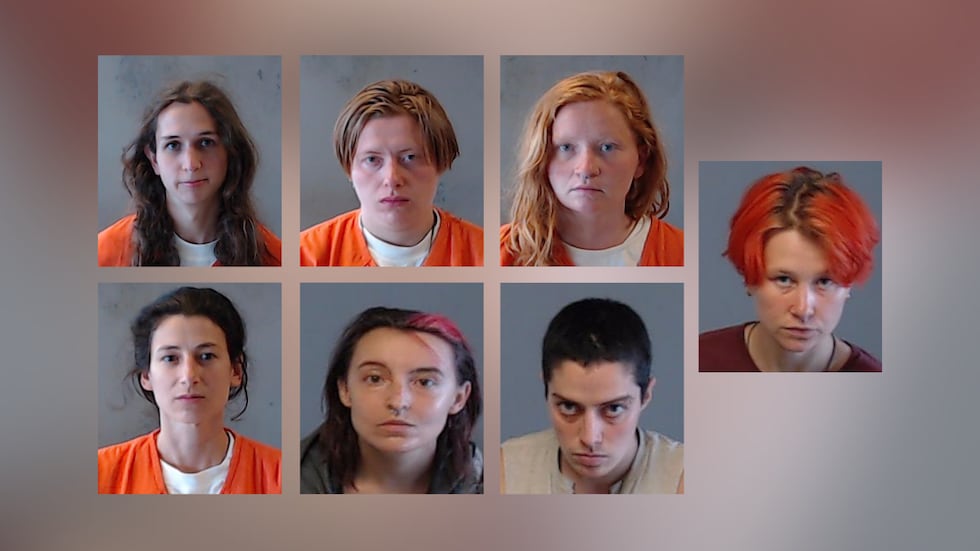 Additionally, they have released video that shows the fire that was reportedly started by one of the Molotov-type devices that were allegedly thrown at the officers by the protesters.
NOTE: Police originally said 8 people were arrested. They now say 7 people were arrested.
ORIGINAL STORY
Eight people were arrested Tuesday near the planned site Atlanta Police Foundation's Public Safety Training Center in DeKalb County, according to the Atlanta Police Department. DeKalb Police and Georgia State Patrol assisted the Atlanta Police Department with the arrests.
During a press conference shortly before 2:30 p.m., Atlanta PD told the media that the protesters threw what appeared to be Molotov cocktails and rocks at their officers during the incident. Fortunately, no one was injured. A spokesperson for the department also told the media that many of the protesters they have encountered at this protest and others are from other states.
"The action today was to remove some illegal structures that had been built on the site and on the property. While individuals were there. They were approached by persons that started throwing rocks started throwing rocks at the police officers, as well as the device that we believe to be a Molotov cocktail at the officers," Atlanta Police Assistant Chief Darin Schierbaum said.
"There has been a number of concerted efforts to stop the Public Safety Training Center by committing criminal acts here in Atlanta, into Cobb County in Birmingham, Alabama, and other states. And we appreciate the Federal Bureau of Investigation joining this investigation to stop these attempts of intimidation to stop these criminal acts for this public safety training center," Schierbaum said.
Opponents to the training facility, which is scheduled to be built on the old Prison Farm site near South River Forest in southeast Atlanta, say it will destroy hundreds of acres of Atlanta's largest urban forest. In addition to protests at the site, protesters have also been camping out in the forest for several months.
The Atlanta City Council voted last September to lease the land to the Atlanta Police Foundation to build the 85-acre center. Since then, activists, environmentalists, and urbanists have voiced their disagreement with the plan. Instead, they would like to preserve the old Prison Farm site as a public green space.
Protesters have also gathered outside of individuals' homes associated with the project, including Shepherd Long, principal of Long Engineering, which has been subcontracted to do surveying and other pre-construction work.
The training facility, which will include classrooms, a shooting range, an emergency vehicle driving course, a "burn building" and more, is scheduled to open in late 2023.
A few days ago, protesters gathered in front of a downtown corporate office for AT&T in an effort to persuade them to pull their funding from the Atlanta Police Foundation.
The protesters have used the phrase "Stop Cop City" to bring attention to their fight.
"The majority of individuals that are being arrested here in Cobb County and other places have driver's license from Pennsylvania, from Tennessee, from Rhode Island, from Virginia, from New York, and from Minnesota. These are individuals that represent the interests of the community that I stand here representing today," Schierbaum said.
Atlanta Police tell us they charged the protestors were arrested with criminal trespass and even obstruction of law enforcement officers.
Copyright 2022 WGCL. All rights reserved.