One promise became a lifelong mission for this Atlanta family advocate
"This program, every part of it, has been built because of the heart of the community."
Published: Jul. 1, 2022 at 9:02 PM EDT
ATLANTA, Ga. (CBS46) - A metro Atlanta woman found her life forever changed after meeting one special little boy, separated from his family due to poverty.
"He had all his clothes in a trash bag because he was waiting for the social worker to come and pick him up and tell him he could go home," said Sarah Winograd, a key member of Together for Families. "So, I made a promise to him, that I would fight to bring him home."
Winograd fulfilled that promise, and along the way she discovered her calling in life. She decided to continue fighting for others just like him, to bridge the gap between the justice system and families in danger of losing their children.
Families kept coming in or calling, in need of assistance, seeking resources, beds, dental care, extermination services, medical care, or transportation. What began as a grassroots effort working to meet the needs of families in crisis continued to grow as the community offered money, supplies, and more, now operating under the umbrella of Advocates for Children.
"This program, every part of it, has been built because of the heart of the community," said Winograd.
The CBS46 Surprise Squad decided it was time to give something back to her in appreciation for the amazing work she had done. Winograd was greeted by CBS46′s Gurvir Dhindsa and members of the community, all there to say thank you.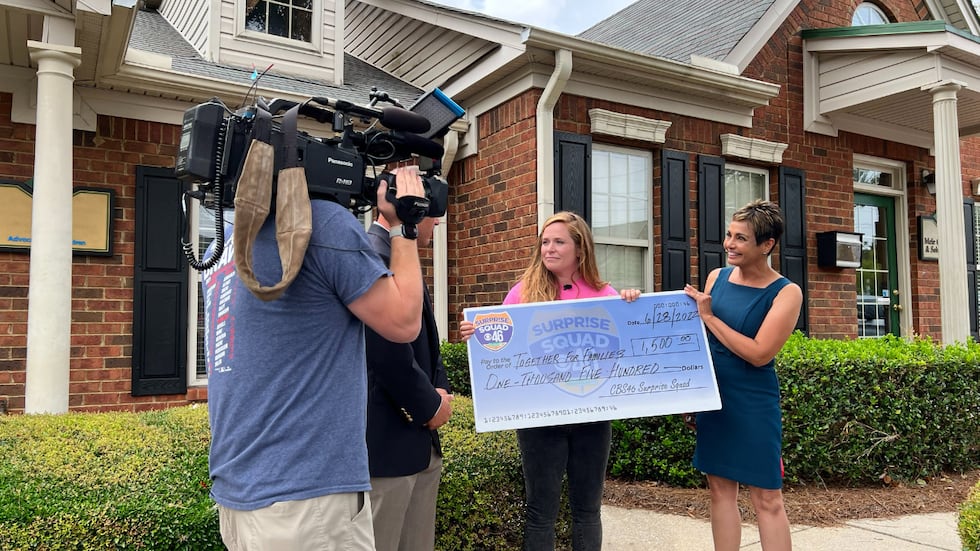 United Community Bank made a $1,500 donation towards the organization, while a Dunkin gift box held a number of goodies that included a $100 gift card to help fuel Winograd's coffee drinking. Perhaps the biggest surprise was a $500 spa gift card, allowing a chance for a woman who does more for others to have a chance to do a little something for herself.
Even as the CBS46 Surprise Squad arrived to give back to Winograd, she was at work preparing celebratory gifts for a family reunification ceremony being held by DFCS, ever-focused on helping others.
For more information on how you can help Advocates for Children click here.
If you know someone who is making a difference, we'd love to hear from you. Send us an email at surprisesquad@cbs46.com so we can show them some much-deserved appreciation.
Copyright 2022 WGCL. All rights reserved.