LIVE BLOG: Hurricane Ian impacts on Florida | Sept. 28, 2022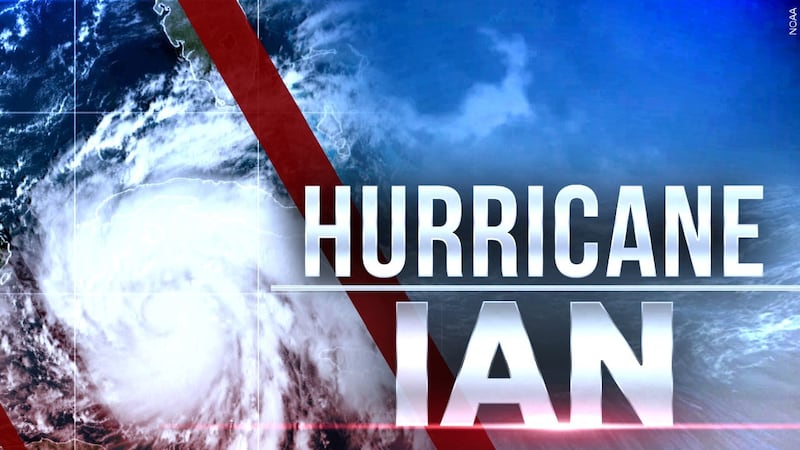 Published: Sep. 28, 2022 at 8:36 AM EDT
|
Updated: Sep. 28, 2022 at 1:02 PM EDT
ATLANTA, Ga. (Atlanta News First) - Hurricane Ian is expected to make landfall in Florida today and rain is expected to start in North Georgia on Friday. As of early this morning, Ian was a category 4 hurricane and is expected to make landfall early this afternoon north of Fort Myers near Port Charlotte.
11:00 p.m.
First Alert: The latest on how #Ian will impact Georgia. Not much at all in Metro Atlanta. A showery Friday night - the wind may actually be stronger on Thursday (20-30 mph) with sunshine then it will be Friday night in ATL. I'm tracking it on @ATLNewsFirst at 11. pic.twitter.com/EhhAgTaIHx

— Fred Campagna (@FredCampagna) September 29, 2022
10:00 p.m.
9:00 p.m.
8:00 p.m.
Metro Atlanta families riding out Hurricane Ian in Central Florida.
7:00 p.m.
Flying into the eye of Ian: Reporter Madeline Montgomery and photojournalist Gary Stillwell traveled to the Keesler Air Force Base in Biloxi, Mississippi, to fly with the "hurricane hunters."
6:25 p.m.
Trees are down in St. Petersburg.
5:35 p.m.
Floridians prepare for Hurricane Ian as it makes landfall
5:25 p.m.
Atlanta Public Schools announces it is canceling or postponing all athletic events, after-school activities, and field trips scheduled for Sept. 30 and Oct. 1.
The school day on Sept. 30 will proceed as normal, in person. District administrators will continue to participate in calls with the National Weather Service and continue to monitor the path of the storm and related weather conditions associated with this evolving situation. Normal operations are anticipated to resume on Oct. 3.
4:30 p.m.
Hall County announces it is activating its Emergency Operations Center at 9 p.m. Sept. 29 and remain activated until the tropical threat passes and impacts to our community have been properly mitigated.
4 p.m.
Hurricane Ian makes landfall in Cayo Costa. Here's latest on how much it will impact Georgia.
1:15 p.m.
Hurricane Ian is being felt in Florida.
12:05 p.m.
Energy crews are being staged in Florida as they monitor the impacts of Hurricane Ian.
11:58 a.m.
Reporter Patrick Quinn is in Florida and he is checking on residents and what they are doing in advance of landfall by Hurricane Ian today.
11:19 a.m.
Gov. Kemp visited the Georgia Emergency Management Agency on Wednesday morning after his press conference.
11:15 a.m.
Atlanta News First crew headed up in the sky with hurricane hunters. They will be flying through the eye of Hurricane Ian. READ MORE HERE
10:30 a.m.
It appears that the impacts from Hurricane Ian on North Georgia have decreased significantly.
10 a.m.
FEMA provides the latest update on the path of Hurricane Ian.
9:40 a.m.
Reporter Rebekka Schramm is giving an update on preparations in Georgia in advance of potential impact from Hurricane Ian.
9:15 a.m.
Atlanta News First Meteorologist Courteney Jacobazzi gives update from Florida.
8:30 a.m.
The eyewall of Hurrican Ian is around 20 miles wide and is moving NNE at 10 mph. Some areas are expecting 120-150 mph winds.
8:15 a.m.
Georgia Gov. Brian Kemp is talking about the impacts of Hurricane Ian on Georgia and the preparations that are underway.
8 a.m.
FIRST ALERT: Hurricane Ian to make landfall soon; Rain to start in north Georgia Friday
7:34 a.m.
It is a worst-case scenario for millions of Americans along the SW Florida coastline.
Copyright 2022 WANF. All rights reserved.