Georgia voters flex their political muscles like never before in 2022
Brian Kemp, Herschel Walker, Raphael Warnock, Stacey Abrams and Andre Dickens also dominated this year's political headlines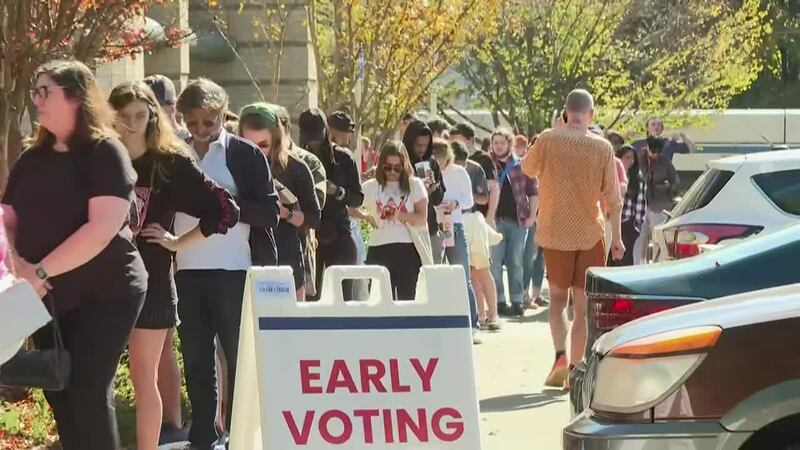 Published: Dec. 27, 2022 at 9:05 AM EST
|
Updated: Dec. 27, 2022 at 9:11 AM EST
ATLANTA, Ga. (Atlanta News First) - During a year when Georgia's campaigns were dotted by occasional pop-ups from Hollywood (Oprah Winfrey), legal (Gloria Allred) and national political (Barack and Michelle Obama, Mike Pence and Donald Trump) celebrities, 2022 belonged to Georgia voters, who broke virtually every early voting number on record and cast more absentee ballots than ever before.
For a state whose voting laws continue to be labeled "Jim Crow 2.0″ by progressives and Democrats, 2022 proved absentee balloting and early voting are among the most popular and widely used electoral measures by the state's ever-changing electorate.
Early voting and absentee ballots cast in every statewide election - from the May primaries to the U.S. Senate runoff - provided more ammunition for Republicans and conservatives to debunk claims they are trying to disenfranchise minority voters.
Atlanta's political headlines began the year with the inauguration of its 61st mayor, Andre Dickens.
Later that summer, the city's political, business and social leaders were stunned when Atlanta Medical Center announced it was closing Nov. 1.
But the biggest political stories of 2022 were Georgia's nationally watched midterm elections and the record-breaking early voting numbers and large numbers of absentee ballots that were cast.
While Dickens and city Democratic leaders cast a bid to host the 2024 Democratic National Convention, President Joe Biden and national party leaders are trying to place to Georgia as one of the first five states to start the presidential election season.
Georgia's other top political headlines of 2022 included:
Atlanta News First and Atlanta News First+ continue to provide you with the latest news, headlines and insights as Georgia continues to be at the forefront of the nation's political scene.
Copyright 2022 WANF. All rights reserved.