Discover Georgia podcast: New book highlights things to do in the north Georgia mountains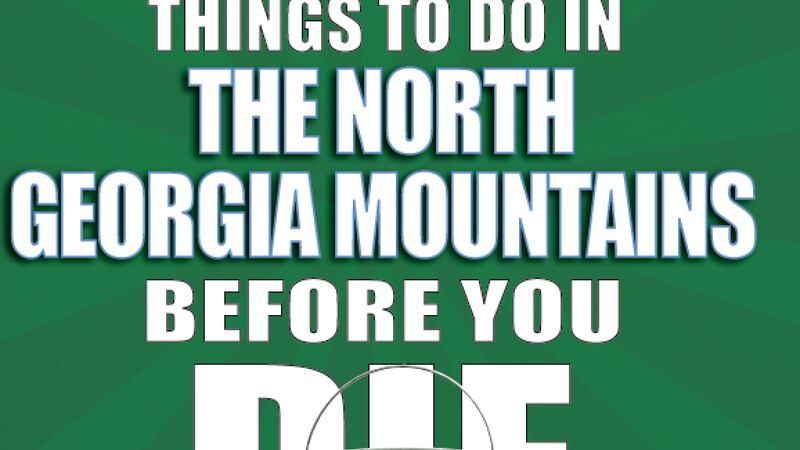 Published: Jan. 2, 2023 at 10:36 AM EST
|
Updated: Jan. 2, 2023 at 10:38 AM EST
ATLANTA, Ga. (Atlanta News First) - Comprised of the Blue Ridge Mountains and the Cohutta Mountains, the North Georgia Mountains attract thousands of visitors every year.
"100 Things to Do in the North Georgia Mountains Before You Die" is just a sampling of some of the best experiences throughout the region along with sample itineraries and insider tips outlined here to inspire even the most seasoned traveler.
In the latest Discover Georgia podcast, author Karon Warren talks about her book and everything it includes, such as visiting Georgia's highest point at Brasstown Bald, tracking down Sasquatch at Expedition Bigfoot, or picking apples at R&A Orchards during the fall.
Warren is a long-time journalist, who became a resident of the north Georgia mountains more than 20 years ago.
Here are some of the book's highlights:
Blue Ridge was named one of the 2021 South's Best Mountain Towns by Southern Living magazine.

The north Georgia mountains are home to Amicalola Falls (entry #40), the third-highest cascading waterfall east of the Mississippi River.

Check out two of the region's top attended fall festivals, the Georgia Apple Festival in Ellijay (entry #31) and Gold Rush Days in Dahlonega (entry #38).

Satisfy your sweet tooth with a decadent cupcake at The Sweet Shoppe of the South (entry #21), winner of season 6 of Cupcake Wars.
Lace up your hiking boots, and set out on the Appalachian Trail (entry #41), which was named the best trail for sections and day hikes by Lonely Planet.

Don your lederhosen, and indulge your love of German culture at Helen's Oktoberfest (#entry 34).

Take in the view from Georgia's highest point, Brasstown Bald (entry #57), which is 4,784 feet above sea level.

Discover art and science at the Booth Western Art Museum (entry #72) and Tellus Science Museum (entry #74), two of the seven Smithsonian Affiliation museums in Georgia.

Celebrate the holidays at Rock City (entry #54), whose Enchanted Garden of Lights was selected as the Southeast Tourism Society Top 20 Event of the Year for 2021.

Pick a peck of apples at R & A Orchards, which was voted as Best Apple Orchard by readers of the USA Today 10Best Readers' Choice in 2019.
Copyright 2022 WANF. All rights reserved.