ATLVault: Bars, brothels and brawls dominated Atlanta's first election 175 years ago
Atlanta's first chief executive was a tavern owner and later a DeKalb County sheriff, where he met a violent end
Published: Jan. 3, 2023 at 8:28 AM EST
|
Updated: Jan. 5, 2023 at 9:51 AM EST
ATLANTA, Ga. (Atlanta News First) - The two political candidates couldn't have been more different.
One man, descending from a family line of Baptist ministers and championing the values of temperance and chastity, promised law and order. The other belonged to a political party thriving on social disorder and looser interpretations of the laws regarding recreational pursuits.
Such a scenario could be easily imagined in any modern election, but it was exactly the case 175 years ago, when the newly re-named and incorporated city of Atlanta held its first mayoral election.
The future city's original site was designated in 1837 based on the southern termination of a railroad being built north to the Tennessee state line. The goal was to connect Georgia's coast with the rest of the nation via the Tennessee River.
The growing settlement was unofficially known as Terminus until 1845, when it was incorporated as Marthasville in honor of then-Gov. Wilson Lumpkin's daughter, Martha. (Martha Lumpkin Compton is buried in Oakland Cemetery.)
The city, which sat at the end of the Western and Atlantic railroad, was eventually renamed Atlanta (the feminine version of "Atlantic") and officially chartered by the state in 1847.
"About 2,500 people lived in Atlanta in 1848," said Dr. Andy Ambrose, author and co-author of two books about Atlanta history: "Metropolitan Frontiers: A Short History of Atlanta," which he co-authored with Darlene Roth in 1996, and 2003′s "Atlanta: An Illustrated History."
On Jan. 29, 1848, two men were running for mayor: Jonathan Norcross, a member of the Moral Party and a sawmill owner; and Moses Formwalt, who owned a tavern on White Hall Street (now spelled "Whitehall") and a member of the Free and Rowdy Party, or Rowdies, as they were commonly known.
The Rowdies, as their name implied, were sympathetic to the saloon business and lenient on gambling and prostitution, according to the Historic Oakland Foundation. Party members included owners of distilleries, brothels, and saloons.
"Formwalt moved from Knoxville, Tennessee, to Decatur in 1844," Ambrose said. "He joined a man named John Adams and started a tinning shop," a business that made items out of tin or other light metals, along with repairs.
"That partnership dissolved in 1846 and Formwalt moved to Atlanta and reopened his tinning shop on Decatur Street," Ambrose said, where his most popular item was a copper still used to produce liquor. He also owned one of the city's first saloons, also on Decatur Street.
Norcross, according to Ambrose, also operated a grocery store, and said shanties in Atlanta's first slums, including Slabtown (now the site of Grady Memorial Hospital), were built by poor settlers from scraps and debris from Norcross' sawmill.
Slabtown in particular was considered a "wicked development" that offended "the good citizens of Atlanta, as crimes were often committed there, and many of the young men fell into bad habits from frequenting Slab Town. In these places, occurred scenes of debauchery and indecency that shocked the moral sense of the community," according to "Atlanta and its Builders: a Comprehensive History of the Gate City of the South," by Thomas H. Martin.
In a city rife with vice, ill repute and corruption, the campaign between Formwalt and Norcross was violent; more than 60 fights were reported across the city.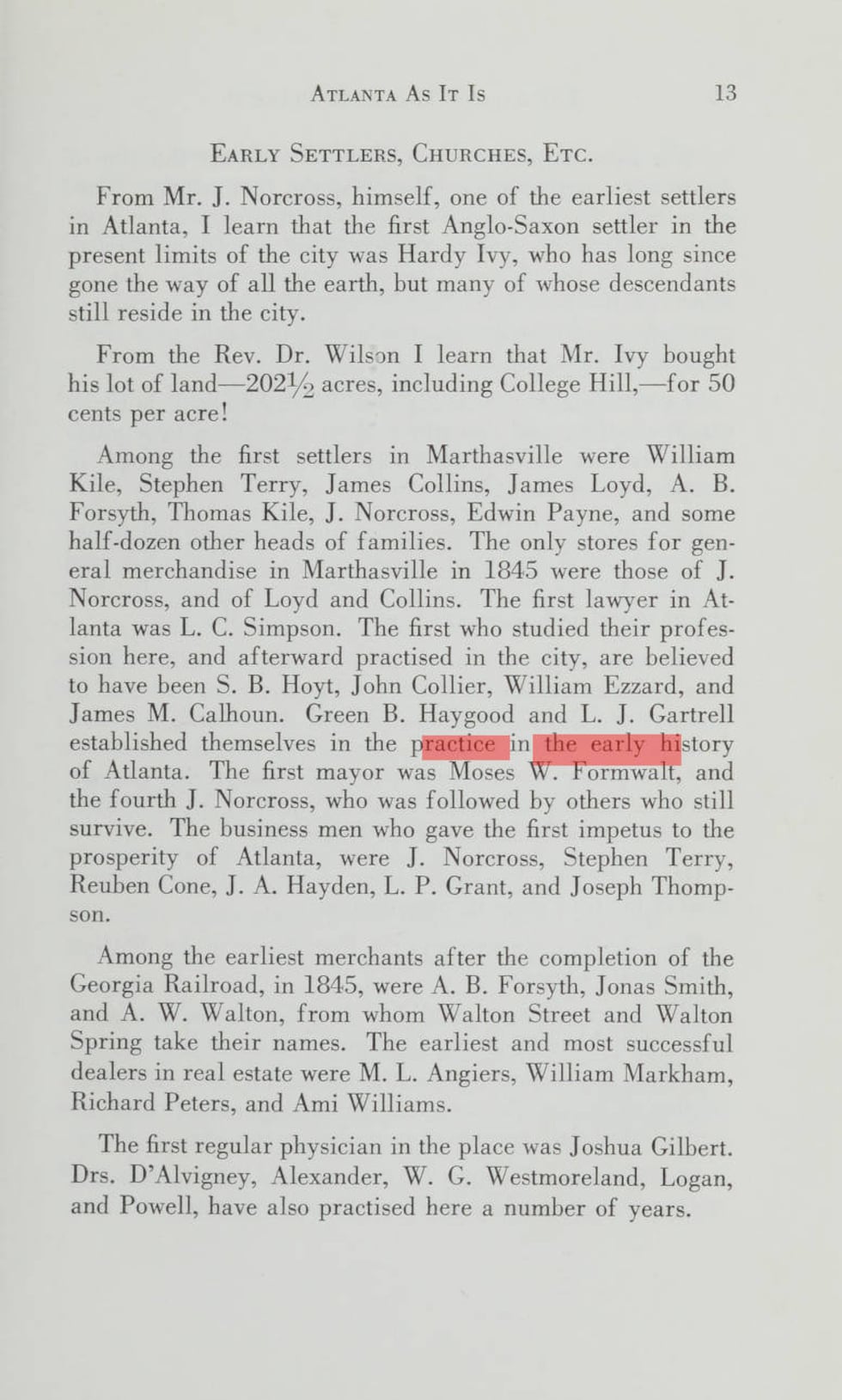 With so many bars and red-light districts, it's not surprising who won the race. Formwalt, according to the first volume of the late Franklin Garrett's history of the city, Atlanta and Environs, won with a majority of the 215 votes cast. He was 28.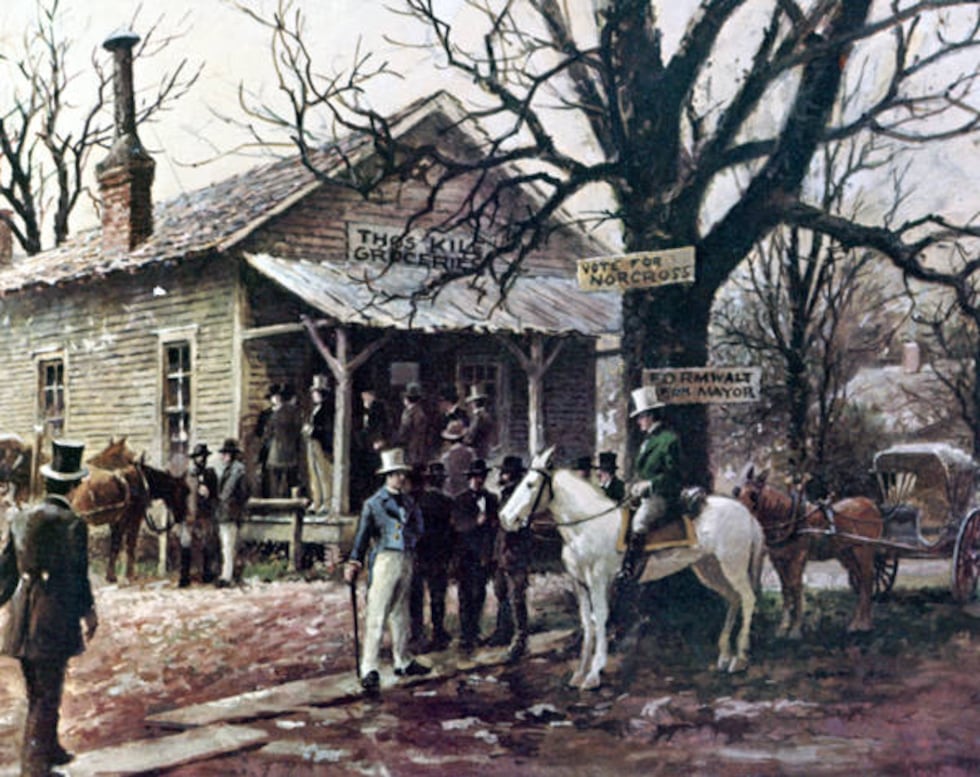 Formwalt would serve as mayor for one year; mayors in the new city were term-limited to a year. Under his term, some new roads were built, some new wells were dug; and he also oversaw the construction of a jail.
The next two mayors were also Rowdies: Benjamin Bomar and Willis Buell. Norcross was finally elected the city's top executive in 1851.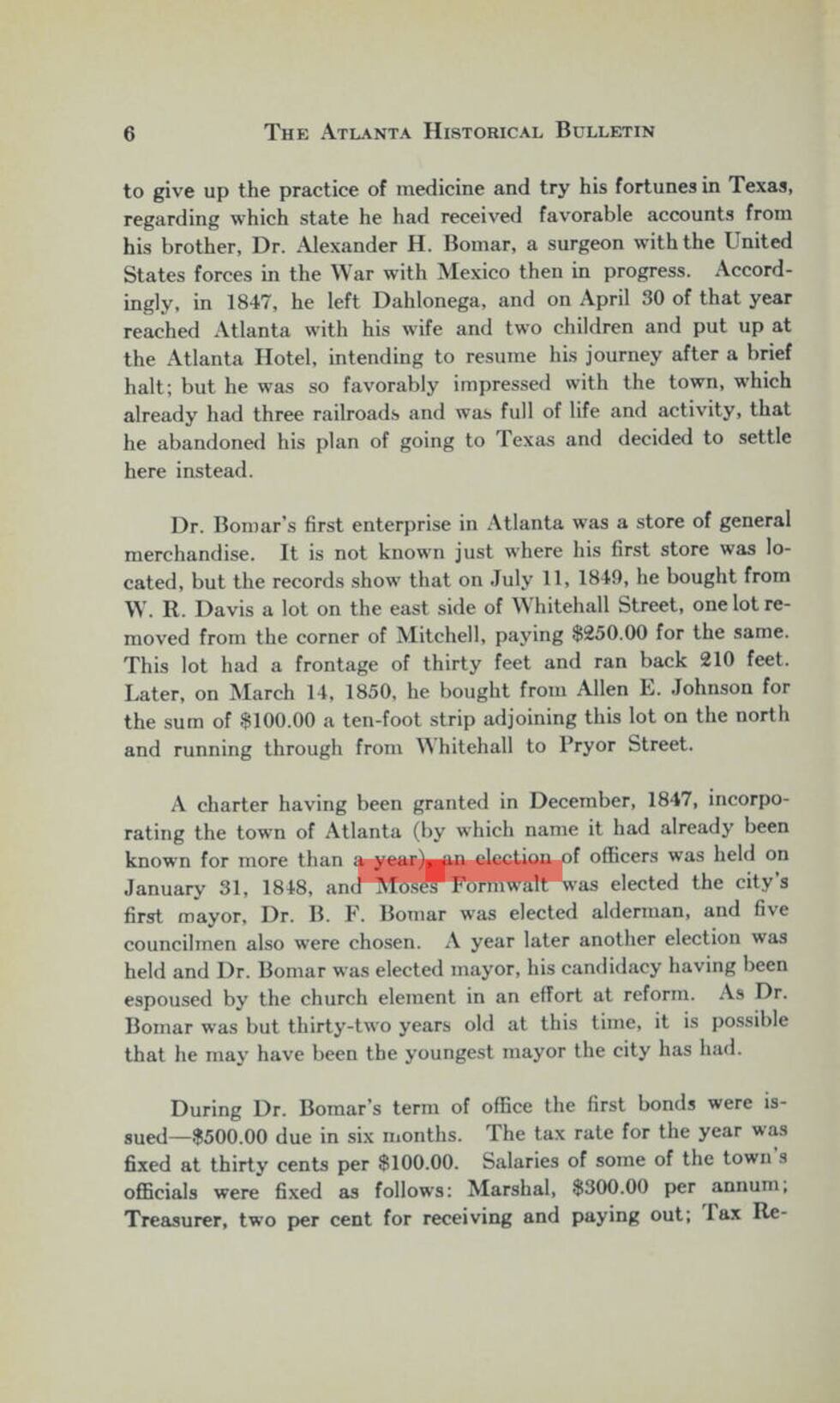 Norcross - later dubbed the "father of Atlanta" by Henry W. Grady, who himself would become the South's most famous journalist and orator - used his term as Atlanta mayor to act as an unofficial chief of police and street superintendent.
Norcross opposed Georgia's vote for secession in 1861. He would later run unsuccessfully for governor in 1876 and died at his home in Atlanta on December 18, 1898, at age 90. The Gwinnett County city of Norcross is named in his honor.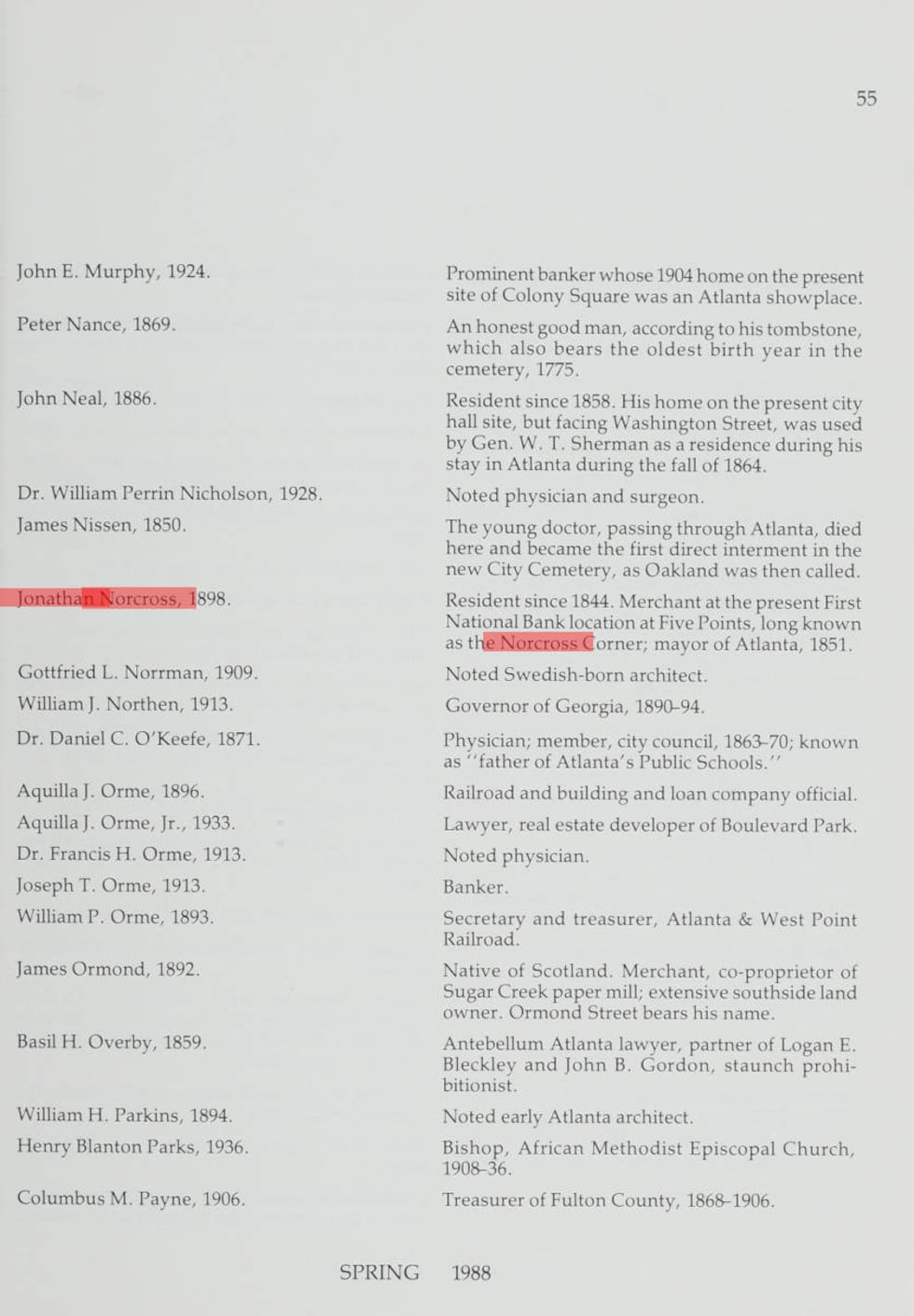 After his term was over, Formwalt, according to the Officer Down Memorial Page, became a deputy sheriff for DeKalb County. On May 1, 1852, he was escorting a prisoner from the county council chambers at the local courthouse when he was stabbed to death, becoming the county's first deputy in history to die in the line of duty. He was 32.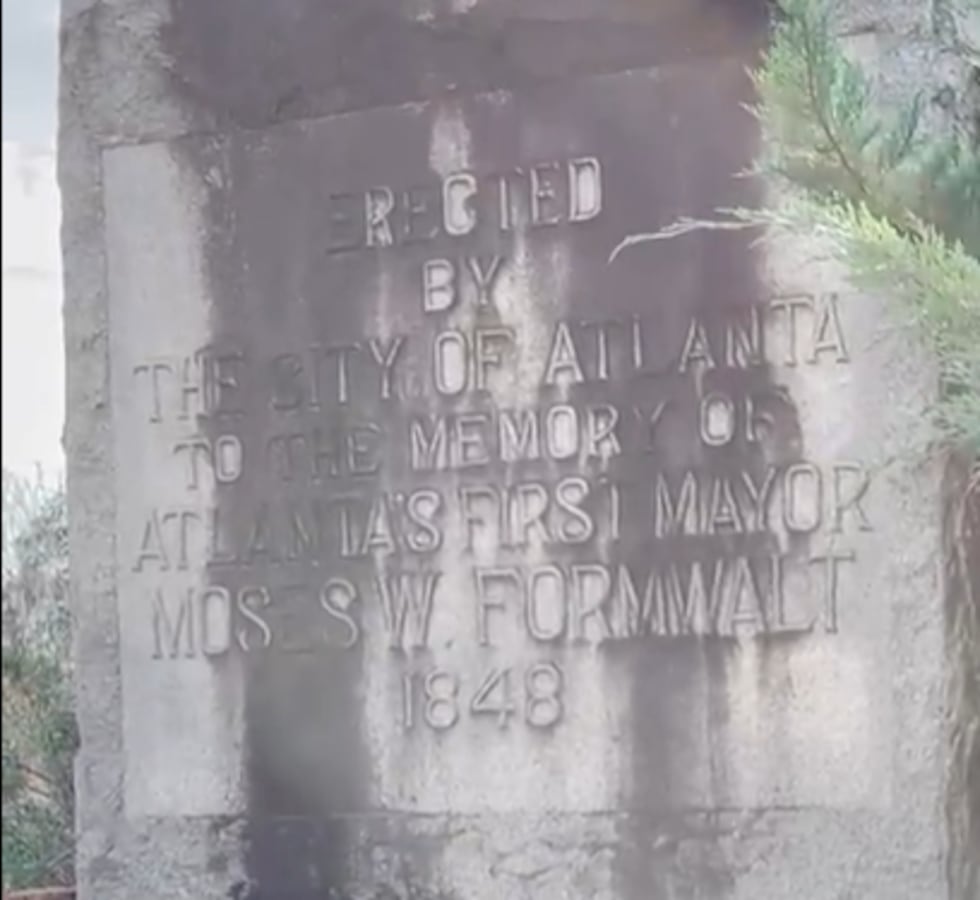 Both Formwalt and Norcross are buried in Oakland Cemetery.
Downtown Atlanta's Formwalt Street in Mechanicsville is named for the city's first mayor.
ATLVault is a series of digital articles and podcasts that showcase our city's fascinating history, culture and development. This series would not have been possible without the full support and cooperation of the Atlanta History Center.
Copyright 2022 WANF. All rights reserved.