Couple alleges Mattress Firm delivery crew destroyed son's $4K chair lift
Delivery crews deny blame | Family files insurance claim and are seeking damages
Published: Jan. 4, 2023 at 6:31 PM EST
|
Updated: Jan. 5, 2023 at 9:00 AM EST
ATLANTA, Ga. (Atlanta News First) - Most consumers don't think about liability when they purchase new furniture, an appliance, or a bed. If the delivery crew damages a new mattress, you request a new one.
But what if the delivery crew damages an expensive item in your home?
Since July 2021, a Marietta couple has been trying to get someone to take responsibility for damaging their disabled son's $4,000 chairlift.
"The installer who came to replace the chair said that he sees it frequently, and it's usually caused by someone leaning on it or falling into it," Claudette Enners said.
Claudette and her husband, Rich, blame the crew that delivered their new king-sized bed from Mattress Firm. Claudette was home alone with their son Kevin, and she said one man removed the old bed while the other brought in the new one.
"I stayed upstairs because I wanted to stay out of their way," Claudette Enners said. "I heard a lot of huffing and puffing, I heard a lot of 'bing, bang, boom,' but I did not see it."
Claudette Enners said when she went downstairs and saw the damage, she confronted the crew but says a crew member instructed her to call Mattress Firm. A chair lift installer determined that someone bent the metal shaft with so much force that it stripped a bolt and damaged the securing plate.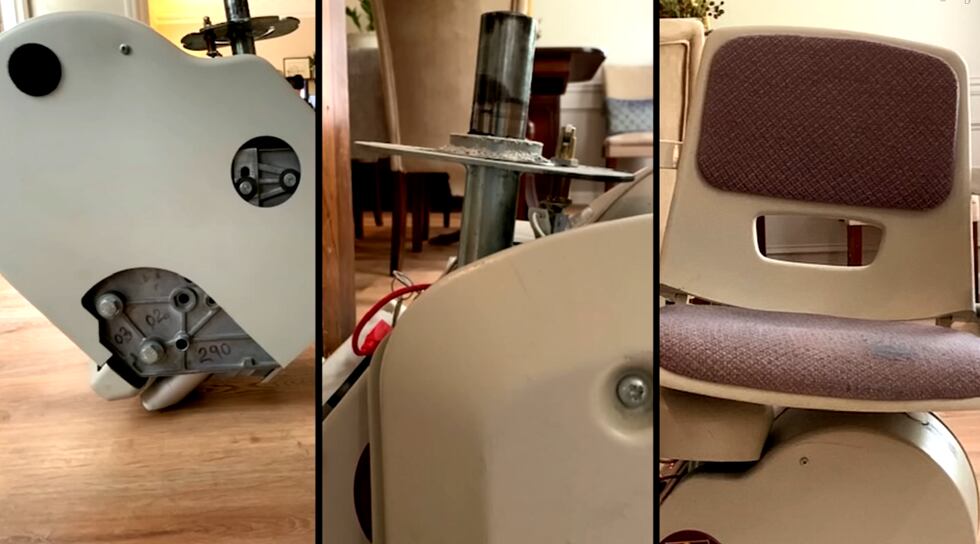 She said a Mattress Firm representative referred her to the outside vendor who was contracted to make the delivery. Mattress Firm declined to comment on this story.
Mattress Firm assigned the delivery to a small company called Diverse Logistics. The Enners were shocked again when they learned the mattress delivery was reassigned to another vendor, 4 Rosedale LLC.
4 Rosedale LLC's insurer, Canal Insurance, denied the Enners' claim. "Our insured says that it did not damage the Enners' chair lift and the Enners have no evidence to the contrary," the company said.
Atlanta News First convinced Canal's legal team to review its investigation. The Enners also provided the insurer with a statement from the chair lift installer.
But Canal Insurance stuck with its original decision to deny the claim.
"The letter from 101 Mobility did not change that," Canal Insurance said in a statement. "I hope you understand that it's simply not fair to ask us to assume that our insured is lying in order to pay the claim. Canal certainly has sympathy for the Enners family, but we also owe it to our insured to believe them in the absence of any evidence that they damaged the chair lift."
The Enners filed a claim with their home insurer. They recently learned their claim was approved and were told their insurer would seek damages from the responsible party.
Here are the takeaways for large deliveries:
Ask the delivery crew if they are contracted vendors. If they are, ask for proof of insurance and require the crew to inspect for any preexisting damage and document the damage in writing.

Watch the delivery crews carefully and if you do witness damage, document it with video, and require the crew to contact the delivery service.
If there's something you would like Atlanta News First′s Consumer Investigator Better Call Harry to look into, fill out this submission form.
Copyright 2023 WANF. All rights reserved.