Georgia's 2-TE set uncertain for national title game vs. TCU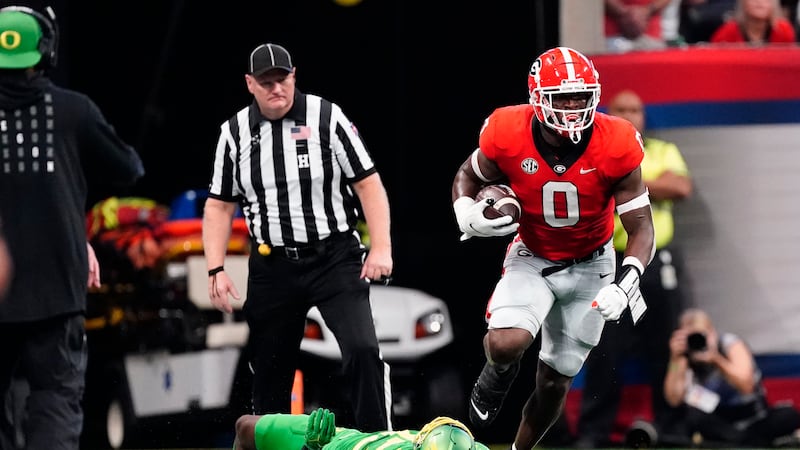 Published: Jan. 4, 2023 at 10:26 AM EST
(AP) - A big part of Georgia's offense — big in every way — could be hampered in the national championship game against TCU.
Georgia's two-tight end formation is uncertain due to an ankle injury suffered by Darnell Washington in Saturday night's College Football Playoff semifinal win over Ohio State. That could mean changes for Stetson Bennett's passing game when the top-ranked Bulldogs try to win a second consecutive title on Monday night in Inglewood, California, against the third-ranked Horned Frogs.
Georgia coach Kirby Smart said after the 42-41 win over Ohio State he didn't know if Washington's injury was a high ankle sprain, which usually requires more recovery time.
Washington is "an unbelievable talent," Bennett said. "But if he can't go, then we'll just have other people step up. That's the way it works here. And it's about the team. We want to have him. We'd love to have him. He's one of the game-changers we have. But if we don't then we still have to go win a football game."
Smart offered no more details about Washington's injury on Tuesday, saying only that he hoped to have all his injured players available against TCU, which beat Michigan 51-45 in the Fiesta Bowl semifinal.
Two of Georgia's four leaders in receiving yards are tight ends. Brock Bowers (6-4, 230 pounds) leads the team with 56 catches and won the John Mackey Award given to the nation's top tight end. Bowers often is joined in two-tight end sets by Washington (6-7, 265) who excels as a powerful blocker and ranks fourth on the team with 426 receiving yards on 27 receptions.
"They like to use their tight ends the majority of the time," TCU linebacker Dee Winters said. "And I think Bowers is a really good tight end that they'll try to target against us."
Freshman Oscar Delp likely would be next in line if Washington is limited or unable to play. It is not known if that would limit the Bulldogs' two-tight end sets and cast a larger spotlight on wide receivers, where there is talent but no established standout.
Bennett threw to 10 different players as the offense piled up in the Peach Bowl and the leading receiver was running back Kenny McIntosh whose five catches included a 25-yard touchdown.
Speedy receiver Arian Smith caught a 76-yard touchdown and the 10-yard TD pass to Adonai Mitchell with 54 seconds remaining sealed the win. Smith and Mitchell played key roles after Ladd McConkey was slowed by a knee injury.
TCU coach Sonny Dykes said his Horned Frogs don't have the luxury of focusing on only two or three receivers in Georgia's diverse passing game.
"That's the thing that's unique about this team," Dykes said. "Most of the time you play against a good team and there's two or three guys you say, look, we've got to really take this guy away. But Georgia has just so many good players and guys that are really exceptional talents. You can't go into a game and just say, OK ... if we take this guy away then they're going to have problems. That's not the case with their offense."
Smith proved his big-play potential with his three catches for 129 yards against Ohio State.
"His role has increased probably with every week this season," Smart said. "It may not have always shown that way in the stat line or in the number of snaps played. ... So he has grown and developed and gotten better and better and better. And he really just got more opportunity to do what he's been doing."
Dykes said Georgia has "a ton of playmakers."
"They're going to show you different looks," Dykes said, adding Georgia offensive coordinator Todd Monken "does a nice job of staying ahead of people. As they adjust, he adjusts. And they do a really good job getting their best players the ball."
Copyright 2023 The Associated Press. All rights reserved.