Georgia's Bennett applauds TCU's Duggan as 'A-plus dude'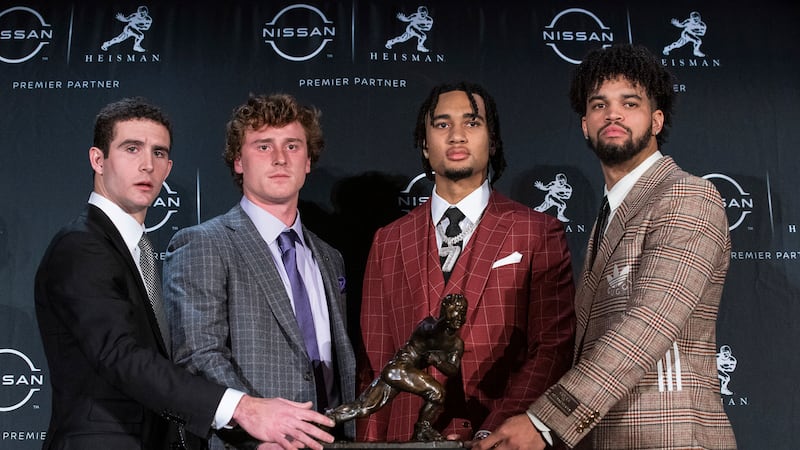 Published: Jan. 4, 2023 at 11:52 AM EST
(AP) - Georgia's Stetson Bennett and TCU's Max Duggan share similar stories as quarterbacks who needed to disprove doubters before finding starring roles for next Monday's national championship game.
It's no surprise Bennett says he immediately liked Duggan when the two spent time together at the Heisman Trophy ceremony in New York last month.
"Max is an awesome dude," Bennett said Tuesday.
"Whenever we were there, it was more like we were a bunch of dudes and we were all hanging out. ... But he's an A-plus dude. He works hard. All those things. But I think he's the heart and soul of that team. ... And there's something to be said for both his story and my story and the fact that we're here in the end."
Duggan was the runner-up to USC quarterback Caleb Williams in the Heisman voting. Bennett finished fourth, behind Ohio State's C.J. Stroud.
While Duggan lost his starting job at the start of the season, Bennett was a walk-on in 2017 before leaving Georgia and returning to land the starting job. Bennett led Georgia to its first national championship since 1980 last season.
HOBBLED MILLER
While TCU leading rusher Kendre Miller is feeling better, coach Sonny Dykes said Tuesday that the junior running back is still questionable for the title game.
Miller hurt his right knee in the first half of the 51-45 win over Michigan on Saturday. He got treatment at halftime, but had just one carry after the break before leaving the game for good.
"We're hopeful to get Kendre back. As the week progresses, we'll know a little bit more every single day," Dykes said. "Right now, I would say he's be questionable, and then we'll kind of make a determination as we get through the week."
Miller has 1,399 yards and 17 touchdowns rushing, the most yards in a season by a TCU running back since LaDainian Tomlinson led the nation with 2,158 yards in 2000.
He had eight carries for 57 yards against Michigan in the Fiesta Bowl, but didn't score a rushing touchdown for the first time this season. It ended his streak of 14 consecutive games with a rushing TD, one short of Tomlinson's school-record streak.
GOOD LUCK, FROGS
Among the people who called Dykes after TCU's win in the Fiesta Bowl was Marshawn Lynch.
The former NFL running back played collegiately at California, a decade before Dykes was the coach of the Bears from 2013-16.
"That was cool to get to talk about to Marshawn. Marshawn and I got to be pretty close when I was in Cal. Love Marshawn, he's got a great heart," Dykes said. "It was great to catch up. I invited him to the (championship) game, but he told me he was going to Italy instead. Can't blame him."
Duggan said he has heard from several former TCU players, including quarterbacks Andy Dalton and Trevone Boykin.
"Andy's been staying in contact with me. I think that's kind of a huge thing," Duggan said of Dalton, the current New Orleans Saints quarterback who led TCU to its 13-0 season in 2010 that ended with a Rose Bowl victory and No. 2 national ranking.
Copyright 2023 The Associated Press. All rights reserved.