Georgia's proud defense looking to bounce back against TCU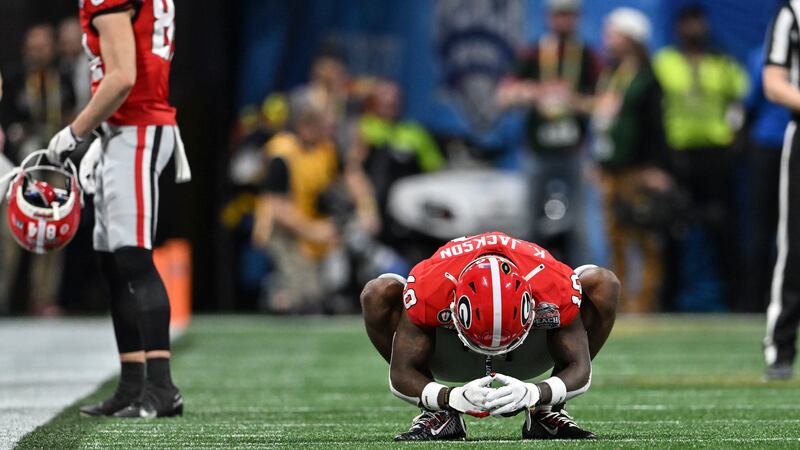 Published: Jan. 5, 2023 at 11:03 AM EST
ATLANTA (AP) — Georgia's proud defense has allowed a combined 71 points in its two postseason games, including the 42-41 last-minute win over Ohio State in the College Football Playoff semifinal.
Even against stiff competition in the postseason, when higher-scoring games can be expected, that's a humbling and somewhat shocking development for No. 1 Georgia (14-0) as it heads into Monday night's national championship game against No. 3 TCU (13-1).
The Bulldogs, who led the nation in scoring defense while winning the last season's national championship and ranked second entering this postseason, aren't accustomed to giving up so many points.
"We didn't play our best game," defensive back Javon Bullard said. "But there's a whole lot we can fix ... communication and things like that, just the basic things like that, knowing your leverage, talking. I know we've got to talk better throughout the secondary."
Now come the Horned Frogs, who average 41.1 points per game to rank fifth in the nation following a 51-45 win over Michigan in the Fiesta Bowl semifinal.
Georgia coach Kirby Smart may be bracing for yet another shootout. He said he had no quick explanation for the lack of defense in the CFP semifinals, which saw 179 points combined.
"I don't know how to pinpoint it," Smart said. "I don't know. Traditionally, the teams that are in these games, they're pretty good offensively. You'd like to say they're also pretty good defensively, but I think the studies and numbers indicate that as the season goes on and especially the semifinal and final games, scoring has to be going up."
Even after having five defensive players selected in the first round of last spring's NFL draft, Georgia's defense was strong again during the season. The Bulldogs allowed a combined 64 points in their first seven games; five games had 10 or fewer points allowed, including two shutouts.
Thanks to that, Georgia's defense still ranks near the top of the national leaders. After leading the nation with its average of 10.2 points allowed last season, Georgia ranks fifth at 14.8. Georgia is 11th with 304.6 yards allowed per game.
Georgia had to play several freshmen late against Ohio State. Outside linebacker became a position of concern after Nolan Smith's season-ending pectoral injury against Florida on Oct. 29. The position took another hit against Ohio State when Chaz Chambliss needed help leaving the field with an apparent left knee injury.
Among freshmen who played on defense last week were starting safety Malaki Starks, defensive end Mykel Williams and linebacker Jalon Walker.
Smart said the freshmen "didn't actually do what they were supposed to do every play" and he hopes to have all his injured players back for TCU.
"We don't make excuses around here and talk about injuries and these problems, but we've had our fair share," Smart said. "And nobody feels sorry for us and don't want anybody to. But we have to get those guys ready to play at a higher level."
Georgia beat LSU 50-30 in the Southeastern Conference championship game, allowing 502 passing yards. Then Ohio State's C.J. Stroud passed for 348 yards and four touchdowns against the Bulldogs.
"We finished the job and did what we had to do," linebacker Smael Mondon said after the game. "We didn't play our best game and know we'll have to play a lot better. We have to go finish the drill."
Copyright 2023 The Associated Press. All rights reserved.