Agent: Bills safety Damar Hamlin is breathing on his own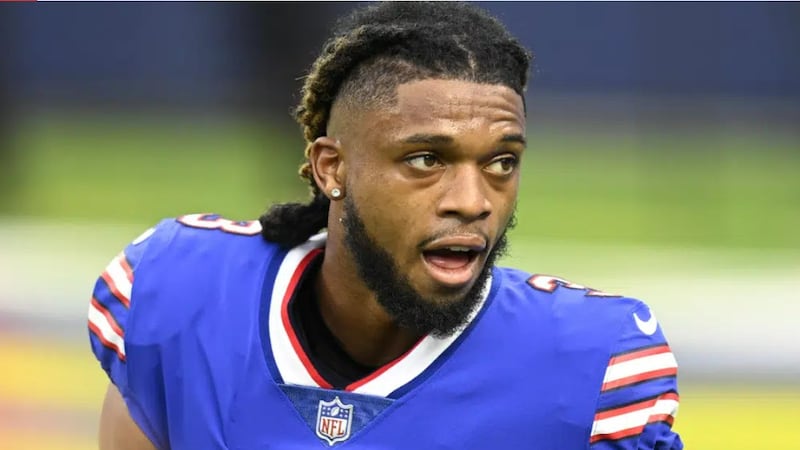 Published: Jan. 6, 2023 at 10:35 AM EST
ORCHARD PARK, N.Y. (AP) — Buffalo Bills safety Damar Hamlin is breathing on his own and able to talk after having his breathing tube removed, his agent said Friday — the latest step in his remarkable recovery in the four days since going into cardiac arrest and being resuscitated on the field during a game against the Cincinnati Bengals.
Agent Ira Turner was unable to provide any other details in a text sent Friday morning to The Associated Press. The development was first reported by The Athletic.
The Bills said Friday in a statement that Hamlin's "neurologic function remains intact and he has been able to talk to his family and care team."
The 24-year-old Hamlin was still listed Thursday in critical condition in the intensive care unit of the University of Cincinnati Medical Center. Aside from being able to communicate by writing, Hamlin was also been able to grip people's hands.
"So we know that it's not only that the lights are on. We know that he's home. And it appears that all the cylinders are firing within his brain, which is greatly gratifying for all of us," Dr. Timothy Pritts said. "He still has significant progress he needs to make, but this marks a really good turning point in his ongoing care."
A Georgia cardiologist says signs indicate Damar Hamlin suffered sudden cardiac arrest during the Monday Night Football game.
"The way they hovered around him so the cameras couldn't see him and protected him from that," said Greg Simms of Atlanta, who watched clips from the game on social media. "It is being stopped because of an electrical malfunction in the heart. An electrical malfunction can be caused by any number of things. In this case, we are postulating that it may be caused by the blow to the chest," said Dr. Morgan.
Seconds count when responding to this type of rare cardiac arrest because oxygen is no longer flowing to your brain. Dr. Morgan says Hamlin who's currently sedated and listed in critical condition has a long road to recovery.
"The next thing will be is to see if he has some responses. Whether he's neurologically intact and sometimes that can take a few days," said Dr. Morgan.
Hamlin's family, in a statement, is asking that in these next few days members of the NFL and fans come together to pray for their family.
"Two different teams that are playing each other. Hard enough that that could happen, yet they came together. They were no longer two different teams. They were one united team," said Simms.
Copyright 2023 The Associated Press. All rights reserved.