Get Smart: Kirby's carves his own path to dynasty at Georgia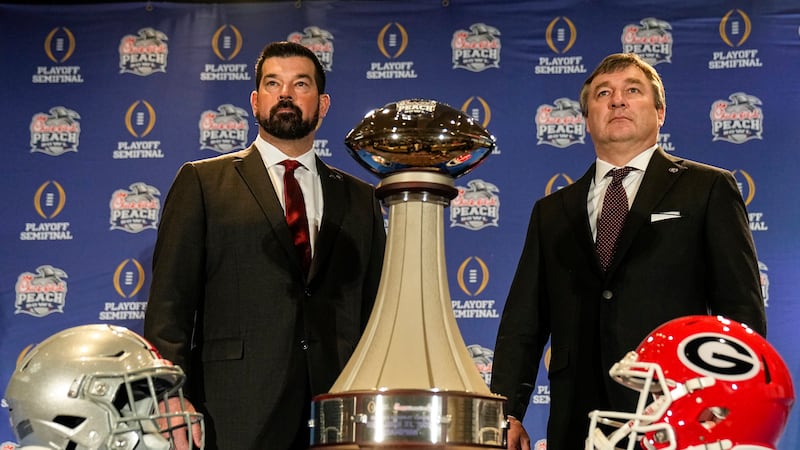 Published: Jan. 6, 2023 at 10:59 AM EST
ATLANTA (AP) — Kirby Smart landed his first coaching job because the price was right.
Simple as that.
"We had only $8,000 to pay a guy," remembered Chris Hatcher, the coach who gave Smart his break at Division II Valdosta State more than two decades ago. "We were the perfect match for a guy that had no coaching experience."
From those humble beginnings — overseeing the defensive backs at a small school near the Georgia-Florida line on a poverty-level salary — Smart has evolved into one of college football's most dominant forces, the $10 million-a-year architect of a budding dynasty.
On Monday night, Smart's Georgia Bulldogs will try to become the first team in a decade to win back-to-back national titles when they take on upstart TCU in the championship game in suburban Los Angeles.
That the Bulldogs, with a 14-0 record and the Southeastern Conference crown, now have a shot at joining an elite group of repeat champions is really not at all that surprising in the current context of the program.
But when you consider what Smart has done since taking over at his alma mater from Mark Richt in 2016, the journey takes on a far more impressive luster.
The Bulldogs were a very good program under Richt.
Smart made them great.
That's just what former athletic director Greg McGarity had in mind when he hired the guy who was Nick Saban's defensive coordinator at Alabama but had never been a head coach.
During the interview process, Smart's vision of where he wanted to take Georgia was extremely specific, from the staff he wanted to hire to a detailed accounting of the financial commitment needed to take Georgia to the next level.
Still, there were many who questioned if the Bulldogs were making the right move. For every Kirby Smart, there are a dozen Scott Frosts — those seemingly perfect coaching hires that don't work out.
"Look, every hire is a gamble," McGarity, who retired from Georgia in 2020 and now runs the Gator Bowl, said Thursday in a phone interview. "I don't think there's ever been any AD or president who doesn't think their hire is gonna be successful ... but we all know it doesn't always work out that way."
Smart, of course, worked out just fine. Since struggling a bit in his first season, Georgia has posted a record of 72-10, lost only five regular-season SEC games, and — most impressively — supplanted Alabama as the nation's most dominant program.
Smart was a hard-nosed safety at Georgia in the late 1990s, and his immediate dream was to play in the NFL. But, after failing to hear his name called in the NFL draft and getting cut by the Indianapolis Colts, it was only natural that coaching would be his next step.
His father was a high school coach, and young Kirby had been paying close attention all along the way.
After getting his man for $8,000 — and, really, there was no one else willing to take the job — Hatcher quickly recognized what a bargain it was.
"Once I got to know him and watch him him coach, I realized that — first of all, he's extremely smart and he's a tremendous worker," said Hatcher, now the coach at Alabama's Samford University. "And he brought to the team —- what's the right word for it? — yeah, he's a very intense guy, but it was more of a competitive spirit that he had about him."
Smart moved on after two highly successful seasons at Valdosta State, got his graduate degree from Florida State and then began the most significant working relationship of his career.
Saban, who was then the head coach at LSU, hired Smart as his defensive backs coach in 2004. He would be Smart's boss and mentor for 10 of the next 11 seasons, the only interruption being a single season as Richt's running backs coach.
In 2008, after an ill-fated stint in the NFL and a rebuilding year at Alabama, Saban was ready to unleash perhaps the greatest dynasty in the history of college football. Smart was his defensive coordinator and right-hand man as the Crimson Tide ripped off four national titles in an eight-year span, gleaning many of the lessons that would serve him so well running his own program.
"He learned from probably the greatest of all time," Georgia quarterback Stetson Bennett said. "He learned and he took notes ... and then he made it his."
Bennett has been along for most of the ride. He arrived at Georgia as a walk-in 2017, which was Smart's breakout year after going a middling 8-5 in his debut season. The Bulldogs won their first SEC title in a dozen years and reached the College Football Playoff title game, where they lost to Saban and the Tide in an overtime thriller.
Even in defeat, it was already clear that Smart was far more than just Saban Lite.
"He is a big believer in discipline and schedule and all that stuff. And that's good and fine, but he's also brilliant. He learns," Bennett said. "And everything at the end of the day is about the University of Georgia winning. That goes from our facilities, goes to recruiting, raising money, practice, recovery, nutrition, mental health, everything."
Smart preaches many of the same fundamentals that define Saban's coaching philosophy — organization, attention to detail, everyone pulling in the same direction — but the willingness to try new things, such as having his players do yoga at end of practice every Thutsday, is also at the core of his success.
After losing a record 15 players to the NFL draft, including five first-rounders off a fearsome defense, Smart was eager to learn the keys to sustaining success. He didn't turn to those you might think, instead focusing on those who had failed in the business world, such as former video game giant Blockbuster.
"We have a couple in-house sports psychologists that we talked about how the mighty fall and some business structures, the Blockbuster model, and some different models where ego got the best of organizations in the business world," Smart said.
While it's essential to evolve, Smart doesn't' back away from his convictions, either.
Let's not forget that plenty of skeptics were calling for Bennett to be replaced by former starting quarterback JT Daniels after the Bulldogs lost the 2021 SEC championship game to Alabama.
Smart wasn't swayed. He knew there was something special about this former walk-on that no one else could see.
The Bulldogs haven't lost since. Bennett was a Heisman Trophy finalist this season and has been the offensive MVP in Georgia's last four postseason games.
In the CFP semifinal against Ohio State, Smart might have saved the season when he noticed a strange formation and called a timeout a split-second before the Buckeyes tried a fake punt in the fourth quarter.
If the fake has been successful, Ohio State probably wins the game. Instead, the Bulldogs rallied for a 42-41 victory and a chance at history.
"These teams always say, 'We want Bama! We want Bama!' They're gonna have to update that to, 'We want Georgia!'" said ESPN analyst Kirk Herbstreit, who will be in the booth for the national title game. "Kirby is going an amazing job. They are the equal to Bama. And if they win Monday night, he's the new standard in the sport."
Yep, Smart had a vision for this program.
Now, everyone can see it.
___
Paul Newberry is a national sports writer for The Associated Press. Write to him at pnewberry(at)ap.org
Copyright 2023 WANF. All rights reserved.