Bucs' Brady breaks own NFL mark for completions in a season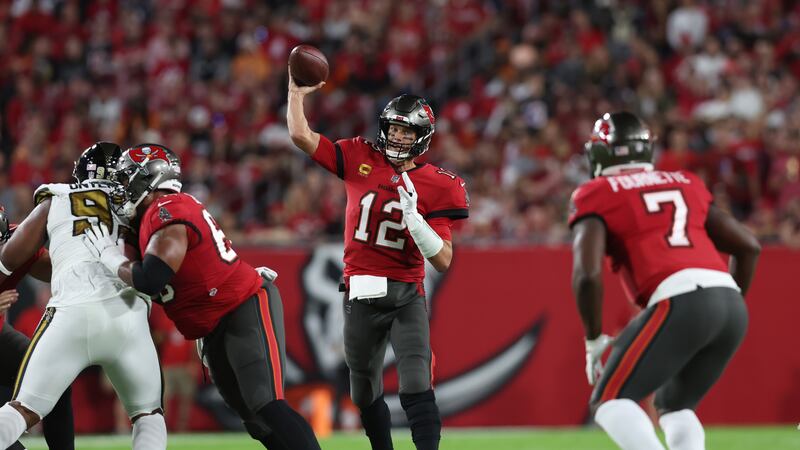 Published: Jan. 8, 2023 at 4:10 PM EST
(AP) - Tom Brady broke his own NFL record for most completions in a season, quickly gaining the needed nine connections in Tampa Bay's game against the Atlanta Falcons on Sunday.
Brady had a record 485 completions with the Buccaneers in 2021. The 45-year-old Brady entered Sunday's game against the Falcons with 477 completions, leaving him only nine away from a new record.
Brady set the mark on a 5-yard completion to Russell Gage, the former Falcons receiver, early in the second quarter. The sideline pass gave Brady nine completions on his first 12 attempts and 486 for the season.
That drive ended with a field goal. Brady played one more possession before backup Blaine Gabbert took over late in the first half.
Brady completed 13 of 17 passes for 84 yards with a touchdown, giving him 490 completions for the season.
Tampa Bay clinched the NFC South with last week's 30-24 win over Carolina and couldn't improve its No. 4 seed in Sunday's game.
Though Buccaneers coach Todd Bowles followed through with his plan to start his healthy regulars, it was not known how long he would stick with Brady.
The Buccaneers had three active quarterbacks, including Kyle Trask, against the Falcons for only the second time this season. Trask, a second-year player, has not appeared in a regular-season game this season.
Brady didn't need long to close in on the record. He completed four passes for 38 yards on Tampa Bay's opening drive, including an 8-yard touchdown lob to tight end Kyle Rudolph.
Copyright 2023 The Associated Press. All rights reserved.