Dawgs, Frogs ready for battle as coaches prep for improbable national title matchup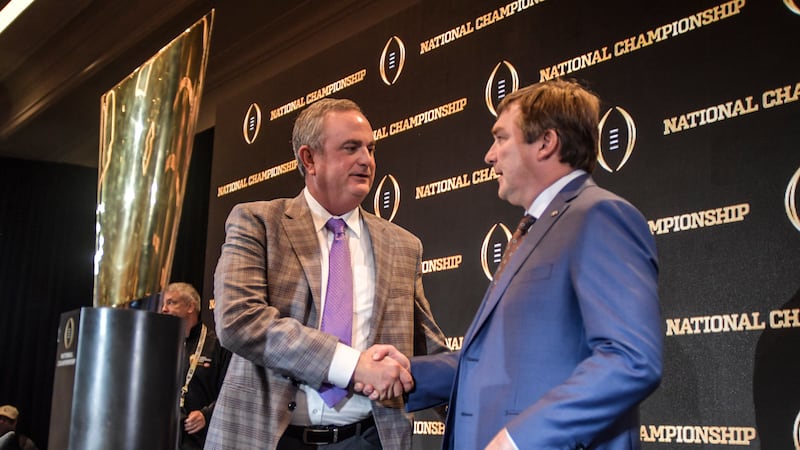 Published: Jan. 8, 2023 at 4:03 PM EST
INGLEWOOD, Calif. (Atlanta News First) - It's a true David vs. Goliath matchup in Monday's College Football Playoff National Championship Game.
"It's a hell of a story for these two teams to be playing each other," said Georgia head coach Kirby Smart at the official coaches' news conference Sunday morning.
He's right. While Smart's Bulldogs have followed up their 2021-22 national championship season with a 14-0 campaign and a return trip to the title game, TCU's story is quite different.
"You've heard me say this before, but we have four players on our team that had ever participated in a bowl game before this year's Fiesta Bowl," said TCU head coach Sonny Dykes.
That's because the Horned Frogs hadn't even been to a bowl game since 2018. At this time last year, TCU was in a bit of disarray. Before their dismal 5-7 season even ended, the winningest head coach in program history, Gary Patterson, resigned after a 3-5 start. The team failed to make a bowl game for the third consecutive season and the future of the program was anything but certain.
Enter Sonny Dykes. After three seasons leading Southern Methodist University, Dykes made the 40-mile drive from Dallas to Ft. Worth and immediately changed the trajectory of the TCU program. A regular season Big 12 championship, a Fiesta Bowl win over a traditional powerhouse in Michigan, and now, a chance to win a national championship against the defending champs.
"It's been a heck of a week for us. This is obviously our first time to be on a stage like this. And our players have really responded well to the challenge of taking all this in, because it's new for us, and it's unchartered territory for most of our players," Dykes said.
CHASING THE CHAMPIONSHIP STORIES
The Frogs are led by Heisman Trophy runner-up Max Duggan, whose rise to stardom is just as startling as the Frogs' run to the title game. Duggan didn't even start the team's season opener against Colorado. He took over midway through that game, leading the Horned Frogs to a win. He then led them to 12 more.
An improbable run from a coach, a quarterback and a team that was picked to finish seventh in their own conference.
"I'm really proud of the way they've handled everything. I think that they have exceeded expectations in terms of their ability to focus on what's important and not get distracted," Dykes said.
Easier said than done with the defending national champions in front of them. The Dawgs, coming off an improbable run of their own in the fourth quarter of the Peach Bowl against Ohio State, are now focused on avoiding a letdown against a team they opened as 14-point favorites against.
"We've had a saying around our place for a long time that probability is not reality," Smart said. "We don't control what people say and probability. Reality is what happens on the field in between those lines."
Key injuries for the Dawgs may be the biggest question mark ahead of Monday's showdown at SoFi Stadium, with wide receiver Ladd McConkey still recovering from a knee injury and tight end Darnell Washington nursing an ankle injury that knocked him out of the Peach Bowl.
"We're hoping to get Darnell ready," Smart said. He's continued to work really hard, done a lot of rehab. I know he wants to, his first chance to play on the West Coast. He's from Vegas and this game means a lot to him."
Meanwhile, McConkey told Atlanta News First sports reporter Emily Gagnon on Saturday that despite his injury, he hopes he can contribute in some way Monday night. McConkey saw limited playing time in the Peach Bowl and could be seen limping off the field after catching a two-point conversion pass from Stetson Bennett in the 4th quarter.
TCU has injury problems of its own. The Horned Frogs lost star running back Kendre Miller to a knee injury during the Fiesta Bowl. Coach Dykes said they'll have a full-speed run through Sunday, which will give them a good sense of what Miller is able to do before making a decision on his game status for Monday.
"It's a big stage. He's a tough kid. But he's a young man," Dykes said. "And our job is to take care of him and make sure that we don't just see Monday night, that we see the big picture as far as taking care of Kendre's health and in doing the right thing for him. Again, not just for Monday, but for his immediate future."
After a week of pomp and circumstance in the city that does pomp and circumstance better than anywhere else, it's time for some grind-it-out, hard-nosed football to decide the 2023 College Football Playoff National Champion. And both coaches say, their teams are ready.
"We're looking forward to Monday night," Dykes said. "Know it's going to be a big challenge for us, but our guys have never backed down for challenges and they have a lot of confidence in themselves and our program and what we're trying to do. And we'll go out and play good football Monday night, see what happens."
"What a great stage we get to play on Monday night," Smart said. "And just honored to be here and represent the University of Georgia."
Kickoff is scheduled for Monday night at 7:30 p.m. at SoFi Stadium in Inglewood, California. It will air on ESPN.
Copyright 2023 WANF. All rights reserved.