Dawgs' Jalen Carter aims to wreck one last game in CFP final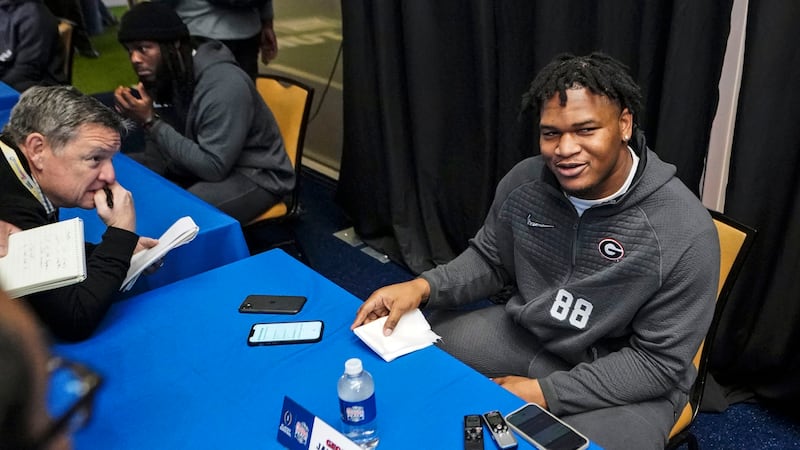 Published: Jan. 8, 2023 at 12:04 AM EST
(AP) - Jalen Carter had never been as far away from home as he was Saturday morning, when he woke up in Southern California's winter sunshine with a sense of wonder.
"I saw some hills with snow on them for the first time," Carter said, recalling his view of the San Gabriel Mountains behind downtown Los Angeles.
The life journey of Georgia's superstar defensive tackle is still only beginning, and the College Football Playoff championship game on Monday is the next landmark on his path.
The AP All-American will soon have a new home as a top pick in the NFL draft. Before that, this game-wrecker extraordinaire is focused on causing a miserable night for one last collegiate offense when his Bulldogs (14-0) take on TCU (13-1) in palatial SoFi Stadium, where they can become the sport's first repeat champions in over a decade.
"It's something I know is really important to him, to go out on a high note and do something that's never been done before," Georgia defensive line coach Tray Scott said.
Carter is widely considered the top talent playing on that star-studded field in Inglewood. Many talent evaluators believe he has the highest upside in the entire upcoming NFL draft, where the 300-pound lineman with stunning athleticism is expected to be a top-three pick.
Carter has the attention of the Horned Frogs' offense, which averaged 474.1 yards while scoring 69 touchdowns, fourth-most in the FBS.
"He's so impactful, whether it's actually him making plays and causing disruptions, or taking double-teams so his guys are freed up," TCU quarterback Max Duggan said. "He's so big, so fast and so twitchy. We've got to make sure we know where he is and get dialed in."
As Duggan noted, statistics don't reflect Carter's full stature. He had just one tackle in the Peach Bowl against Ohio State, and he has only six sacks in three seasons.
Carter thrives in creating opportunities for his teammates by absorbing multiple blockers, exploiting mismatches and generally forcing offenses to flee him. Co-defensive coordinator Glenn Schumann said Carter combines the strengths of those stout, stationary run-stoppers and the smaller, more mobile linemen who can't overcome double-teams.
CHASING THE CHAMPIONSHIP STORIES
"He's extremely well-rounded," Schumann said. "If you want to move him, he can move. If you want him to play two-gap and play technique, he can do that. He's a true four-down player. His best is really, really good."
Carter is the heir to a formidable tradition: Three players from Georgia's defensive front became first-round selections last year, including No. 1 overall pick Travon Walker. The Bulldogs had five 2022 first-rounders on one of the greatest defenses in college football history, and Carter has played a major role in maintaining that standard.
"Those guys taught me a lot," Carter said. "They knew it was their last year, and they told me things like, 'We need you to keep doing what you've been doing. Your name is big with us, and now that we're leaving, you might be the main topic.' They really told me everything that was going to happen. I'm seeing it happen now."
Carter is from Apopka, Florida, just outside Orlando. Apopka High School also produced baseball star Zack Greinke and several NFL players, none more prominent than Pro Football Hall of Famer Warren Sapp.
That proximity inevitably links the two defensive tackles. Carter, who was 6 years old during Sapp's final NFL season, didn't watch much football as a kid — but the Bulldogs' future No. 88 knew about No. 99.
"I knew it was going to happen growing up," Carter said of the comparisons. "I knew I just had to be myself. ... He was a Hall of Famer, so I did throw on a little YouTube video of him. He was strong, and we both played tight end, so it was cool to watch."
Indeed, Carter played tight end and fullback in a single-wing offense in Apopka, but he knew his route to major college football and the NFL was on the defensive line. He was also a competitive powerlifter in high school, and that strength has served him well.
"At every level, I was always either the biggest or the strongest or the fastest," Carter said.
Scott has been close to Carter since the start of the recruiting process, during which Carter went from an under-the-radar prospect to a nationally coveted talent. Scott and Schumann both praise Carter's coachability and his eagerness to hang out with both his fellow stars and the Bulldogs' walk-ons, who get special attention from him.
"It's hard to find guys like that who will give of themselves just so their bros can flourish a little bit," Scott said.
Carter is disarmingly frank about areas in which he needs improvement. He volunteers that he got tired against the Buckeyes, so he spent the past week working on his conditioning for the finale.
He's also sensitive to certain criticisms: Last month, a prominent NFL draft analyst claimed Carter will have to address "character issues" in his locker room behavior — something that was news to Carter and plenty of his fellow Bulldogs.
"I know that affected him a little bit," Scott said. "I just reminded him, you can't control what other men say. What you can control is your actions. Jalen is one of our easiest-going guys on the whole team. Everybody loves him."
Carter knows his college career is almost certainly ending in front of the fans in Inglewood. He embraces the opportunity to start his next journey by giving everything for Georgia one more time.
"They're not going to see me winded like against Ohio State," Carter said with a smile. "I'm just going to play like it's my last."
Copyright 2023 The Associated Press. All rights reserved.