Dykes, Smart stump for changes to recruiting calendar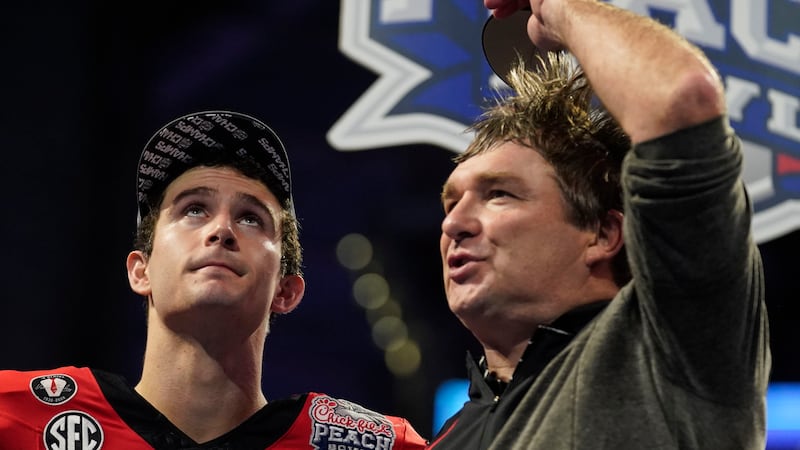 Published: Jan. 8, 2023 at 5:54 PM EST
(AP) - The College Football Playoff championship on Monday night is the biggest game of TCU coach Sonny Dykes' career. But it didn't have his full attention this week.
"Look, we were preparing this week for a national championship game and we had six transfers on campus on an official visit. And you're just kind of like, really? I mean, are we really doing this?" Dykes said Sunday.
Dykes and Georgia coach Kirby Smart called for changes to the condensed and crowded college football calendar during their final news conference before the top-ranked Bulldogs and third-ranked Horned Frogs play for the national title.
"It doesn't stop for the coaches at the highest level," Smart said. "I'm not sure any of us have the exact right answer, but I do think being smart and legislating time for coaches to be with their team and with their families is important."
CHASING THE CHAMPIONSHIP STORIES
The game comes during the crux of recruiting for the transfer portal. More than 2,000 players have entered their names since Dec. 5, necessitating coaches and support staff go through an accelerated evaluation and contact process.
There is also the ongoing recruitment of those high school players who did not sign a letter of intent in December. They will be eligible to send in the necessary paperwork beginning on Feb. 1.
"I have a 14-year-old and an 11-year-old daughter and a 6-year-old son, and I want to be able to see them and be part of their life and have a chance to spend time with them," Dykes said. "And it's very difficult if we don't have some kind of legislated time off where we can get away, where we focus not only on our players and our program, but our families and doing our job as a father and as a husband in that capacity as well."
Smart noted the pressure will be even greater when the expanded 12-team playoff begins in 2024.
SEC Commissioner Greg Sankey suggested eliminating the early signing period first introduced in 2017.
"There has not been a coach with whom I visited around our bowl games who hasn't said this has just become crushing for us," Sankey told reporters Sunday.
Copyright 2023 The Associated Press. All rights reserved.