Georgia coach Smart's father unable to attend CFP title game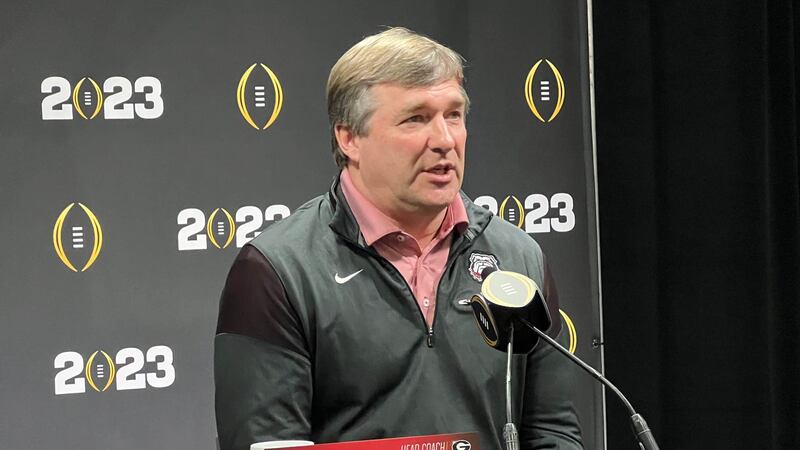 Published: Jan. 8, 2023 at 12:01 AM EST
(AP) - Georgia coach Kirby Smart said his father, former high school football coach Sonny Smart, won't be at the College Football Playoff national title game because of health issues.
"It hurts me that he and my mom won't be here," Kirby Smart said Saturday, during CFP media day. "But I know it's the right decision for him. Nothing worse than watching your parents grow old. It's like taxes; it's inevitable. They're going to get old. And that's been tough."
The top-ranked Bulldogs face No. 3 TCU on Monday night at Sofi Stadium in Inglewood, California.
Sonny Smart has been a regular at his son's games since Kirby became head coach at his alma mater in 2016. Sonny and wife Sharon Smart also missed last week's Peach Bowl against Ohio State.
CHASING THE CHAMPIONSHIP STORIES
Kirby Smart played for his father while growing up in south Georgia.
"He's taught me so much just about the way you handle things, the right way, the wrong way," Kirby said. "Control the controlables. The moment's never too big if you're prepared. And I always watched the way he prepared our teams and our staff in high school. He was a very wise man, a man of few words. I tried to follow his mantra as a coach."
Sonny Smart was the head coach at Bainbridge High School for two decades.
"I've certainly evolved from going to coach for other people, but a lot of my core beliefs came from the way he ran our programs in high school," Kirby Smart said.
Copyright 2023 The Associated Press. All rights reserved.