Court clerks are legally raking in the cash. But that may soon change
A controversial law allows superior court clerks to legally pocket thousands of dollars in passport processing fees. Fulton Commissioner Bob Ellis wants to change that.
Published: Jan. 10, 2023 at 11:32 AM EST
|
Updated: Jan. 11, 2023 at 9:22 AM EST
ATLANTA, Ga. (Atlanta News First) - "I think it's ridiculous that we have to learn about this in the context of somebody else reporting it," Fulton County Commissioner Bob Ellis said during a recent board meeting. "Every elected official - if there receiving some sort of compensation as a result of doing their job - they should have to disclose it to the public."
Ellis was responding to a recent Atlanta News First investigation which exposed a controversial law allowing superior court clerks to legally pocket thousands of dollars in passport processing fees.
And we're not talking about a few hundred dollars. Fulton County's Superior Court Clerk Cathelene "Tina" Robinson keeps 100-percent of every $35 passport fee. In 2021, she pocketed more than $360,000 in passport processing fees. That's in addition to her $180,000 yearly salary.
"Thanks to your reporting, that was news to me," Ellis told Atlanta News First Investigates. "It's ethically wrong because you're making money essentially off the backs of the taxpayers. It would be no different than any elected official setting up a personal office or personal business, using their staff to run the business, but the salary is getting paid by the county and they're pocketing the profits. That's essentially what's happening here."
Ellis said the lack of transparency bothers him most.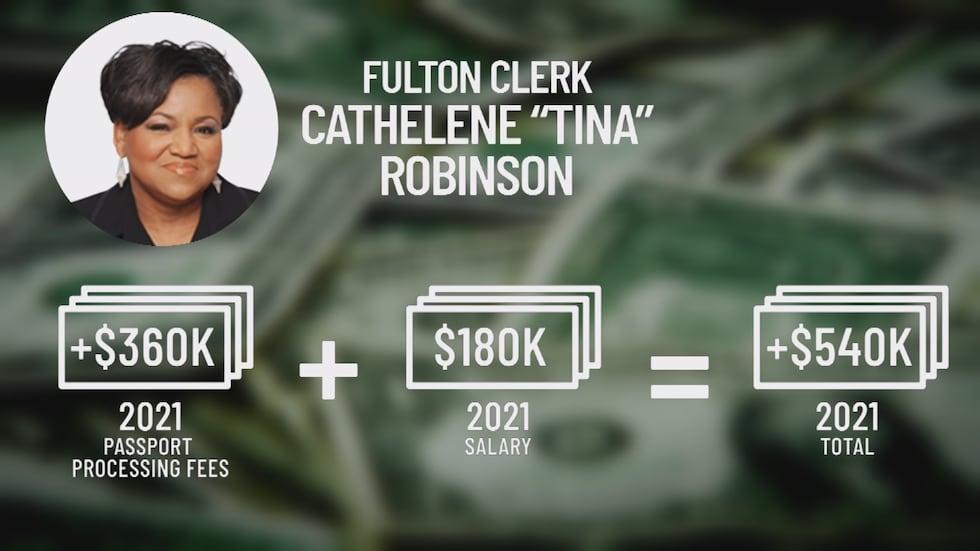 "If this is going to be allowed and permitted around the state, there needs to be disclosure to the voters about what type of compensation is coming to these elected officials. The idea that a clerk of court - who is largely just an administrator - is raking in roughly $546,000 a year. That's beyond the pale in terms of what the scope of responsibility should be," Ellis said.
When you apply for a passport in Georgia, you pay two fees: an application fee of $130 which goes to the federal government, and a processing fee of $35 that goes directly to the superior court clerk, where they can do whatever they want with it.
READ THE ORIGINAL REPORT: Superior court clerks legally pocketing thousands in passport processing fees
Atlanta News First Investigates obtained records from five superior court clerks offices.
In Cherokee County, $25 of every $35 passport fee is sent to the county's general fund. The remaining $10 goes to a support fund the clerk uses for items like office supplies.
In DeKalb and Gwinnett counties, $10 of every $35 passport fee goes to the county's general fund. The other $25 go into superior court clerks' pocket. DeKalb Superior Court Clerk Debra DeBerry pocketed more than $200,000 in 2021.
Gwinnett just began processing passports, nine months ago. Since then, Gwinnett County Superior Court Clerk Tiana Garner made close to $100,000.
In Cobb and Fulton counties, superior court clerks keep 100% of every $35 passport fee. In 2021 alone, Cobb Superior Court Clerk Connie Taylor raked in more than $220,000.
What's Next?
While the Fulton County Board of Commissioners can't change state law, Ellis wants to change disclosure requirements for those elected in his county.
"One of the things I intend to do is to research what kind of disclosure requirements we can put on all of our elected officials - separate from the state's disclosure statement – that would force a disclosure of these types of things," Ellis said. "I'm definitely interested in talking with some of our state legislators about what they can do to end this practice."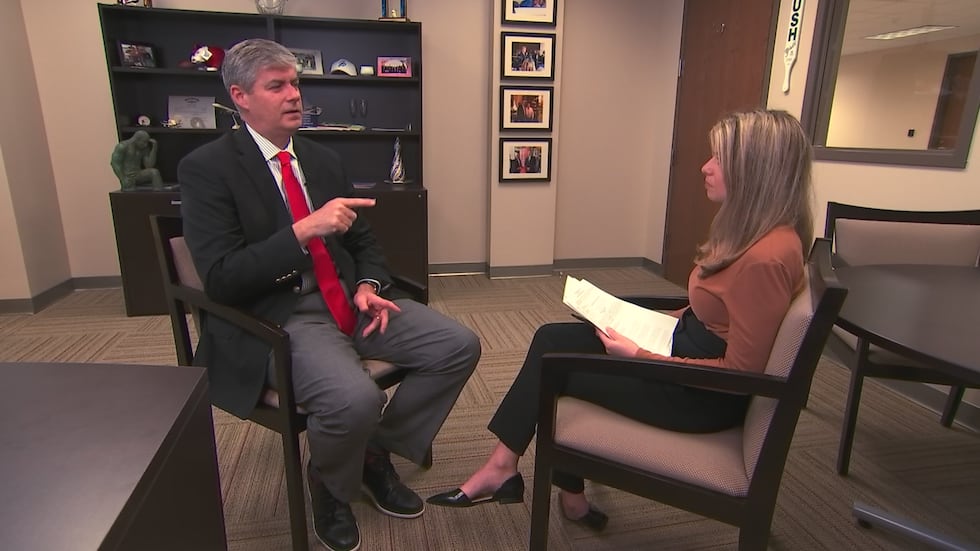 He won't have to look hard. State Sen. Kay Kirkpatrick (R-Marietta), who represents portions of Cobb and Cherokee counties, plans to introduce legislation this current session.
"Concerned would be a mild word to use," Kirkpatrick said. "It just doesn't seem fair to use county resources for your own personal profit. My bill is going to require disclosure of how the money is spent and there is going to be some type of formula that does not include personal income."
Superior Court Clerks Respond
Atlanta News First Investigates requested on-camera interviews with Fulton, Cobb, DeKalb, Gwinnett and Cherokee county superior court clerks. All of those requests were denied but four of the five provided statements. Gwinnett County and DeKalb County Clerk's sent a statement almost word for word identical.
If there's something you would like Atlanta News First Investigates to dig into, fill out this submission form.
Copyright 2023 WANF. All rights reserved.