Bennett, Bowers lead champion Bulldogs' demolition of TCU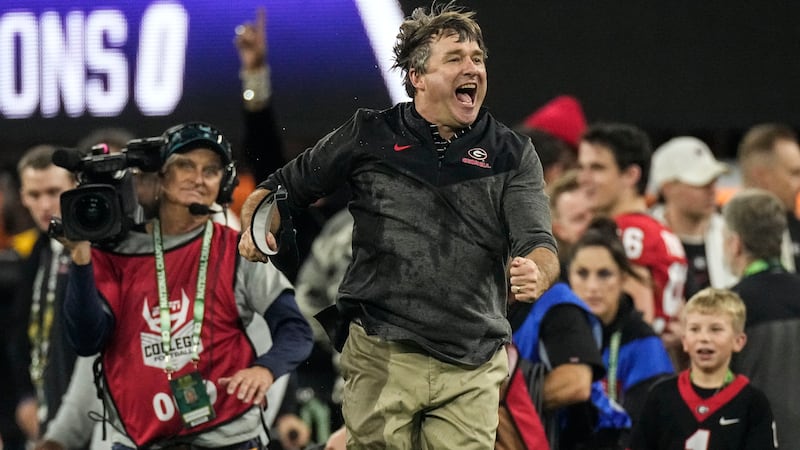 Published: Jan. 9, 2023 at 11:12 PM EST
(AP) - Stetson Bennett walked on at Georgia nearly six years ago at the beginning of the Bulldogs' growth into college football's most dominant program. He walked away early in the fourth quarter Monday night to a standing ovation from thousands of grateful Bulldogs fans during a timeout.
While Bennett's unlikely journey traces the path of the Bulldogs' recent past, Brock Bowers epitomizes Georgia's present and future as a powerhouse team stacked with superb talents who have known nothing but championships for two incredible years.
The quarterback's remarkable connection with his tight end was on display throughout the Dawgs' 65-7 demolition of TCU, and that chemistry played a major role in making sure the Bulldogs became champions again.
Bowers finished with seven catches for 152 yards and a touchdown from Bennett, including a 22-yard TD catch that firmly shut the door on the Horned Frogs in the third quarter of this epic blowout.
Bennett is more than five years older than Bowers, but the quarterback has bridged that modest generation gap to form a partnership that got one last national showcase at SoFi Stadium.
In the first half, Bennett became the first player in Georgia's lengthy history to rack up 4,000 total yards of offense over his career with plenty of help from Bowers. He also broke Aaron Murray's single-season yards passing record for the Bulldogs in the first half, an appropriate punctuation to a season in which the Bulldogs broke open offenses early with passing before running their way to victories.
Bennett is older than five starting quarterbacks of current NFL playoff teams, but he finished 29-3 as a starter at Georgia. Bennett joined Matt Leinart and A.J. McCarron as the only quarterbacks to lead their teams to back-to-back national championships in the 21st century when Georgia became just the fourth team to repeat since 1980.
Bowers' decision to move from Northern California to Athens and his subsequent growth into a football juggernaut inspiring comparisons to Travis Kelce is a prime illustration of what Georgia has become in the past few seasons — a national powerhouse that can snare players from every corner of the map and turn them all into stars.
Bowers, a 6-foot-4 multi-sport athlete with freakish speed for his size, has been a spectacular success since arriving at Georgia in 2021. He has led the Bulldogs in receiving for two straight years, playing multiple roles and causing innumerable headaches for opposing defenses with his strength, speed and versatility.
Until late in the third quarter of the title game, Bowers had more yards receiving than TCU's offense had total yards.
Copyright 2023 The Associated Press. All rights reserved.