No. 1 Georgia bullies TCU 65-7 to win 2nd consecutive title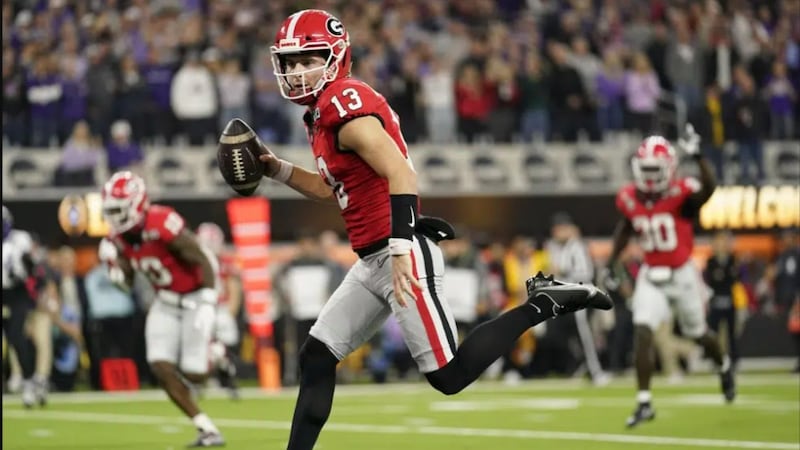 Published: Jan. 9, 2023 at 11:10 PM EST
INGLEWOOD, Calif. (AP) — Stetson Bennett threw two touchdown passes and ran for two scores in the first half as No. 1 Georgia demolished No. 3 TCU 65-7 Monday night to become the first team to win consecutive College Football Playoff national championships.
The Bulldogs (15-0) became the first repeat champs since Alabama went back-to-back during the 2011 and 2012 seasons and left no doubt that they have replaced the Crimson Tide as the new bullies on the block.
TCU (13-2), the first Cinderella team of the playoff era, never had a chance against the Georgia juggernaut. Unlike Michigan in the Fiesta Bowl semifinal, the Bulldogs would not succumb to the Hypnotoads' spell.
CHASING THE CHAMPIONSHIP STORIES
PHOTOS: Chasing the Championship 2023: UGA vs TCU
Georgia turned in one of the all-time beatdowns in a game that decided a national title, reminiscent of Nebraska running over Florida by 38 in the 1996 Fiesta Bowl, USC's 36-point rout of Oklahoma in the 2005 Orange Bowl, and Alabama's 28-point BCS championship blowout over Notre Dame in 2013.
But this was worse.
Too much talent. Too well-coached. Two straight titles for coach Kirby Smart's 'Dawgs.
No team has ever scored more points in a national championship game, dating to the beginning of the BCS in 1998.
With 13:25 left in the fourth quarter, coach Kirby Smart called timeout in the middle of an offensive drive so Bennett could exit to hero's ovation in the final game of his circuitous college career.
He finished 18 for 25 for 304 yards and four touchdown passes.
Georgia offensive linemen were snacking on chicken wings on the sideline as the game wound down.
Smart is now 81-15 in his first seven seasons at Georgia with two national titles. His mentor, Alabama coach Nick Saban, was 79-15 with three titles in his first seven seasons with the Tide.
The Bulldogs were a different kind of dominant this season: not quite as stingy on defense, but more explosive on offense.
Earlier in Smart's tenure at his alma mater, Georgia fans worried about whether the former defensive coordinator for Saban would be able to build an offense to match this high-scoring era of college football.
Under third-year coordinator Todd Monken, the Bulldogs have become prolific, creative and diverse offensively. They picked TCU's 3-3-5 defense from all angles.
Copyright 2023 WANF. All rights reserved.