Dawgs for 3?: Georgia has chance to make football history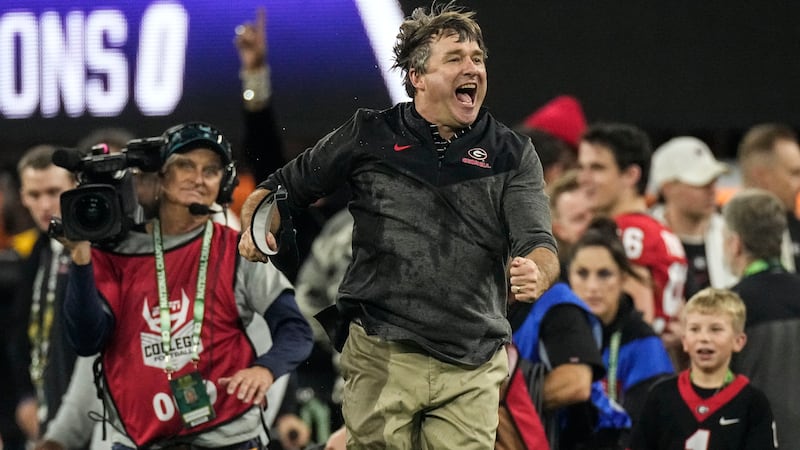 Published: Jan. 10, 2023 at 11:02 PM EST
(AP) - Kirby Smart has spent the past 16 years coaching at the top two powerhouses of this era in college football, so he already knew the question on everybody's mind the morning after his Georgia Bulldogs won their second straight College Football Playoff championship game.
"I really don't want to talk about three," Smart said Tuesday in a Los Angeles hotel ballroom shortly before the Bulldogs flew home.
Smart might not want to discuss it, but he couldn't deny he is already thinking about Georgia's chance to do something unprecedented in the last eight-plus decades of college football after obliterating TCU 65-7 in the most one-sided postseason college football game in history.
The Bulldogs have more national championships (2) than losses (1) over the past two seasons, establishing the new gold standard in college football after this 15-0 season.
They'll have a golden opportunity next year to play for a three-peat, which has never been done in the AP poll era, which dates to 1936.
"Starting to think about the next one, I do think it's going to be much tougher," Smart said. "And I do think we're going to have to reinvent ourselves next year, because you can't just stay the same. We have a lot of guys that are going to come back, and it's easy to get comfortable. And comfortable does not win."
In the long history of the AP Top 25, no team has ever been awarded three national championships in a row by poll voters. Twelve teams, including Georgia this season, have been ranked No. 1 in consecutive seasons in the final Top 25 since the poll became an annual endeavor in 1936. A number of teams – notably Minnesota in the 1930s and Army in the 1940s – claimed threepeats as awarded by other polls.
No team has ever won three straight titles in the AP poll, the coaches' poll, the Bowl Championship Series or the College Football Playoff. That puts Georgia squarely on the cusp of history — with a good chance to make it.
"I mean, this place is special," said Javon Bullard, the defensive back who will return in 2023 after making two interceptions and recovering a fumble against TCU. "Just growing up as a kid from the state of Georgia, playing for the University of Georgia, it's special. So the word 'dynasty,' it's something we're building together. And that was built before us, and it's going to continue to be built after us."
Sure, the Dawgs' personnel losses will be significant: The remarkable career of 25-year-old quarterback Stetson Bennett is finally over, while standout defensive tackle Jalen Carter declared for the NFL draft immediately after the game. Other expected losses include defensive backs Kelee Ringo and Christopher Smith, giant tight end Darnell Washington, linebacker Robert Beal and a chunk of the offensive line.
But waves of talent have hit Georgia every year of Smart's tenure at his alma mater. The Dawgs have another bumper recruiting class alongside the addition of several elite players in the transfer portal, most notably the leading receivers at Mississippi State (Rara Thomas) and Missouri (Dominic Lovett).
Georgia also has a remarkably comfortable schedule in 2023, with a late-season trip to Tennessee looming as probably the biggest obstacle to another unbeaten regular season and trip to the SEC title game.
Vegas agrees: The Bulldogs are the 3-to-1 favorite to three-peat, according to FanDuel Sportsbook.
In the bigger picture, Georgia will need years to rack up the accolades of Nick Saban's Alabama era. The Bulldogs have won two national titles and two SEC championships under Smart; six of Saban's seven national titles and eight conference titles have come with the Crimson Tide.
But Georgia is only the fourth team since 1980 to win two straight national titles and to reach this precipice of history.
The last team to get this close to a three-peat also was Alabama, which won national titles in 2011 and in 2012. The Tide began 2013 ranked No. 1 and won their first 11 games, but Auburn kept Alabama out of the SEC championship game and the final BCS title game with the legendary Kick Six — Chris Davis' 109-yard return of a missed field goal for a touchdown on the final play of the game.
Southern California got within a few minutes of a third straight national title back in 2005 after going undefeated all the way to the BCS title game at the Rose Bowl. The Trojans' bid ended in heartbreaking fashion with Texas' 41-38 victory led by Vince Young in one of the sport's greatest games.
College football is always changing, and Georgia got another reminder Tuesday when beloved quarterback Stetson Bennett elected not to come to the traditional morning-after news conference.
Bennett, who hopes for an NFL career that would be even more improbable than his college ascent, said on the field after the game that his obligations to Georgia were finished after the final whistle.
"I know he's got G.O.A.T. status in Athens, Georgia, forever," Smart said.
Copyright 2023 The Associated Press. All rights reserved.