Georgia's Bennett an underdog again in NFL's QB draft class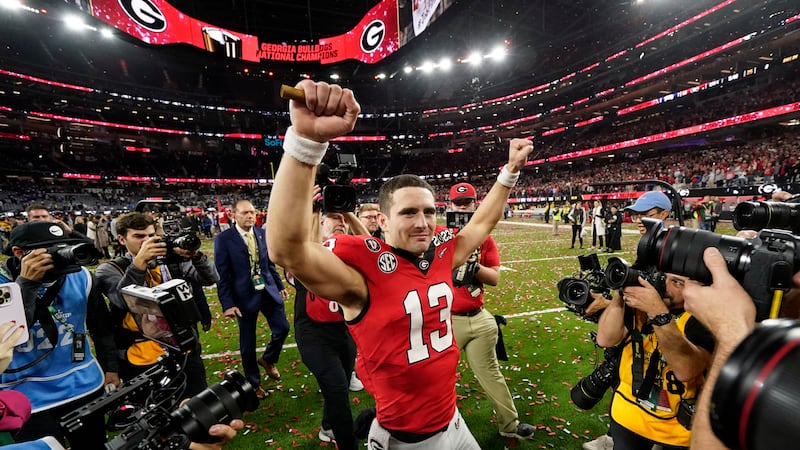 Published: Jan. 10, 2023 at 11:06 PM EST
(AP) - Stetson Bennett has a new world of doubters to disprove.
After winning a second consecutive national championship at Georgia, the 25-year-old quarterback is now facing questions about his NFL draft qualifications.
Bennett (5-11, 190) is seen as undersized and lacking elite arm strength —the same questions he faced when he walked on at Georgia in 2017. After leaving for junior college and returning to win back-to-back titles, including Monday night's 65-7 rout of TCU, Bennett is being excluded from the list of top quarterback prospects in the April NFL draft.
After watching Bennett pass for four touchdowns and rush for two scores against TCU, Georgia coach Kirby Smart said draft experts are making the same mistake college recruiters made six years ago.
"When you have a quarterback that can do the protections and check things and know what the defense is doing, yet still beat you with his feet, you've got a high-level quarterback," Smart said. "And people have slept on Stetson Bennett for too long. He needs an opportunity to play for a long time at the next level."
College football has a long list of standout QBs who never caught fire in the NFL. Just among two-time national championship winners, that list includes Matt Leinert (USC), A.J. McCarron (Alabama) and Tim Tebow (Florida). McCarron was a fifth-round pick; Leinart and Tebow, both Heisman Trophy winners, went in the first round.
Bennett never allowed himself to forget his background as a walk-on. He remained driven through the end of his college career. He was not satisfied with his performance in Georgia's 42-41 College Football Playoff semifinal win over Ohio State so he capped his career with perhaps his best game, according to Smart.
Bennett completed 18 of 25 passes for 304 yards. Both TD runs and two of his four scoring passes came in the first half as the Bulldogs (15-0) built a 38-7 lead. He added two third-quarter scoring passes before Smart took him out to an ovation from Georgia fans.
Bennett was named offensive player of the game in each of his four CFP games, all of them wins.
Even so, Alabama's Bryce Young, Ohio State's C.J. Stroud, Kentucky's Will Levis, Tennessee's Hendon Hooker and Florida's Anthony Richardson are among the quarterbacks expected to be selected in the first two rounds while Bennett may have to wait until the third day of the draft.
Dane Bugler, NFL draft analyst for The Athletic, said Bennett's draft outlook has improved this season but he is still viewed as a possible late-round pick who will "be drafted to be a backup, not a starter."
"About midway through this season was when I started to hear from scouts that Bennett had a realistic chance of being drafted," Bugler said Tuesday. "And those chances only increased with the way he finished the season."
ESPN draft analyst Matt Miller said Bennett was projected as a possible undrafted free agent before the season but has improved his draft outlook.
"His lack of size and arm strength are still issues and there will be those who believe the supporting cast around him elevate his game, but Bennett's poise and toughness paired with his accuracy and timing give him a chance to stick in the NFL," Miller said.
Because he returned for his sixth season made possible by the NCAA because of the pandemic, Bennett is older than some quarterbacks selected in the 2022 draft.
Bugler said Bennett has an "average arm."
"Will stare down targets and his accuracy is good, not great," Bugler said. "But he has very good awareness and anticipation. Better athlete than expected. Really tough, both physically and mentally."
Bennett said before the Peach Bowl he won't be deterred by those who question his potential to play in the NFL.
"I will not be making the call to cut off my football career unless my leg gets cut off early," Bennett said. "That will be somebody else's call."
Copyright 2023 The Associated Press. All rights reserved.