What to do before and after filing an insurance claim following storm damage
Georgia is recovering from a series of damaging storms on Thursday
Published: Jan. 13, 2023 at 4:00 PM EST
|
Updated: Jan. 13, 2023 at 5:00 PM EST
Austell, Ga. (Atlanta News First) - Many homeowners such as Carol May who sustained storm damage on Thursday are now waiting for insurance companies to get them back on their feet. The Georgia Office of Insurance and Fire Safety Commissioner said there are some things you need to know before and after filing a claim.
Wrapped with multiple layers of clothes to stay warm, May pointed to nearly a half dozen trees scattered across her yard Friday morning, pushed down by powerful winds. "I just heard real strong winds like I never heard before," said May, who has lived in her Austell home for more than four decades on Poplar Log Place in Cobb County.
One of the trees fell on her shed. May filed a claim with her insurance first thing Friday morning.
That was a smart move, according Jo Anne Oni, the director of consumer services with the Georgia Office of Insurance and Fire Safety Commissioner, "because you want to get that filed as soon as possible because everyone is filing claims. You want to make sure you're at the top of the list in getting some assistance."
The agency suggests the public follow these four steps after storm damage:
Call your insurance company after assessing the damage.

Take pictures and videos.

Save your receipts if you need to pay for something immediately.

Protect your property, like using a tarp if there is a hole in your roof. It's actually required because it's a part of your insurance contract."
"It only takes hours or days for mold to start forming, and you want to make sure that doesn't happen," said Oni.
Insurance companies are required by law to respond in a timely manner. If companies don't, there is a process that can help compel them to move.
The agency has set up a special phone number for the public to use if they believe their insurance company is responding appropriately. That phone number is: 1-800-656-2298.
Oni said agency staff will make a courtesy call to the insurance company on your behalf to get to the bottom of the delays. If that doesn't work, homeowners can file a formal complaint with the agency.
May's shed is covered by insurance, but the cost to remove the fallen trees spread across her home may not be. In most cases, homeowner insurance only covers covered structures, like a home.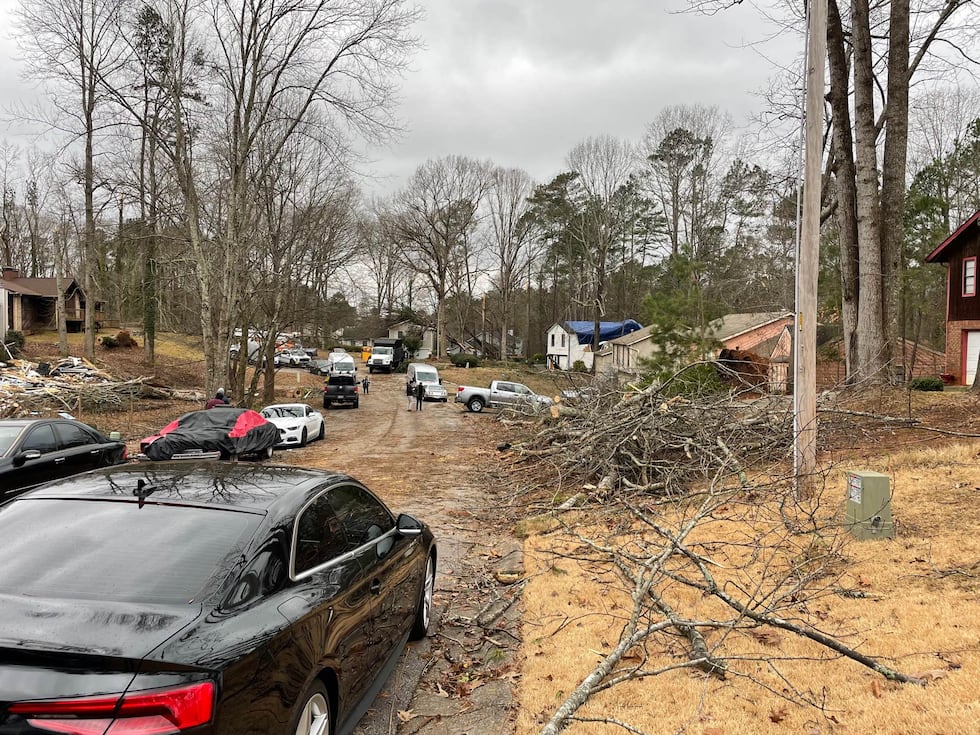 According to the Insurance Information Institute, in the United States between 1997 to 2016, events involving tornadoes, including other wind, hail and flood losses associated with tornadoes made up 39.9% of total catastrophe insured losses, adjusted for inflation.
SOURCE/DATA FOR THIS Came from the National Center for Environmental Information
On March 25-26, 2021, an EF-4 tornado struck Newnan, resulting in $20 million in property damage, according to the National Center for Environmental Information.
Four other tornados struck other areas during this timeframe, upping the property damage to more than $21 million.
On March 14, 2008, the tornado that hit downtown Atlanta, killing one and injuring 30 others, caused $25 million in property damage.
Over the last 20 years, Georgia has had four EF4 tornadoes that, in total, killed nine, injured 51 and caused $57.5 million in property damage.
Insurance companies are typically required to pay for damage caused by a tree that fell from a neighbor's yard, but only if the homeowner has put their neighbor on noticed that they believe the tree was previously damaged or diseased.
Oni suggests documenting that notice by email or letter. "Just having a verbal conversation is not enough because of course the neighbor could deny it," said Oni.
May won't know what's covered at her home until an insurance adjuster arrives. "I doubt anytime soon because so many other people have called, especially that have damages to their home," she said.
RELATED STORIES:
Copyright 2023 WANF. All rights reserved.