Gov. Kemp requests 'major disaster declaration' from FEMA after tornadoes
If granted by President Biden, local governments and citizens could see federal relief aid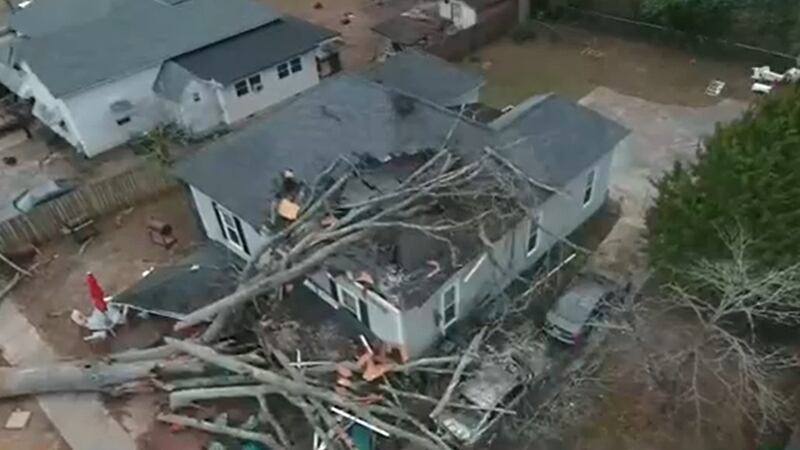 Published: Jan. 16, 2023 at 7:42 PM EST
ATLANTA, Ga. (Atlanta News First) - On Monday, Georgia Governor Brian Kemp submitted a request to FEMA for a 'major disaster declaration' for seven Georgia counties, according to Crystal Paulk-Buchanan, spokesperson for FEMA, the Federal Emergency Management Agency.
Paulk-Buchanan confirmed FEMA received that request from the Governor's Office on Monday.
The seven counties included in the request are Butts, Henry, Jasper, Meriwether, Newton, Spalding, and Troup Counties.
The request would apply to both local governments and citizens seeking relief from these seven counties.
Just because the governor has requested this designation does not guarantee that it will be approved.
The FEMA spokesperson could not provide a timetable on when President Biden could rule on this request.
Two counties in Alabama were granted 'major disaster declaration' after straight-line winds and tornadoes happened in areas of Georgia on Jan. 12.
A 5-year-old in Butts County is the first confirmed death during the severe weather that impacted north Georgia. The victim was identified as Egan Jeffcoat.
While the National Weather Service is still surveying the damage, the agency has already confirmed that at least two separate tornadoes touched down in Butts County. County Manager Brad Johnson says the Jackson Lake area saw the most severe damage.
Homeowners and renters of Autauga and Dallas counties affected by the severe storms can apply for FEMA disaster assistance.
RELATED: Spalding County opens volunteer, donated goods center after devastating storm
The spokesperson said that the governor requested federal assistance that included emergency work and support measures for local governments to help cover costs of overtime for field crews and additional debris clearance aid.
For individuals of these seven counties, the 'major disaster declaration' would allow homeowners and renters, who are not covered by insurance, to seek relief surrounding home repair and rental assistance.
Atlanta News First reached out to the Governor's Office on Monday for confirmation of this request. A spokesperson has not responded.
For more on how FEMA designates 'major disaster designations, click here.
RELATED STORIES:
Copyright 2023 WANF. All rights reserved.