Georgia's top public defender flips, admits her agency cannot hire enough lawyers
Part five of 'The Sixth,' an Atlanta News First investigative series on Georgia's - and the nation's - shortage of public defenders
Published: Jan. 25, 2023 at 1:53 PM EST
|
Updated: Jan. 26, 2023 at 8:31 AM EST
ATLANTA, Ga. (Atlanta News First) - The head of the agency in charge of finding legal counsel for people accused of crimes is struggling to hire public defenders across Georgia.
"The issue is not funding. The issue is we still cannot find attorneys," said Omotayo Alli, executive director of the Georgia Public Defenders Council (GPDC) during an appropriations hearing at the state capital last week in front of lawmakers.
Alli's admission follows a series of investigations by Atlanta News First which uncovered hundreds of people without legal representation last year. Some of the accused languished behind bars for months while the agency searched for attorneys.
RELATED | The Sixth, part one: Desperate for Representation
In an interview with Atlanta News First in November, Alli painted a completely different picture of reliable access to public defenders.
When asked if GPDC had enough attorneys to represent defendants in Georgia, Alli confidently said, "Absolutely."
At the time, she credited salary raises pushed through the 2022 legislative session for hiring more public defenders. "And because of that, we have been able to attract and retain more of our employees," said Alli. "These last two years have been the most phenomenal."
Ten days after Alli told Atlanta News First she had sufficient staff, one of her attorneys told a judge in Fulton County, Georgia the agency is still short public defenders. "We are doing everything in our power to add more attorneys. It is not happening as readily as none of us would like and I apologize for that," said Arnold Regas, a state public defender in a virtual hearing posted on Fulton County Superior Court Judge Robert McBurney's YouTube channel.
Ragas told McBurney that the Georgia Public Defenders Council hired him to travel the state to represent defendants in judicial circuits the agency has not been able to retain attorneys for clients. "Yes, it is not sustainable for me personally to be in multiple places at the same time," said Ragas.
The U.S. Constitution's Sixth Amendment guarantees access to an attorney to people charged with a crime if they can't afford one. In Georgia last year, state records show there were not enough public defenders to fulfill that right, creating a domino effect that impacted the accused, victims and trust in the criminal justice system.
Linda Day watched Alli's testimony last week in disbelief. "I want to throw up. I feel like I've been punched in the gut," said Day, who is a former public defender who resigned from the GPDC in October 2021.
RELATED | The Sixth, part two: Released From Jail
Day worked in the metro public defender's conflict office for 12 years. She left the agency because GPDC was not giving her the resources and support to adequately defend clients.
Day is one of several former public defenders who resigned over the past two years. "It made me understand how completely out of touch she is, living in an ivory tower that's not connected to public defenders on the ground," she said.
Atlanta News First uncovered at least 600 people charged with crimes who did not receive legal representation in 2022. The majority were not convicted of crimes; they were waiting for their day in court while out on bond or behind bars for months or years.
This past August, Fulton County court administration records obtained from a state public record request show at least 113 people indicted for crimes did not have a court-appointed attorney. All of these individuals were charged with crimes that included multiple defendants, which requires the state's public defender office to appoint attorneys outside its office to represent them, known as "conflict" or "C-3″ attorneys.
The C-3 attorneys are private lawyers certified to represent indigent defendants on the state's behalf. Of the 113 people waiting for legal representation, the majority of them were Black. Twenty-nine had been behind bars longer than a year.
Judge McBurney is one of the critics of the agency's failures. "It is an unacceptable crisis that there are people sitting incarcerated, not able to move their case forward because the system can't find them a lawyer," said McBurney in October.
RELATED | The Sixth, part three: Why They're Leaving
Attorney shortages is not the only issue on which Alli has flipped her opinion. In November, Atlanta News First Investigates told Alli about Day, who was struggling to represent hundreds of defendants while a contract public defender in Clayton County.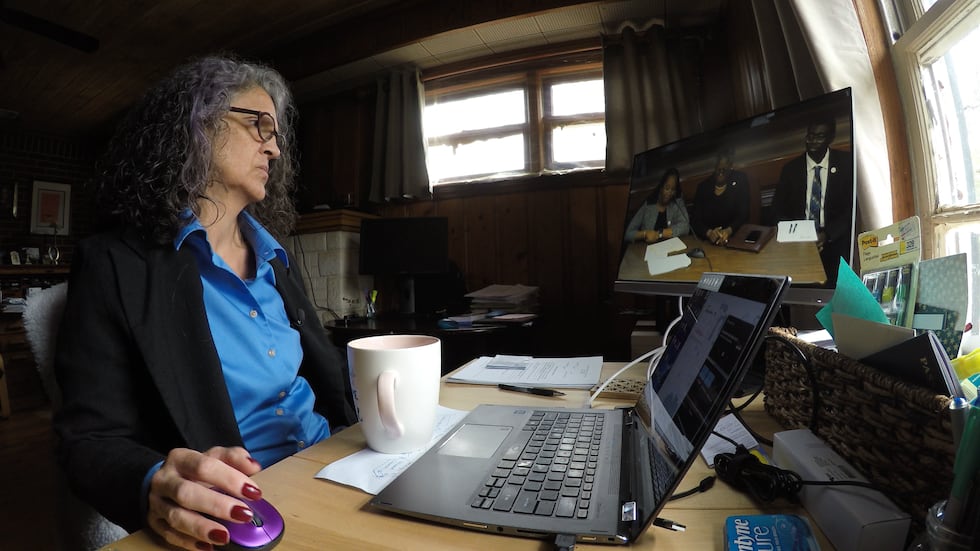 "You're pissing on fires as they come up. So cases don't really get looked at until they show up on a trial calendar," said Day in October. She had more than 600 clients on her plate at that time.
Alli didn't believe her. "It is not manageable, but it would be unfortunate for Clayton County to allow that to happen. And I don't believe that is true," said Alli in November.
Two and a half months later, Alli told lawmakers it's not uncommon for public defenders throughout the state to juggle 400 cases at a time. "It's very high," said Alli in last week's hearing. "And we're going to be having a meeting. I just sent an inquiry to about six of the highest circuits."
State Rep. Scott Holcomb (D-Atlanta) is one of the lawmakers who attended the hearing.
"I'm a practicing lawyer," Holcomb said. "So to have a caseload of over 400, that's very concerning to me. I don't know how any lawyer can diligently work through a caseload of that size."
RELATED | The Sixth, part four: Search For Solutions
Holcomb hopes to have a meeting with Alli to learn more. "This isn't a 'may do,' this is 'must do.' I want to have clarity as to where these jurisdictions are and then how bad the problem is, and then we need to set forth a plan to address it and to remedy it," he said.
At the end of January, Day's contract with Clayton County expires. According to Day, there are current no plans to replace her.
"If they are in jail, it means they sit longer. And you sit there until the [district attorney's office indicts you," said Day.
During the hearing, Alli told lawmakers the agency has hired a recruiter to help. The director's only request to lawmakers was to fully fund HB 1391, which provides pay equity between public defenders and prosecutors.
When ANF asked why Alli changed her position on the attorney shortages and caseloads, GPDC did not respond.
This story is part of a series about the constitutionally-guaranteed access to legal representation in court, and the challenges that arise when the supply of defenders is limited. Part one in the series looks at defendants' desperate need for representation. Part two covers judges forced to take actions that may erode the public's trust in the judicial system. In part three, former public defenders explain why they left the job. Part four looks at the search for solutions.
If there's something you would like Atlanta News First Investigates to dig into, fill out this submission form.
Copyright 2023 WANF. All rights reserved.