Young's 33 points, 11 assists lead Hawks past Thunder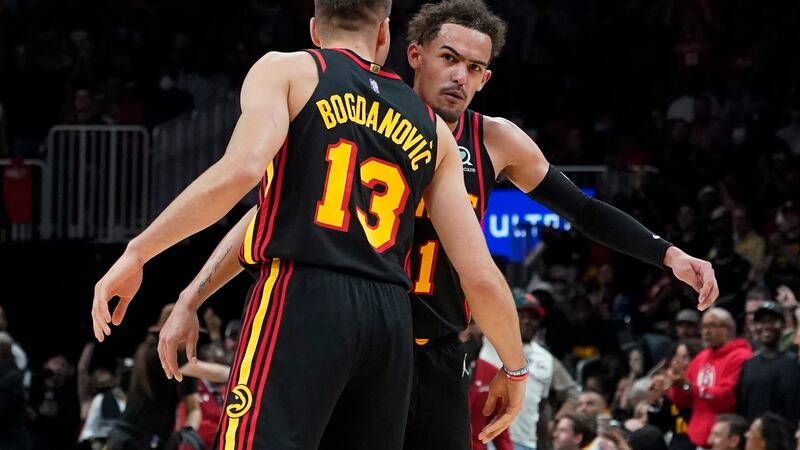 Published: Jan. 25, 2023 at 10:59 PM EST
(AP) - Trae Young had 33 points and 11 assists, helping the Atlanta Hawks beat the Oklahoma City Thunder 137-132 on Wednesday night.
Dejounte Murray scored 21 points and Bogdan Bogdanovic added 20 for the Hawks, who snapped a two-game losing streak.
Shai Gilgeous-Alexander scored 36 points and Jalen Williams added 24 for the Thunder.
Williams stole the ball from Young and dunked to cut Atlanta's lead to 133-132 with 15.3 seconds left. Atlanta's John Collins was fouled with 14.5 seconds remaining. He made both free throws to make it 135-132.
Gilgeous-Alexander drove to the hoop to try to get quick points, but Murray blocked his shot. Gilgeous-Alexander rebounded and missed again, and Murray came up with the ball. Murray was fouled and made two free throws at the other end with 2.7 seconds remaining to put the game out of reach.
The teams were tied at 77 at halftime. It was the most points the Hawks have scored in a half this season. Gilgeous-Alexander scored 26 points and Young had 22 before the break. Atlanta shot 58.3% from the field in the first half, while Oklahoma City shot 56.9%.
Atlanta led 109-104 at the end of the third quarter, then scored the first 10 points of the fourth. Oklahoma City responded with a 9-0 run to trim its deficit to six and force Atlanta to call a timeout. The game was close the rest of the way.
Copyright 2023 The Associated Press. All rights reserved.