'Step back' | Investigative reporter kicked out of Stonecrest City Hall
Atlanta News First Investigates was reporting on SeaQuest, an aquarium/petting zoo on property not zoned to house indoor animal exhibits
Published: Feb. 1, 2023 at 10:26 AM EST
|
Updated: Feb. 1, 2023 at 7:52 PM EST
STONECREST, Ga. (Atlanta News First) - Atlanta News First is investigating a controversial aquarium and petting zoo in DeKalb County that was not properly permitted to open.
SeaQuest at the Mall at Stonecrest opened a little over a year ago, even though the property was not zoned to house indoor animal exhibits.
Now, the city's planner is trying to change zoning language to bring the aquarium chain into compliance. But some community members say that sets a dangerous precedent.
In March 2021, Stonecrest's former Mayor Jason Lary – who is now in federal prison for stealing pandemic relief funds – sent a letter to SeaQuest that said in part: "We believe the operation of a SeaQuest attraction at our premier Mall at Stonecrest is a permitted use."
By June 2021, SeaQuest announced it would be opening its 10th location at the Mall at Stonecrest. By November, the aquarium and petting zoo opened its doors.
But the mall was not in a zoning district that allowed indoor animal exhibits.
In February 2022, records obtained by Atlanta News First Investigates reveal an email from a SeaQuest employee to Stonecrest's city planner, Keedra Jackson, asking if SeaQuest could buy more animals including "a mini cow, mini donkey, and/or alpaca."
A few days later, Jackson replied, "Per our code, your property is zoned C-1 and does not allow for keeping of livestock," adding "the concerns we have is safety, health concerns, and the specific types of animals that will be present."
After some pushback from SeaQuest, Jackson, in March 2022, wrote, "We are now looking at an ordinance to put in place," adding "The ordinance will be tailored to benefit your establishment."
>> Read the entire correspondence between a SeaQuest employee and a Stonecrest city planner.
Jackson presented the amendment to the Stonecrest City Council at its last meeting, which was met with opposition from three community members including DeKalb County residents Christopher Eubanks and Dana Davis.
"That's very scandalous to be honest," Davis said.
"It sets a dangerous precedent when the city will re-write zoning language to cater to a particular type of business," Eubanks said.
Eubanks and Davis also spoke out about animal rights and poor animal treatment. The U.S. Department of Agriculture recently released a settlement agreement detailing three violations of the Animal Welfare Act at SeaQuest involving multiple locations and eight incidents across the country.
The settlement agreement details incidents involving SeaQuest attractions in Nevada, Utah and New Jersey.
"It's not all about money," Davis said. "You should think about the health of people around you. You should think about the animals."
The national animal rights group, People for the Ethical Treatment of Animals (PETA), has also condemned SeaQuest. Ahead of the Stonecrest city council meeting, PETA sent this letter to Mayor Jazzmin Cobble and the city council, urging them to reject the measure.
After a short discussion, the council voted unanimously to "defer" or postpone the measure to the next council meeting.
After Jackson's presentation at the city council meeting, Atlanta News First Investigates asked, "Ms. Jackson, do you typically re-write zoning language to benefit certain businesses?"
"I have no comment at this time," Jackson replied.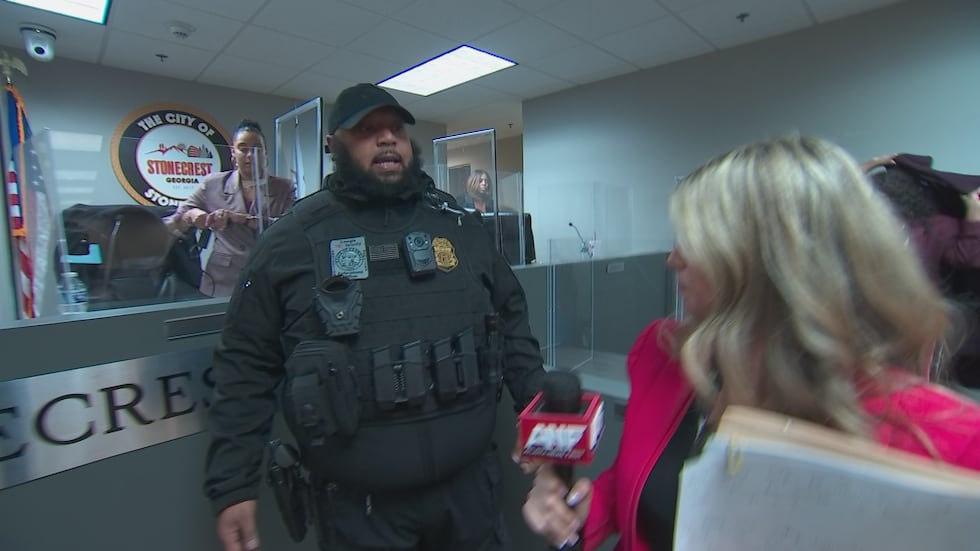 After the city council meeting ended, Atlanta News First Investigates began questioning the city's mayor but was met with resistance from a security guard.
ATLANTA NEWS FIRST INVESTIGATES: "I have an email from Keedra Jackson saying, 'The ordinance will be tailored to benefit your establishment' and she sent that to SeaQuest."
MAYOR COBBLE: "Ma'am, I'm Jazzmin Cobble. I'm the mayor of the city of Stonecrest. I'm not Keedra Jackson. I can only speak for the city of Stonecrest on behalf of the legislative body, er I'm sorry, on behalf of the executive body, with the support of our legislative body and the codes are written to make sure that we regulate use within the city of Stonecrest. She's a staff member here, yes ma'am, and absolutely I will look into what you had mentioned, and I definitely will address it."
SECURITY GUARD: "I need you guys to step back. I need you to step back."
ATLANTA NEWS FIRST INVESTIGATES: "She [Mayor Cobble] didn't tell me to step back."
SECURITY GUARD: "I'm telling you to step back."
Atlanta News First Investigates was then ordered to leave the public building.
Four days after the council meeting, the city of Stonecrest sent the following statement to Atlanta News First Investigates:
"The City of Stonecrest has become aware of certain staff communications that may give the inaccurate impression that the recently proposed amendment to the city's zoning ordinance (TMOD2022-012) was offered to circumvent the city's normal rules or to improperly benefit a single entity, in this case SeaQuest.
" 'These communications were unfortunate; however, they are solely attributable to the individual making them and in no way reflect the views of the Mayor and City Council. We remain steadfastly committed to implementing progressive and fair-minded policies within the city and we have the same expectations of our city staff,' " said Mayor Jazzmin Cobble. " 'Towards this end, the city is engaging an independent consultant to review the proposed zoning amendment to ensure that it is fully consistent with the city's charter and ordinances, as well as sound public policy, best government practices for land use requirements, and enforceable healthy and safety standards. Despite extraneous comments from staff and others, City Council and I are the city's ultimate decision-makers, and we will properly evaluate this proposed zoning amendment at a future meeting.' "
Atlanta News First Investigates has reached out to SeaQuest multiple times but has yet to receive a response.
Atlanta News First Investigates also reached out to Stonecrest Resorts, the real estate development company behind SeaQuest at Stonecrest Mall, multiple times, but has yet to receive a response.
BEHIND THE INVESTIGATION: Why did our investigative reporter get kicked out of Stonecrest City Hall?
If there's something you would like Atlanta News First Investigates to dig into, fill out this submission form.
Copyright 2023 WANF. All rights reserved.