Conley's pitch clock violation leaves Braves-Red Sox tied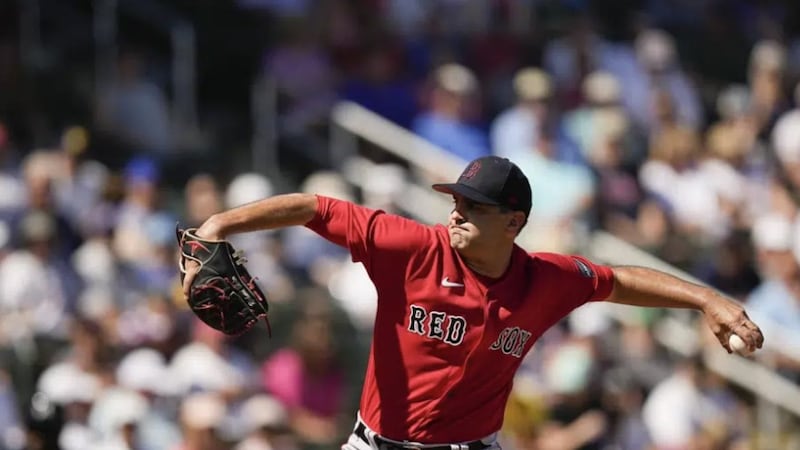 Published: Feb. 26, 2023 at 11:39 AM EST
NORTH PORT, Fla. (AP) - Cal Conley of the Atlanta Braves thought he had just won the game with a two-out, full-count, bases-loaded walk-off walk on Saturday. He took a few steps toward first base, bat still in hand, when umpire John Libka jumped out from behind the plate and indicated strike three.
Game over. Conley, apparently thinking he had been awarded an automatic ball four, couldn't believe it. He pointed to himself and said, "Me?" His teammates couldn't believe it, either. Fans booed.
Welcome to 2023, where baseball's new rules designed to improve pace of play are coming fast at everyone, particularly the players.
The most dramatic moment of the new pitch clock era arrived on the first full day of spring games, and in the most dramatic scenario possible. Conley, facing reliever Robert Kwiatkowski of the Boston Red Sox, wasn't set in the box and alert to the pitcher as the clock wound under eight seconds.
The penalty is an automatic strike, which led to the game at North Port, Florida, finishing in a 6-6 tie. Kwiatkowski got the strikeout after throwing only two real strikes.
It was a far more dramatic moment than when San Diego Padres slugger Manny Machado on Friday became the first player to draw a pitch clock violation when he was called for an automatic strike in the bottom of the first inning against Seattle because he wasn't set in the box in time.
The pitch clock is one of the new rules designed to speed up the pace of play. Players will have 30 seconds to resume play between batters. Between pitches, pitchers have 15 seconds with nobody on and 20 seconds if there is a baserunner.
The pitcher must start his delivery before the clock expires. After a pitch, the clock starts again when the pitcher has the ball back, the catcher and batter are in the circle around home plate, and play is otherwise ready to resume.
MORE SIGN STEALING?
Could the pitch clock lead to more on-field sign stealing, in turn forcing managers to cut out the third base coach as the middleman for relaying signs?
Veteran managers Dusty Baker and Buck Showalter think so.
It's an interesting point from Baker, considering that he took over as Houston's manager in 2020 after A.J. Hinch was fired following the stunning revelation that the Astros had illicitly stolen signs in 2017 when they won the World Series, and again in 2018.
"I'm concerned about that because you're always aware of people stealing signs," Baker said Saturday when his defending World Series champion Astros beat Showalter's New York Mets 4-2 in West Palm Beach, Florida. "And then there's the sensitive area. OK, are you cheating? Is that part of the game, stealing signs? If I know you're hitting and running that's what I'm supposed to do."
Baker said there's less time for the dugout to signal the third base coach, who in turn must relay signs to batters and runners, and therefore less time for to use decoys, making the signs easier to decipher.
Baker believes the pitch clock puts even more pressure on the third base coach to be quick — and somewhat deceptive. On the other hand, the pitch clock also limits the amount of time defenses have to react, even if they know a hit-and-run or bunt is coming.
Baker said the toughest job on the field is being a third base coach. "Everybody in the ballpark has eyes on him. Everybody's trying to decipher his sequence of signs. There are guys in the stands, are guys now on videos? I mean, if you know what the opposition is going to do, that makes it even tougher to do. Yeah, I'm concerned about that."
Showalter shares Baker's concern to the point that he's considering eliminating the middleman and having all signs come directly from the dugout, a practice common in the amateur ranks.
"There are so many things that, because we're afraid to copy colleges or high schools because, 'Oh, they're amateurs and we're pros,' " Showalter said. "There are things they did better. They don't go through the third base coach. Why do we transfer stuff to a third base coach to then transfer to the player? It's just another relay."
Copyright 2023 WANF. All rights reserved.