New Hawks coach Snyder facing difficult midseason transition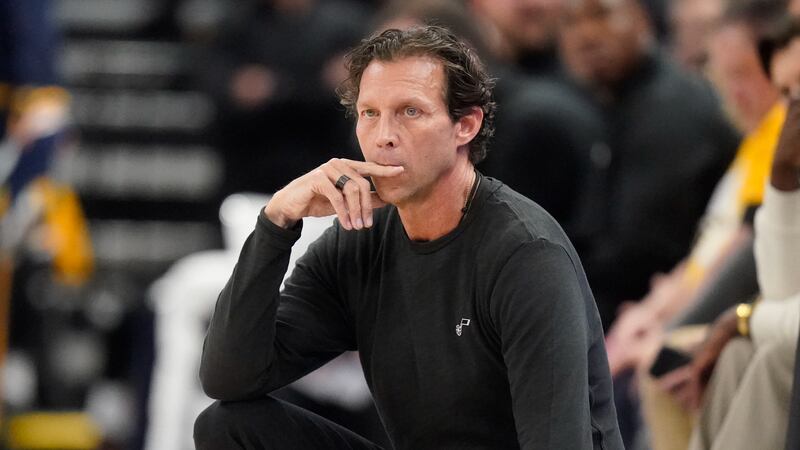 Published: Feb. 27, 2023 at 5:01 PM EST
(AP) - Quin Snyder was more than just the first coaching candidate contacted when Atlanta Hawks general manager Landry Fields began looking to replace Nate McMillan.
Snyder was the only candidate interviewed by Fields.
"Everything we were looking for, it was check, check, check," Fields said of his conversation with Snyder, the former Utah Jazz coach, who was introduced on Monday as the Hawks' new coach. Fields said finding the right fit immediately with Snyder "was a big moment."
Snyder will make his Atlanta debut on Tuesday night, when the Hawks play at home against Washington. Joe Prunty, who was 2-0 as the interim coach, will remain on the bench beside Snyder.
The Hawks announced Snyder's hiring on a five-year deal on Sunday night, only five days after McMillan was fired with the team mired in eighth place in the Eastern Conference.
The announcement was not a surprise. Fields confirmed on Wednesday that Snyder was a candidate.
Fields hopes the Hawks, currently in position for a spot in the play-in tournament, can finish the regular season strong under Snyder and earn a playoff spot as one of the top six teams in the East.
The Hawks (31-30) have struggled to reclaim the success they enjoyed under McMillan in reaching the 2021 Eastern Conference finals. The expectation to find that winning formula is now transferred to Snyder in a potentially difficult transition so late in the season.
"It's always a challenge, but those challenges are often most rewarding and the best opportunity," Snyder said.
He acknowledged that the decision to take over the job now, instead of waiting until after the season, wasn't easy.
"As I thought about it, I think the opportunity to come in now, although maybe challenging, is also an opportunity to hopefully go on a run," Snyder said. "Also, and I think these things are not mutually exclusive, to begin to build a foundation, a culture."
Snyder, 56, was an assistant on Mike Budenholzer's Hawks staff in the 2013-14 season.
He was 372-264 as Utah's coach from the 2014-15 to 2021-22 seasons, finishing with six consecutive playoff seasons. Even though the Jazz never advanced past the Western Conference semifinals, the winning record would have made Snyder an attractive candidate to other teams who may make coaching changes after the season.
The timing of the Hawks' change created an opening for Fields to have exclusive conversations with Snyder.
Fields said that opportunity to be first in line with Snyder had no bearing on his decision to fire McMillan during the All-Star break. Fields said he was motivated to make a move because he believed the Hawks were not fulfilling their potential under McMillan.
"We had two separate things going on — what is the state of our team right now and how we can best serve them and set us up for end of the season success following the All-Star break and then how are we going to position ourselves as an organization," Fields said, adding "that doesn't necessitate that Quin was going to take over at midseason. It wasn't a huge factor for us. I knew that first and foremost we had to address our ballclub and that's what we did."
Snyder said the opportunity in Atlanta "lined up just right" with what he was looking for in his next coaching job after leaving Utah following last season.
New Hawks assistant general manager Kyle Korver played for Snyder in Atlanta and Utah. Korver gave Snyder positive reviews about Fields. Snyder said he believes the Hawks provide "the character in the front office" he sought.
"I wanted to find that type of partnership and I know that's why this situation, I think, is such a good fit for me personally," Snyder said, adding that he and Korver "have been friends for a long time. … His feelings about Landry, everything was affirmed that I had heard about Landry."
Snyder met with Atlanta players on Monday morning. Some players, including Dejounte Murray and Bogdan Bogdanovic, attended the afternoon news conference. The team's biggest star, point guard Trae Young, was not in attendance.
Copyright 2023 The Associated Press. All rights reserved.