911 calls appear to place former UGA defensive lineman at scene of deadly crash
Published: Mar. 1, 2023 at 10:02 AM EST
|
Updated: Mar. 1, 2023 at 12:04 PM EST
ATHENS, Ga. (Atlanta News First) - An arrest warrant has been issued for a former Georgia football player as a result of the ongoing investigation into the Jan. 15 fatal crash that killed a UGA staffer and fellow teammate. The warrant issued from the Municipal Court of Athens-Clarke County states that Carter is accused of misdemeanor counts of reckless driving and racing.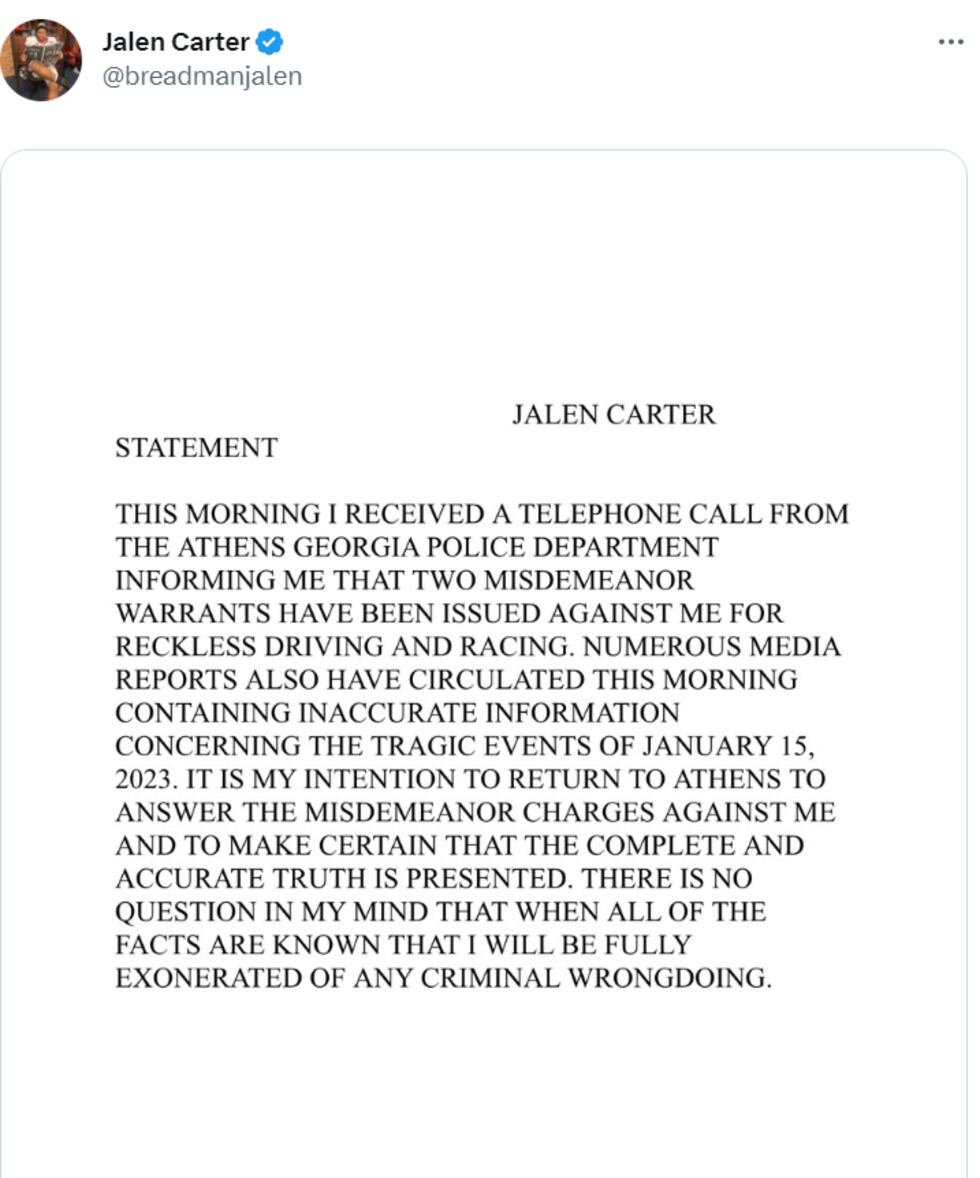 Their investigation found that UGA staffer Chandler LeCroy, driver of the 2021 Ford Expedition, and Jalen Carter, driver of a 2021 Jeep Trackhawk, were operating their vehicles in a manner consistent with racing shortly after leaving the downtown Athens area at about 2:30 a.m.
Officials say the evidence demonstrated that both vehicles switched between lanes, drove in the center turn lane, drove in opposite lanes of travel, overtook other motorists, and drove at high rates of speed, in an apparent attempt to outdistance each other. Evidence indicated that shortly before the crash, the Expedition was traveling at about 104 miles per hour.
The toxicology report from the Georgia Bureau of Investigation stated that LeCroy's blood alcohol concentration was .197 at the time of the crash. It also showed that no drugs were in her system at the time.
RELATED: What are the charges facing Jalen Carter?
Athens-Clarke County investigators determined that alcohol impairment, racing, reckless driving, and speed were significant contributing factors to the crash.
University of Georgia football player Devin Willock, who was a passenger in the Expedition driven by LeCroy, died at the scene. LeCroy died later at the hospital. Two others injured in the crash were Bulldogs player Warren McClendon and UGA staffer Victoria Bowles.
Head Football Coach Kirby Smart released the following statement in response to the charges brought against Carter.
Newly released 911 calls appear to place Carter at the scene of the deadly crash.
On the night of the crash one of the callers who contacted Athen's Clarke County Police can be heard saying, "Hey JC you might as well just go on! Jalen! Jalen! Go on!"
Police would not confirm who the 911 caller was, and they would not confirm if Jalen was caught on surveillance cameras in a black jeep speeding through Downtown Athens on the same night as the deadly crash involving Lecroy and Willock.
However, arrest warrants do show that Carter was driving a Jeep the same night in which he is now charged with racing and reckless driving alongside LeCroy.
Carter was a defensive lineman for the Georgia Bulldogs. He was a two-time CFP national champion with the Bulldogs, winning in 2021 and 2022.
RELATED STORIES:
Copyright 2023 WANF. All rights reserved.