Georgia defensive lineman Jalen Carter booked, released from jail
Published: Mar. 2, 2023 at 3:10 AM EST
|
Updated: Mar. 2, 2023 at 9:46 AM EST
ATHENS, Ga. (Atlanta News First) - Former Georgia defensive lineman Jalen Carter has been booked and released from the Athens-Clarke County Jail on charges of reckless driving and racing.
Jail records indicate Carter was booked at 11:33 p.m. Wednesday night and released at 11:49 p.m.
Carter was charged in connection with the Jan. 15 crash that killed Georgia football player Devin Willock and staffer Chandler LeCroy. Another player and another staffer were injured in the crash.
An investigation by Athens-Clarke County police found that LeCroy and Carter were racing down Barnett Shoals Road when LeCroy crashed her 2021 Ford Expedition. LeCroy was driving a university-owned vehicle at the time of the crash. Reports indicate that LeCroy had a .197 blood alcohol concentration (BAC) and was driving in excess of 100 mph.
Carter was driving a 2021 Jeep Trackhawk. Recently released 911 calls place Carter near the scene of the crash.
The highly-touted NFL prospect released a statement on social media before turning himself in to police.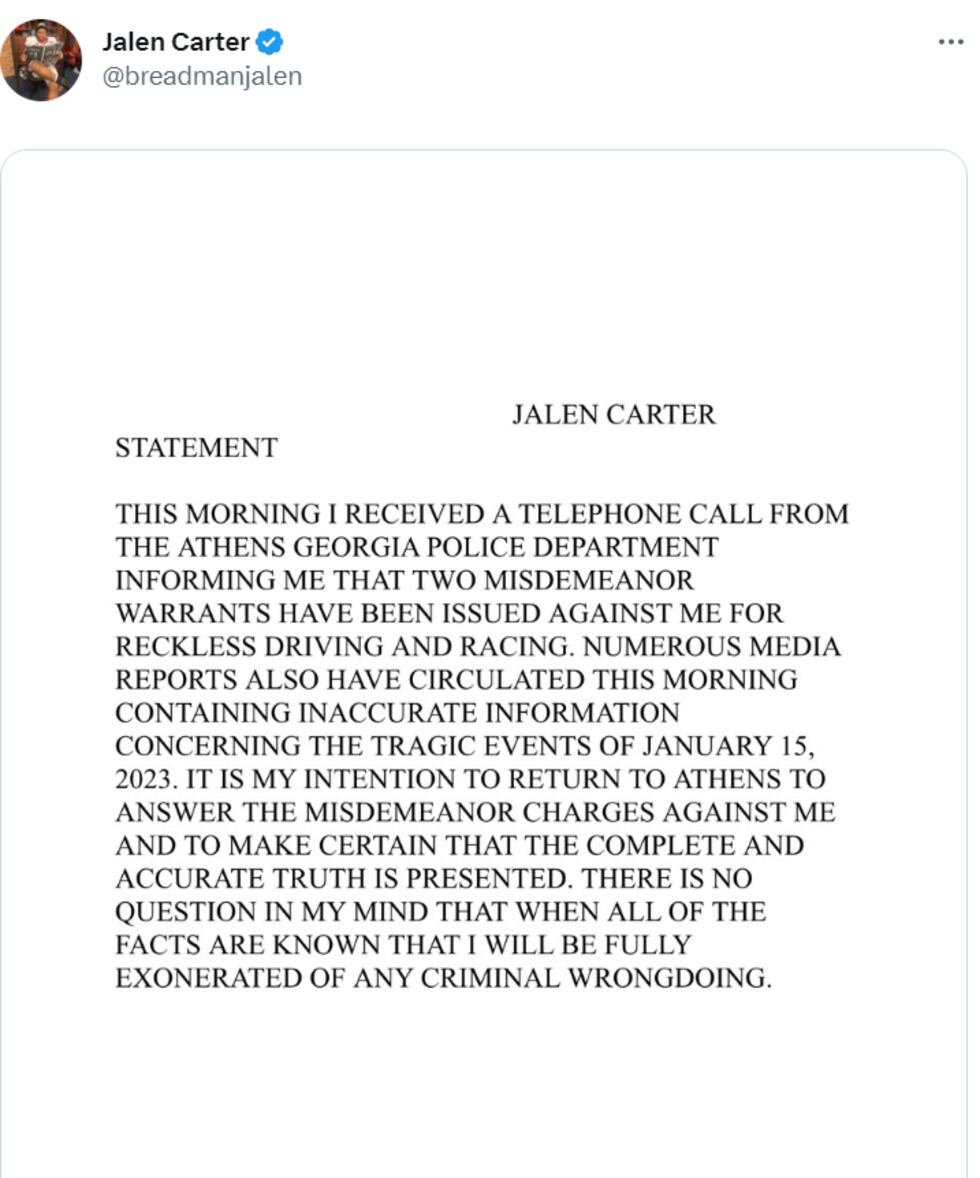 Reckless driving and racing are both misdemeanor charges.
Carter was a defensive lineman and two-time national champion with the Bulldogs. He is widely expected to be the top overall pick in April's NFL Draft.
RELATED STORIES
Copyright 2023 WANF. All rights reserved.