Public records reveal security concerns of metro Atlanta school leaders
Atlanta News First Investigates show grant applications submitted to the Department of Justice from metro school districts.
Published: Mar. 7, 2023 at 10:38 AM EST
|
Updated: Mar. 9, 2023 at 3:48 PM EST
ATLANTA, Ga. (Atlanta News First) - Jackson Goodnight goes to Tucker Middle School. He remembers the details of the threat at his school vividly.
"It was a post on Instagram," he recalled. "They posted a picture of a pistol and said look what's coming tomorrow. And within 20 minutes, the entire eighth grade knew about it.
"It's anxiety. I mean, I don't know if it's real but I don't want to go and find out."
The threat at Jackson's middle school was not credible. But through public record requests, Atlanta News First Investigates has obtained grant applications submitted to the U.S. Department of Justice from metro Atlanta school districts. These applications provide an unfiltered look at the safety concerns and needs of school districts throughout the area.
School Violence Prevention Program grant applications submitted by Fulton, Rockdale and DeKalb County schools reveal district officials are worried their schools may not have all the tools they need to respond to an emergency.
Fulton County
Fulton County Schools applied for a grant in 2019 to upgrade video surveillance in two underserved elementary schools and to install mobile gateways in 30 school police cars so officers could access video feeds on the go.
The application said the funds would "help us build capacity to efficiently and effectively respond to potential acts of violence."
Rockdale County
In 2022, Rockdale County Public Schools also applied for a grant to upgrade the district's video surveillance technology.
When they were asked why they needed federal assistance, school officials said as a result of the rising number of incidents over the last three years. The application said, "during the same time period, the district was required to cut 15% of its budget," adding, "identifying funding for a project of this size, as critical as it is, has become a huge barrier to accomplishing safety goals."
DeKalb County
The DeKalb County School District (DCSD) applied for a grant in 2018 to upgrade its public safety command center. In the application, district officials detailed "30,000 incidences of violence," which was "the highest number of all 180 traditional school districts in the state."
"The current infrastructure in DCSD is not sufficient to comprehensively stem the incidents of all violence in schools," district officials said.
Since its application, DCSD has received more than $500,000 in federal funding.
"We've got a real big mental health initiative," DCSD Police Chief Brad Gober said. "That means everything we do toward security is geared with our social workers and our counselors. And we work together to try to comprehensively find out what is the root cause of this behavior. Why are these kids behaving like this? And let's start from the root cause, to make sure we stop this negative behavior."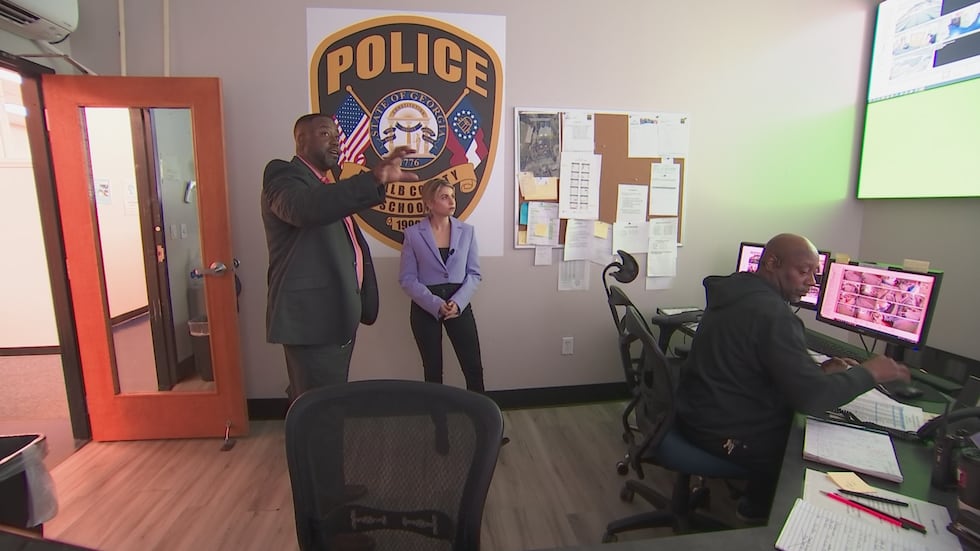 DCSD's public safety command center has cameras in all 138 of the district's schools. "As it's happening, as it's unfolding, we're able to see everything 24 hours a day, 365 days a year," Gober said. "Somebody is always monitoring these cameras and sitting at that desk."
DCSD's efforts appear to be working. In the 2021-22 school year, the school reported 8,500 incidents of violence, down from 30,000 reported in 2016-17.
"We've been very aggressive working as a team to make sure we stop this," Gober said.
MORE FROM ATLANTA NEWS FIRST INVESTIGATES
If there's something you would like Atlanta News First Investigates to dig into, fill out this submission form.
Copyright 2023 WANF. All rights reserved.