Hawks top Wizards 114-107 to sweep 2-game set at Washington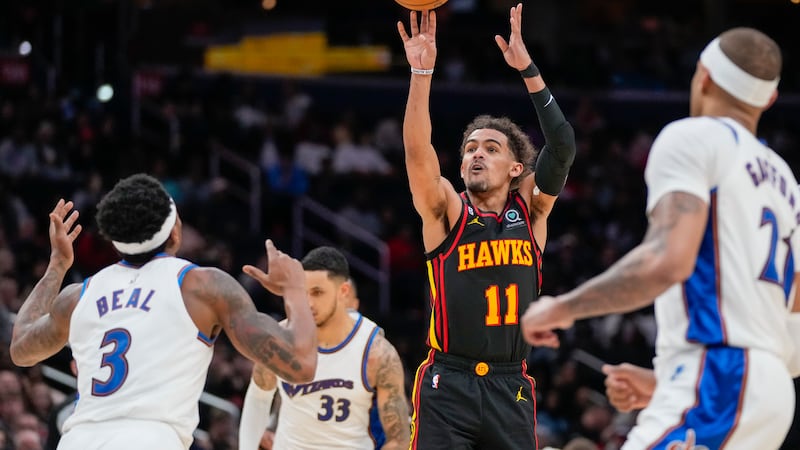 Published: Mar. 10, 2023 at 10:31 PM EST
(AP) - Trae Young scored 28 points, including a key 3-pointer with 1:17 remaining that helped the Atlanta Hawks hold off the Washington Wizards 114-107 on Friday night.
The Hawks won in Washington for the second time in three days in what could be a preview of a play-in round matchup in the Eastern Conference. Atlanta is in eighth place, and the Wizards are a half-game up on Chicago for 10th.
The Hawks led by 13 in the fourth quarter, but Washington made a game of it down the stretch. It was 106-104 when Young connected from long distance to push the lead to five.
The Wizards still trailed by just three when Bradley Beal came up empty trying for a quick 2-pointer. Dejounte Murray made two free throws for Atlanta with 12.7 seconds left, and the Hawks closed out the game from there.
Beal led Washington with 27 points and Kristaps Porzingis scored 22.
Atlanta outscored the Wizards 32-21 in the second quarter to take a 56-50 lead into halftime. De'Andre Hunter finished with 18 points for the Hawks and Murray contributed 16.
It was the third game between these teams in 11 days. The Hawks won 122-120 on Wednesday, and the Wizards won 119-116 at Atlanta on Feb. 28.
Copyright 2023 The Associated Press. All rights reserved.