Georgia Tech names Damon Stoudamire new men's basketball coach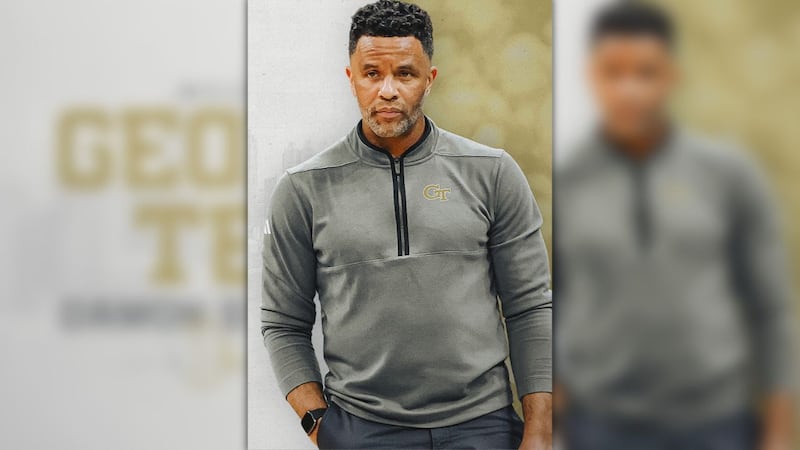 Published: Mar. 13, 2023 at 3:31 PM EDT
ATLANTA, Ga. (Atlanta News First) - Georgia Tech has named Boston Celtics assistant coach Damon Stoudamire as the program's next men's basketball head coach.
Last week, Georgia Tech fired head basketball coach Josh Pastner after seven seasons with the Yellow Jackets.
Stoudamire was with the Celtics for nearly two seasons (2021-22 and 2022-23), after a successful five-season stint as the head coach at Pacific (2016-21).
"We are thrilled that Damon Stoudamire will be the head coach of our storied men's basketball program," Georgia Tech director of athletics J Batt said. "Coach Stoudamire's success and credibility as a player and coach at both the collegiate and professional levels make him a great fit to lead our program. He will serve as an outstanding mentor on and off the court and will attract talented student-athletes to The Flats. We could not be happier to welcome Coach Stoudamire to the Georgia Tech family."
"We are excited to welcome Coach Stoudamire to Georgia Tech," Georgia Tech President Ángel Cabrera said. "His impressive track record as a coach in college and the NBA, and his own experience as a student-athlete and professional player, will be invaluable assets for the Institute's men's basketball program and our student-athletes. His passion for player development and continuous improvement aligns with our culture of excellence and our commitment to student well-being and success."
In his first season in Boston, Stoudamire helped lead the Celtics to the 2022 NBA Finals. This season, the Celtics stand in first place in the Atlantic Division and in second both in the Eastern Conference and in the NBA's overall league standings. With Boston, he has coached a pair of metro-Atlanta natives in Malcolm Brogdon (Norcross, Ga.) and Jaylen Brown (Alpharetta, Ga.).
"I am humbled and honored to be the head coach at Georgia Tech," Stoudamire said. "It is an incredible honor to be entrusted with leading such a tradition-rich program. I am excited to get to work with the goal of consistently having our team compete at the championship level that we all know we can and should compete at. I'm proud to represent Georgia Tech and can't wait to walk out of the tunnel and onto the floor at the Thrillerdome in front of our fans. Go Jackets!"
A Portland, Ore. native, Stoudamire, 49, graduated from Woodrow Wilson H.S. in 1991 and earned his bachelor's degree from Arizona in 2008. He has a daughter, Kemeco, and two sons, Damon and Brandon.
Copyright 2023 WANF. All rights reserved.