Atlanta murder suspect denied resources after years in jail
Part six of 'The Sixth,' an Atlanta News First investigation on Georgia's - and the nation's - shortage of public defenders
Published: Mar. 14, 2023 at 4:34 PM EDT
|
Updated: Sep. 11, 2023 at 10:50 AM EDT
ATLANTA, Ga. (Atlanta News First) - When Marquez Wilson appeared in front of a Fulton County Superior Court judge this past February, he stood next to his sixth court-appointed attorney in four years since charged with murder.
Wilson maintains his innocence, and his new attorney, Emily Gilbert, needed to properly review the case before moving forward with a trial or giving Wilson any advice. To do that, she needed an investigator to track down key witnesses and facts of the case.
"I'm asking the court to comply with the Constitution and allow Mr. Wilson to an effective attorney that will include an investigator," said Gilbert during a hearing before Fulton County Superior Court Judge Eric Dunaway.
Gilbert was pleading for the judge to force the Georgia Public Defender Council (GPDC) to provide her with an investigator. The state agency is responsible for representing people accused of crimes who cannot afford an attorney, including Wilson. The 32-year-old faces life in prison without parole.
"I can't advise him intelligently if I don't have an investigator to assist me, that's this serious," said Gilbert. The GPDC agreed Wilson needed an investigator, but the agency said its not required to give Gilbert the funds to pay for an investigator, nor provide its own investigative resources. "We're just arguing, it's not the correct procedure in this case," said Natalie Glaser, the agency's director of legal services, who represented the GPDC at the hearing.
RELATED: Here's why these public defenders left their jobs
Gilbert was not surprised with the agency's reluctance to help, having worked at the GPDC for a decade representing defendants facing the death penalty before leaving in 2021. She resigned after she felt the current leadership was not giving staff the support it needed to live up to the Sixth Amendment of the U.S. Constitution, which guarantees people accused of crimes access to attorney if they cannot afford one.
"I can see no end to the persistent lack of urgency about adequately staffing this office and compensating our investigators," Gilbert wrote in her resignation letter.
"I was deeply concerned with the direction of the agency," Gilbert said.
Her frustration has been echoed by other former state public defenders who left their jobs over the past two years due to lack of resources.
Gilbert said her request for an investigator is an attempt to level the playing field in an already imbalanced system, up against the resources of the Atlanta Police Department and the Fulton County District Attorney's office.
MORE IN-DEPTH COVERAGE FROM ATLANTA NEWS FIRST INVESTIGATES
According to a 2007 report from the Department of Justice, 40 percent of all county-based public defender offices had no investigators on staff.
Gilbert is now a contract attorney for Fulton County, which created its own public defender system last year because the GPDC could not retain or hire enough attorneys to represent people languishing in jail for months without representation.
The primary focus of Fulton County's program is limited to hiring attorneys for individuals charged with crimes that includes multiple defendants.
For example, Wilson is one of three people charged in the same murder case. Each defendants' attorney must come from a different office to avoid a conflict of interest. That typically includes three tiers: an attorney who works for the state's public defender office, an attorney who works in a conflict public defender office, or a private lawyer contracted by the state, known as a "C-3″ attorney.
RELATED: 'An unacceptable crisis' | Defendants languishing in jail because of public defender shortage
Fulton County's "C-3″ system is intended to be a temporary fix to county's crisis. It's funded with money from the American Rescue Plan Act, which the county received to recover from the pandemic. Superior Court Judge Robert McBurney helped get the program get off the ground. "These are not normal times," McBurney said in an interview this past October. "What our county is doing it address this, is not normal."
According to county records obtained through a public records request, the GPDC has referred at least 105 defendants in need of a "C-3″ attorney to Fulton County's system since November, presumably because the agency's pay rate isn't enough to attract lawyers to take their cases.
GPDC pays a flat $7,500 fee to private attorneys who agree to represent clients charged with murder. Gilbert said if attorneys work more than 43 hours on a murder case at that pay rate, they lose money. "That incentivizes attorneys to do the absolute least amount of work as humanly possible." she said. "That's the incentive."
Fulton County's "C-3″ program pays contract attorneys $140 an hour to represent defendants charged with murder. Since the program launched last summer, it's assigned at least 42 cases to attorneys; that's 42 defendants the GPDC failed to find legal representation for in a timely manner until the county started its program.
Dunaway ruled in favor of Gilbert's request for the agency to provide investigative services for Wilson's case. "It's the Georgia Public Defender Council's responsibility by law to provide those services," Dunaway said at the hearing. In his order, he cited a 2021 Georgia Supreme Court decision (Duke v State) that he believes settled the issue when the GPDC refused to pay for similar resources in the past.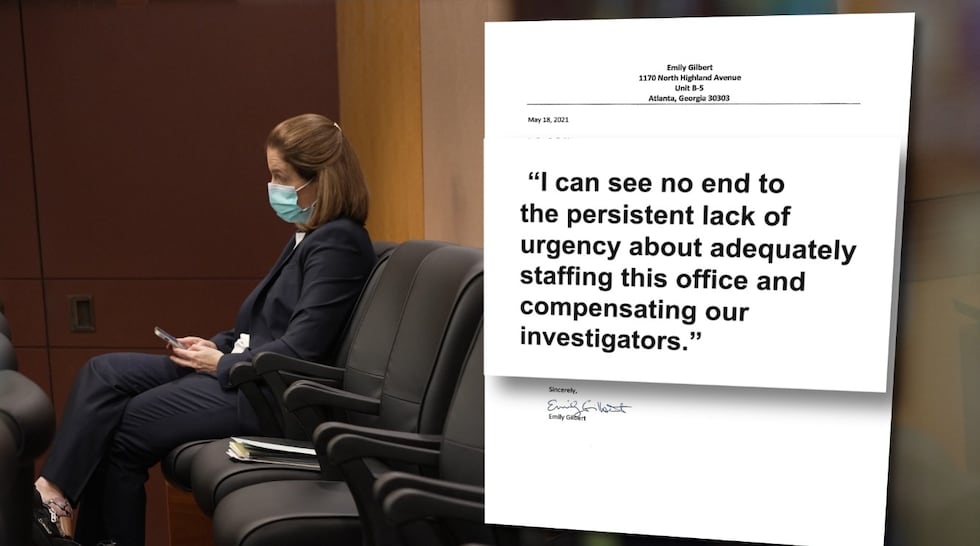 "The Court further noted, as particularly relevant here, that the [Indigent Defense Act] also allows the [Georgia Public Defender Council] and circuit public defenders to contract with outside counsel and then provide ancillary service funding to indigent defendants represented by such attorneys," wrote Dunaway in his order.
Eight days later, the agency filed court records indicating it plans to likely appeal the judge's decision to the Georgia Court of Appeals.
To prevent further delays in Wilson's case, and other defendants in need of an investigator, Judge McBurney said the county "will be covering reasonable Fulton County will be covering reasonable, documented investigative costs for all of our C3 Project cases" until the appeal is resolved.
This story is part of a series about the constitutionally-guaranteed access to legal representation in court, and the challenges that arise when the supply of defenders is limited. Part one in the series looks at defendants' desperate need for representation. Part two covers judges forced to take actions that may erode the public's trust in the judicial system. In part three, former public defenders explain why they left the job. Part four looks at the search for solutions. Part five interviews the head of the Georgia Public Defenders Council on her agency's attorney shortage.
If there's something you would like Atlanta News First Investigative Reporter Andy Pierrotti to look into, email andy.pierrotti@wanf.com.
Copyright 2023 WANF. All rights reserved.