President Joe Biden says Jimmy Carter asked him to deliver his eulogy
The nation's 39th president entered hospice care last month at his home in Plains, Georgia.
Published: Mar. 14, 2023 at 9:20 AM EDT
|
Updated: Mar. 20, 2023 at 3:21 PM EDT
ATLANTA, Ga. (Atlanta News First) - President Joe Biden said Monday he has been asked to deliver the eulogy for Jimmy Carter.
"He asked me to do his eulogy," Biden told supporters during a Rancho Santa Fe, California, fundraiser, according to the Associated Press. He then stopped himself from saying more, adding, "Excuse me, I shouldn't say that."
Carter, the nation's 39th president and the only president to hail from the state of Georgia, entered hospice care last month. He is also the nation's longest living ex-president in history.
Biden was first elected to the U.S. Senate from Delaware in 1972, and was serving his first term when Carter was elected president in 1976. Biden won the seat by upsetting the favored GOP incumbent J. Caleb Boggs. Democratic pollster Patrick Caddell assisted Biden in his winning campaign, and Caddell would also go on to serve as a consultant in the Carter administration.
Only hours after The Carter Center announced its founder was entering hospice care, Biden issued the following statement:
To our friends Jimmy and Rosalynn and to their family – Jill and I are with you in prayer and send you our love.

We admire you for the strength and humility you have shown in difficult times. May you continue your journey with grace and dignity, and God grant you peace.

— President Biden (@POTUS) February 19, 2023
Carter was still serving his one term as Georgia governor when Biden was elected to the Senate. He previously served as a Georgia state senator from 1963 to 1967 and governor of Georgia from 1971 to 1975.
Exactly three years to the date of his inauguration into the governor's mansion, Carter announced his candidacy for president of the United States. He would go onto win the Democratic nomination in 1976 and was elected on November 2, narrowly defeating incumbent Republican Gerald Ford. Biden was the first Democratic U.S. senator to endorse Carter in 1976.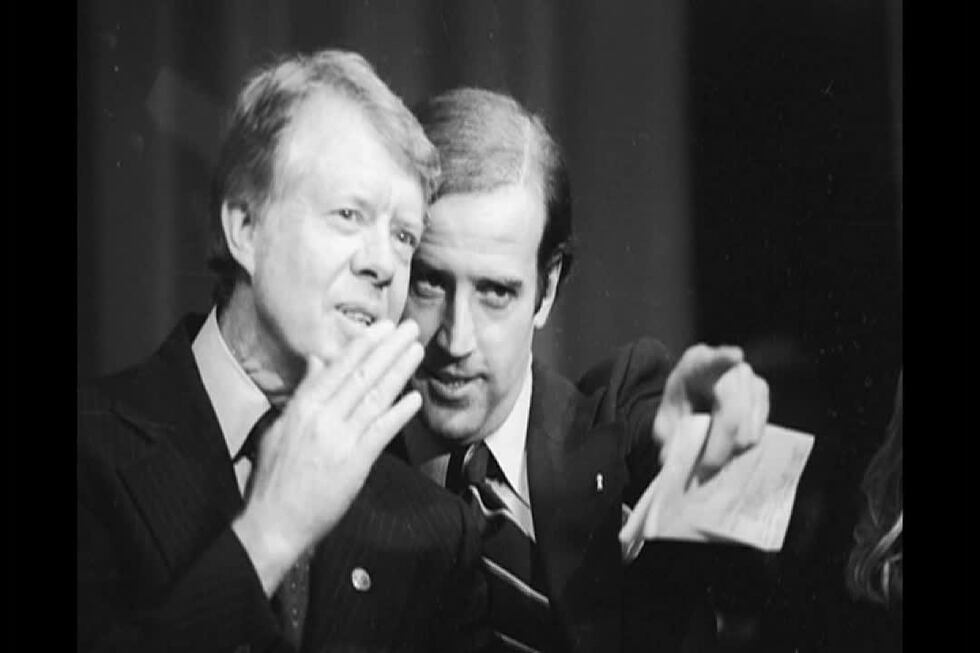 Biden, 80, and first lady Jill Biden visited Carter and his wife, Rosalynn, who is now 95, at their home a few months after Biden took office in 2021.
RECENT HEADLINES ON JIMMY CARTER FROM ATLANTA NEWS FIRST
The first - and still only - president from Georgia capped off the day by walking in the inauguration parade down Pennsylvania Avenue, something never seen from a president following an inauguration.
Jimmy Carter: Full video and photo coverage
Carter's rise to the White House ranks as one of the most unlikely political victories in U.S. history. He was virtually unknown to the country, and campaigned on a promise to never tell a lie.
Carter was inaugurated on January 20, 1977, but would only serve on term in office. He was defeated soundly in the 1980 election by Republican Ronald Reagan.
Biden's presidency represents a turnabout, of sorts, for Carter's political standing. His loss to Reagan prompted top Democrats to keep their distance, at least publicly, for decades after he left the White House.
Presidents Bill Clinton and Barack Obama did not have close relationships with Carter, and long-shot presidential candidates who sometimes ventured to Plains over the years typically did so privately.
But as the Carters' global humanitarian work and advocacy of democracy via The Carter Center garnered new respect, Democratic politicians began publicly circulating back to south Georgia ahead of the 2020 election cycle. And with Biden's election, Carter again found a genuine friend and ally in the Oval Office.
Some Carter family members have confirmed the former president will have a state funeral in Washington, D.C., along with a private funeral and burial in Plains. Former and sitting presidents often speak at the state funerals of their predecessors, sometimes crossing political aisles.
Clinton spoke at Republican Richard Nixon's funeral in 1994. Carter eulogized Ford in 2007. The two men had become close friends after their presidencies and had agreed the surviving president would pay tribute at the other's funeral.
When George H.W. Bush died in 2018, fellow Republican Donald Trump attended as sitting president but the only former president to speak at Washington National Cathedral was the elder Bush's son, George W. Bush.
Copyright 2023 WANF. All rights reserved.