Young scores 30 as Hawks complete sweep of Pistons, 129-107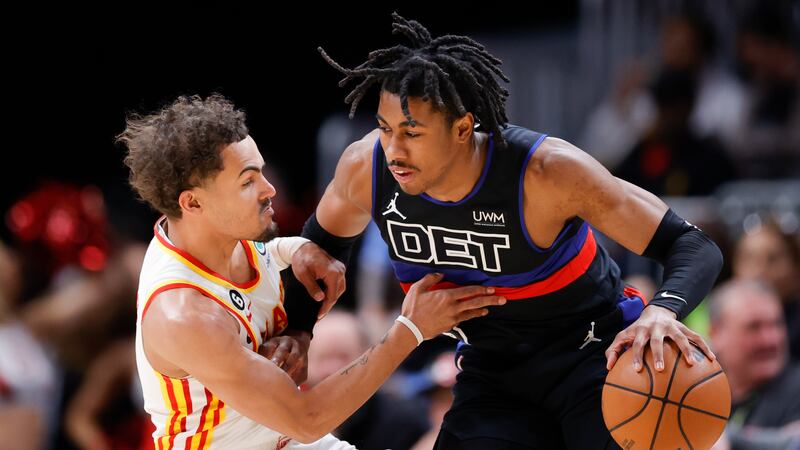 Published: Mar. 21, 2023 at 11:14 PM EDT
(AP) - Bogdan Bogdanovic sank three 3-pointers in a 16-0 run early in the second half that allowed Atlanta to extend its lead to double digits for the first time and the Hawks beat the struggling Detroit Pistons 129-107 on Tuesday night.
Trae Young had 30 points and 12 assists for the Hawks (36-36), who are eighth in the Eastern Conference standings.
Atlanta set a season high with 61 rebounds and took a 50-38 advantage in points in the paint.
Hawks center Clint Capela had 16 rebounds with 12 points.
"Our bigs did a great job," Young said. "Even our guards getting in there. ... Everybody playing hard and attacking the rebounds."
The Hawks completed their first four-game season series sweep of the Pistons since the 1993-94 season.
Marvin Bagley III scored a season-high 31 points in Detroit's fourth straight loss. The Pistons (16-57) have lost 15 of 16 and have the NBA's worst record.
Detroit was outscored 23-12 in second-chance points.
"We let them get a lot of offensive boards and second-chance points," Bagley said. "It really came down to that."
Hawks coach Quin Snyder said he was "pleased with the way we protected the paint."
Entering the game, the Hawks had lost three of four and were in danger of falling below the line to make the play-in tournament. Atlanta was only one-half game ahead of No. 9 Toronto and one game ahead of No. 10 Chicago for the last play-in spot.
Young's 3-pointer less than two minutes into the second half gave Atlanta its first double-digit lead at 71-61. Bogdanovic, who had 18 points, followed with back-to-back 3s to stretch the lead to 16 points.
"It was important we came out with intensity," Capela said of the strong start to the second half.
Atlanta led 99-78 entering the final period.
Atlanta's Dejounte Murray was held out with a non-COVID illness. Bogdanovic filled Murray's starting job in the backcourt. Bogdanovic made a 3 for the game's first points before picking up two early fouls and playing only four minutes in the first quarter.
Copyright 2023 The Associated Press. All rights reserved.