Braves' new Saturday jersey pays tribute to Hank Aaron, Atlanta
The Atlanta Braves will wear the Nike City Connect uniform every Saturday home game for the 2023 season.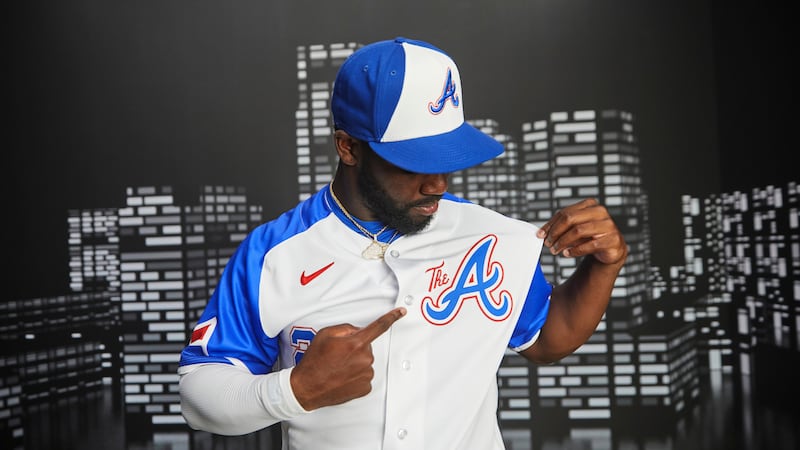 Published: Mar. 27, 2023 at 12:06 PM EDT
|
Updated: Mar. 27, 2023 at 12:07 PM EDT
ATLANTA, Ga. (Atlanta News First) - The Atlanta Braves on Monday unveiled its Nike City Connect uniform, which the team will debut when they take on the San Diego Padres on Saturday, April 8.
The Braves will wear the City Connect jerseys every Saturday home game for the remainder of the 2023 season.
According to the team, the jersey is "a modernized classic, celebrating the enduring character and legacy of the one and only Hank Aaron. Inspired by the iconic 1974 Braves uniform, the design pays tribute to the year that Aaron hit home run 715 to break Babe Ruth's record and solidify his place among baseball royalty.
"Nods to Aaron throughout the jersey pay tribute to his legacy and impact on the Braves, Atlanta, Major League Baseball, and the country, and marry iconic moments from the Braves' history to inspire our next generation of fans," the team said.
Here are some highlights of the new merchandise:
The jersey
"The A" emblazoned on the chest over the heart is synonymous with Atlanta's nickname and a visual representation of the Braves' battle "For The A."

The inside collar features a "715″ graphic in a font reminiscent of the scoreboard lights at Atlanta Stadium (later named Atlanta Fulton County Stadium) after Hank Aaron's record-breaking 715th home run on April 8, 1974.

The Art Deco-esque crown design on the sleeves is a nod to Aaron as the Home Run King. The new ribbing pattern on the peak of the crown mirrors the Presidential Medal of Freedom bestowed upon Aaron by President George W. Bush.

Aaron's motto and number – "Keep Swinging #44″ – appear above the jocktag.
The cap:
The classic "A" logo bears the colors of the 1974 uniform.

"Keep Swinging #44″ is embroidered on green fabric on the under-bill.
The Nike Atlanta Braves City Connect Collection goes on sale Saturday, April 1, at the Braves Clubhouse Store at Truist Park, along with Nike.com, the Nike app, local Nike stores, MLB Flagship Store (NYC), mlbshop.com and select retail locations. A portion of proceeds from the Nike Atlanta Braves City Connect Collection purchased at the Braves Clubhouse Store at Truist Park will benefit the Henry Louis Aaron Fund.
Copyright 2023 WANF. All rights reserved.