How NIL has turned Georgia's college sports into the wild west
Athletes from all of Georgia's major colleges and universities are engaging in NIL activities, earning products and raking in cash from thousands to millions.
Published: Mar. 27, 2023 at 11:25 AM EDT
|
Updated: Mar. 29, 2023 at 7:09 PM EDT
ATLANTA, Ga. (Atlanta News First) - The NCAA is not the only one cashing in on this year's March Madness.
Both male and female athletes are also using the tournament's national stage to monetize their name, image and likeness (NIL).
It's a relatively new practice. In July 2021, new laws took effect around the nation, allowing college athletes to make money from their NIL. Since then, these new rules have begun changing the college sports landscape here in Georgia.
Atlanta News First Investigates found athletes from all of Georgia's major colleges and universities engaging in NIL activities. Some have earned products. Others have raked in cash ranging from thousands to millions. As one marketing professor put it, we're still in the "wild west of all this" and it's evolving.
"You can definitely imagine a scenario where the rich start to get richer," Mike Lewis, a marketing professor at Emory University's Goizueta Business School, said. "The schools with the biggest brands and the most marketing exposure end up having the ability to basically buy all the players they want."
If that happens, Lewis said competitive balance goes out the window, and the college sports we know and love could change.
"If you're a quarterback at Alabama or Notre Dame, that's a very different thing than being a quarterback at SUNY Buffalo or Iowa State," Lewis said. "NIL has the potential to shift the deck toward the already established, the already winning programs."
Since July 2021, more than 250 Georgia Tech student-athletes in sports took part in NIL activities. During the same time period, 360 University of Georgia student-athletes engaged in NIL activities.
At Georgia State University, 36 student-athletes filed NIL paperwork representing baseball, women's basketball, football, men's golf, men's and women's soccer, softball, men's and women's tennis, track and field and women's volleyball.
More than 750 student-athletes from Georgia are participating in Opendorse, according to Julian Valentin, head of marketing. Opendorse is a national marketplace for college and pro athletes where fans can go directly to an athlete's profile and buy an autograph, a personal appearance or even a social media post.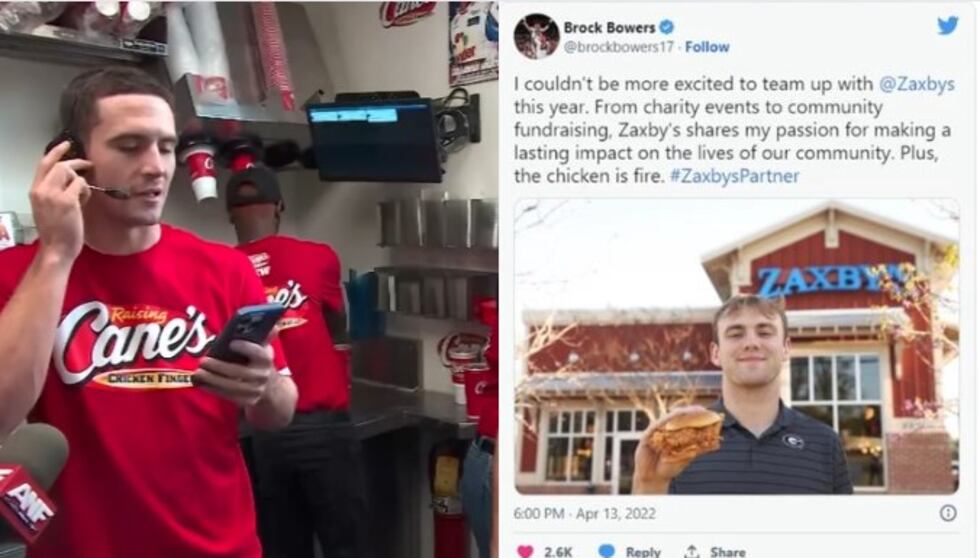 Some notable NIL deals include UGA's quarterback, Stetson Bennett, who was seen serving students lunch at Raising Cane's after winning the 2021 and 2022 championship.
"This is Stetson Bennett taking your order. What'll you have today?" Bennett said from behind the cash register.
Meanwhile, Bennett's UGA teammate, Brock Bowers, prefers his NIL deals and his chicken at Zaxby's.
While colleges and universities are still banned from paying athletes, money is flowing in from organizations called "collectives," which are popping up across the country and here in Georgia.
Collectives are third-party entities, which create financial opportunities for athletes by pooling funds from donors and supporters.
Classic City Collective, for example, supports UGA athletes, while The Tech Way supports Georgia Tech athletes. One of those athletes is Kayla Blackshear, who plays basketball for Georgia Tech and often posts photos on Instagram tagging the collective.
Blackshear knew her athletic talent could get her into college, but never thought those skills would allow her to earn money while in school.
"Since all these universities make so much off athletes, I [thought it] would be fun to actually benefit from my own likeness," Blackshear said.
College athletes can now earn money through product endorsements, social media deals, appearances, autographs or merchandise.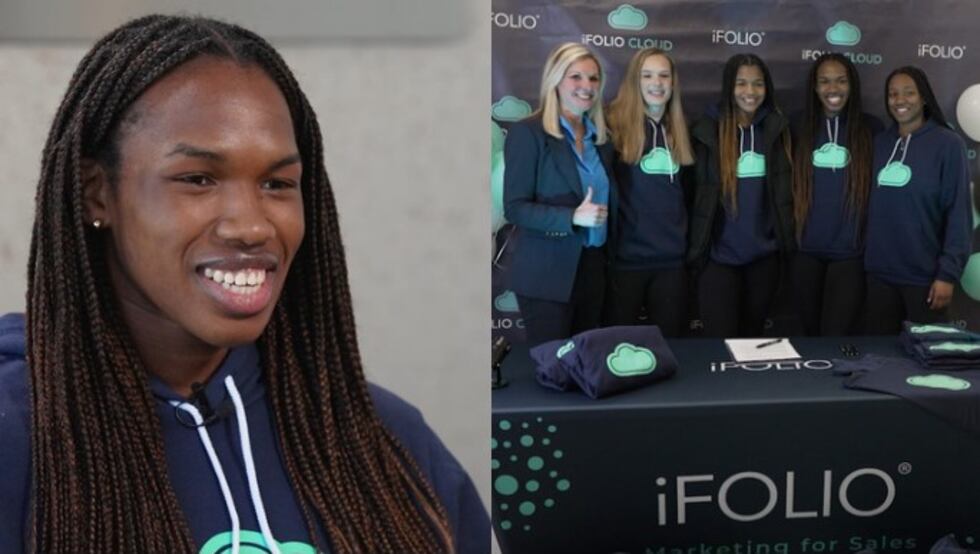 Blackshear and three of her Tech teammates signed NIL deals with iFOLIO, an Atlanta-based digital marketing platform. They will be paid $1,000 each and get personalized iFOLIO websites that double as digital resumes.
"It's a great opportunity to get our names out there," Blackshear said. "I'm more so planning for my future after basketball because I don't know what I want to do after college, just to have money after school and have a plan B in case playing professionally doesn't come to fruition for me."
If there's something you would like Atlanta News First Investigates to dig into, fill out this submission form.
Copyright 2023 WANF. All rights reserved.