Georgia bill is latest GOP effort targeting prosecutors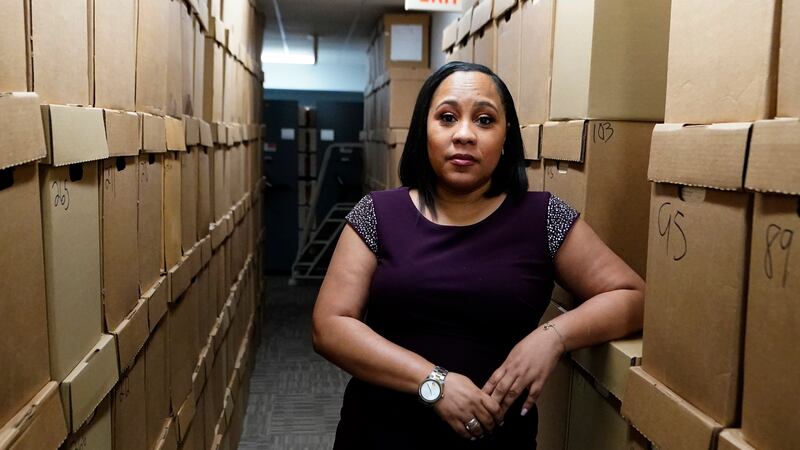 Published: Mar. 28, 2023 at 7:05 AM EDT
ATLANTA (AP) — A new Georgia commission to discipline and remove wayward prosecutors would be the latest move nationwide to ratchet up oversight on what Republicans see as "woke prosecutors" who aren't doing enough to fight crime.
The Georgia House voted 97-77 on Monday for Senate Bill 92 to create the commission. The Senate later sent the measure to Republican Gov. Brian Kemp for his signature or veto. Kemp has previously voiced support for the concept.
The Georgia bill parallels efforts to remove prosecutors in Florida, Missouri, Indiana and Pennsylvania, as well as broader disputes nationwide over how certain criminal offenses should be charged. All continue anti-crime campaigns that Republicans ran nationwide last year, accusing Democrats of coddling criminals and acting improperly by refusing to prosecute whole categories of crimes including marijuana possession. All the efforts raise the question of prosecutorial discretion — a prosecutor's decision of what cases to try or reject and what charges to bring.
Carissa Hessick, a law professor at the University of North Carolina at Chapel Hill, said the Republican push tries to reverse a sea change in prosecution. Hessick, who directs the Prosecutors and Politics Project, said that for the first time voters are confronted with meaningful debate about prosecutors' policies.
"I think it's happened because several years ago, there was a push to try to use the office of prosecutor to address mass incarceration and injustices within the criminal justice system," she said. "That movement was successful in a lot of places."
Georgia Democrats intensely oppose the measure, saying majority Republicans are seeking another way to impose their will on local Democratic voters.
Fulton County District Attorney Fani Willis has decried the measure, claiming it's a racist attack after voters elected 14 nonwhite district attorneys in Georgia in 2020. Willis pushed herself to the center of the controversy even as she's mulling charges against former President Donald Trump for interfering in Georgia's 2020 election. Some have viewed it as Republican retribution against the Atlanta prosecutor.
But the energy behind the bill has not been against Willis, whom in addition to targeting Trump is pursuing a tough-on-crime offensive against alleged gang members. Instead, many Georgia Republicans are most angered by Deborah Gonzalez, a district attorney who covers two counties including Athens, Kemp's hometown. She's under fire for refusal to prosecute marijuana crimes, an outflow of prosecutors working under her, and failure to meet court deadlines.
"That's the whole point of this bill, is to restore public safety in places where you have rogue district attorneys who simply are not doing their job," said Georgia Republican Rep. Houston Gaines of Athens.
The effort was born from frustrations involving a white Republican prosecutor in suburban Atlanta who was indicted for bribery related to sexual harassment claims. He lingered until he pleaded guilty to unprofessional conduct and resigned in 2022.
Some Democrats were interested in similar measures for a time because of Jackie Johnson, the coastal Georgia district attorney later charged with hindering the police investigation into the 2020 killing of Ahmaud Arbery.
Democratic interest cooled after voters ousted Johnson. Now they say Republicans should respect the will of local voters.
Rep. Tanya Miller, an Atlanta Democrat and former prosecutor, on Monday described the bill as a "a power grab by the majority party to usurp the will of the voters by putting this body in the business of overseeing duly elected prosecutors throughout this state."
Crucially, the Georgia bill mandates that a prosecutor must consider every case for which probable cause exists and can't exclude categories of cases from prosecution. A similar bill pending in Indiana would let an oversight board appoint a special prosecutor to handle cases when a "noncompliant" prosecutor refuses to charge certain crimes.
Hessick said considering every case individually is an unrealistic standard because prosecutors turn away many more cases than they accept. She said the Georgia law is less likely to change prosecutors' decisions about which cases they pursue than to muzzle their ability to talk about their decisions.
"It's designed to stop them from running on these platforms of reform," Hessick said.
The rules could also target prosecutors who declared before Roe v. Wade was overturned in 2022 that they would not prosecute abortion-related offenses. Seven current Georgia district attorneys made such pledges, among dozens nationwide.
In some states, such laws could face hurdles. A New York court struck down a 2018 commission to investigate prosecutorial conduct after district attorneys sued saying it gave state lawmakers too much oversight over independent offices.
Then-Gov. Andrew Cuomo in 2021 signed another version into law. The commission isn't yet operating because some members haven't been appointed, a court spokesperson said.
Georgia lawmakers can already impeach district attorneys and solicitors general — elected prosecutors in some Georgia counties who handle lower-level cases. But they say impeachment would take up too much of lawmakers' time. Instead, the new commission would investigate and make decisions. A prosecutor could appeal a decision to a state-level court, and eventually to the state Supreme Court.
Impeachment is proceeding in Pennsylvania, where state House Republicans voted in November to impeach Philadelphia District Attorney Larry Krasner for reasons including his failure to prosecute some minor crimes, his bail policies and management.
Krasner sued to challenge the impeachment's legality, and a divided state court ruled for him, finding impeachment articles didn't reach the needed legal threshold.
Plans for an impeachment trial in the Republican-majority Pennsylvania Senate have been on hold while that decision is appealed. In the meantime, the Republican majority that voted to impeach in the House is now a Democratic majority. It's unclear what that will mean for any trial.
Other governors and legislatures have moved more directly to remove prosecutors. Republican Florida Gov. Ron DeSantis suspended State Attorney Andrew Warren in Tampa's Hillsborough County in August. A federal judge found DeSantis illegally targeted Warren because he's a Democrat who has publicly supported abortion and transgender rights and because it would politically benefit DeSantis. But the judge wrote he had no power to reinstate Warren, leading the Democrat to appeal to the state Supreme Court.
In the meantime, the prosecutor that DeSantis tapped to replace Warren has resumed prosecuting some misdemeanors — including suspended licenses, disorderly conduct and panhandling — that Warren had stopped bringing to trial.
The GOP-led Missouri legislature is also maneuvering to override a Democratic prosecutor — St. Louis Circuit Attorney Kim Gardner. It would let Republican Gov. Mike Parson appoint an additional special prosecutor for five years in any jurisdiction where the homicide rate exceeds 35 killings per 100,000 residents. The bill was drafted with St. Louis in mind.
Also, Missouri Republican Attorney General Andrew Bailey is seeking to remove Gardner from office, alleging negligence in her job. If a judge agrees, Parson would appoint her replacement. A hearing date hasn't been set.
—-
Associated Press writers Jim Salter in O'Fallon, Missouri, Alana Durkin Richer in Boston and Mark Scolforo in Harrisburg, Pennsylvania, contributed to this report.
Copyright 2023 The Associated Press. All rights reserved.