Georgia lawmakers: Localities must apply homeless camp bans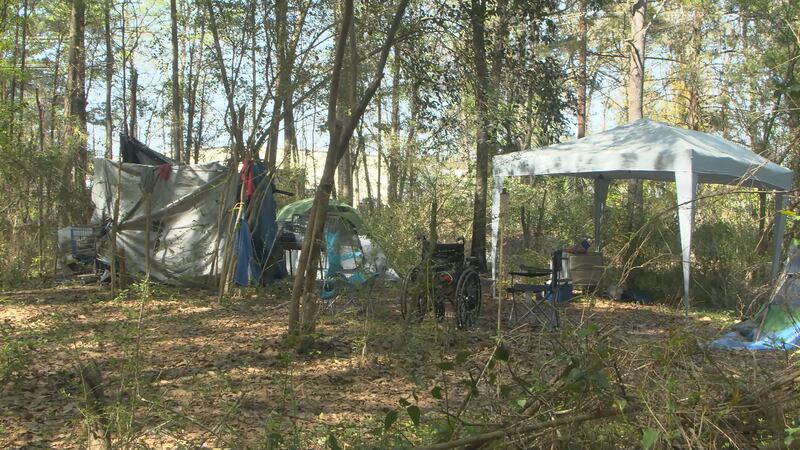 Published: Mar. 28, 2023 at 6:12 AM EDT
ATLANTA (AP) — Georgia lawmakers are telling cities and counties that they must enforce existing bans on public camping or sleeping by homeless people while saying local governments and hospitals can't dump homeless people in other counties without permission.
The House voted 99-76 to pass Senate Bill 62 on Monday. The Senate later approved House amendments adding the ban on dumping, sending it to Gov. Brian Kemp for his signature or veto.
"We should not have cities that are looking away as people choose, or feel they must, find different places to put their head every night," said Rep. Katie Dempsey, a Rome Republican.
The measure passed over vociferous Democratic opposition accusing Republicans of trying to criminalize homelessness and impose unworkable requirements on local governments.
"We must end policies and practices that criminalize poverty," said Omari Crawford, a Decatur Democrat. "Criminal codes are already full of offenses that punish people for being poor. We need to repeal them all."
It's unclear how much effect the bill will have after Senate Democrats amended it to say that cities and counties could only be sued if they sent out written guidance directing that their own ordinances couldn't be enforced. The measure also requires a state audit of local spending on homelessness.
Opponents also said the bill doesn't do enough to address underlying problems or promote permanent solutions.
"Micromanaging local governments and jurisdictions will not address the root cause of homelessness," Crawford said.
Like in other cities and states, the push against public camping is being promoted by the Cicero Institute, which argues that creating specific areas where camping is permitted can be a faster solution than building affordable housing. The institute is bankrolled by venture capitalist Joe Lonsdale.
Dempsey said the idea is not to criminalize homelessness, but to find people "a better place than a sidewalk." Otherwise, she and others said Atlanta and other cities will drive away residents, businesses and tourists.
"We want to ensure that cities in this state don't become like Los Angeles and Austin, Texas, where they encourage people to sleep on the street," said Rep. John LaHood, a Valdosta Republican.
The provision against allowing hospitals and local governments to transport homeless people to another county was added by Rep. Houston Gaines, an Athens Republican. He said a local business owner called to complain that a homeless person was dropped off without warning.
Gaines and some other Republicans say it's particularly a problem in smaller cities with homeless services that can act as a magnet for surrounding areas. The bill would allow transport if an accepting facility agrees.
"We're having trouble in Brunswick, Georgia, from others bringing people in and dropping them off because they heard we have great services," said Rep. Rick Townsend, a Brunswick Republican.
But others say the provision is unworkable, especially in urban areas with many neighboring and overlapping jurisdictions. Rep. Mary Margaret Oliver, a Decatur Democrat, said the measure is "totally unworkable."
Copyright 2023 The Associated Press. All rights reserved.