9 killed in crash of 2 Army Black Hawk helicopters in Kentucky
Published: Mar. 30, 2023 at 3:09 AM EDT
|
Updated: Mar. 30, 2023 at 10:15 AM EDT
CADIZ, Ky. (WSMV/Gray News) - A military investigation is underway, and nine soldiers are dead after two Blackhawk helicopters from Fort Campbell crashed Wednesday night in Kentucky, according to state and federal officials.
The helicopters crashed just after 10 p.m. on Wednesday in Cadiz, said Col. John Lubas, a deputy commanding officer for operations at Fort Campbell's 101st Airborne Division. All nine crew members, four soldiers in one helicopter and five in the other, died in the crash, Lubas said at a press conference at Fort Campbell Thursday morning. Their identities have not been released, as Fort Campbell continues to notify crew members' families.
"This is a truly tragic loss for our families, our division, and Fort Campbell," Lubas said. "Our No. 1 priority is caring for the families and soldiers. ... Our thoughts and prayers are with these families and soldiers during this difficult time."
Gov. Andy Beshear tweeted late Wednesday he had been notified about the crash and fatalities were expected. At the press conference Thursday, Beshear said state resources would be made available to the families of the crash victims.
An aircraft safety team from Fort Rucker, Alabama, will be coming to the scene to investigate the crash, officials said during a press conference Thursday.
"Today is a tough and tragic day for Kentucky," Beshear said. "We are blessed to live in the freest country in the history of planet earth, but we must remember that freedom relies on those who are willing to serve and some of which make the ultimate sacrifice."
Kentucky State Police said the two helicopters crashed in a field area, and no residential damage is being reported. A perimeter was established around the debris field, and the few residents in the area were asked to evacuate.
Law enforcement, military vehicles, and ambulances filed in and out of the perimeter Thursday morning. An American flag could be seen through the side window of one emergency vehicle draped over where a gurney would be placed inside.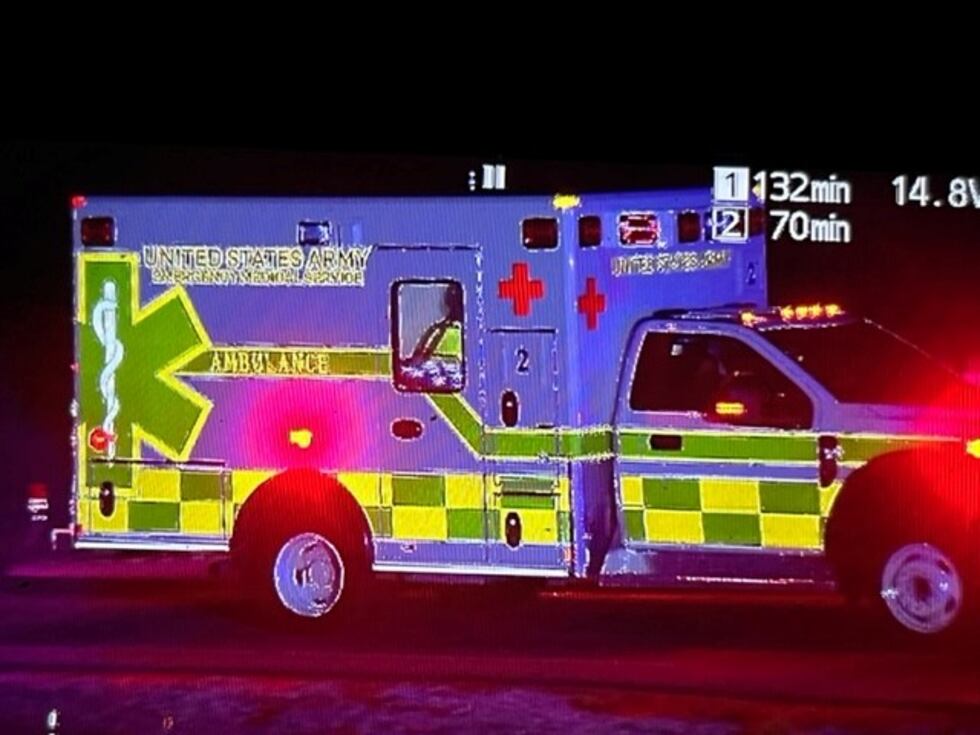 Nick Tomaszewski lives in south Cadiz and often observes helicopters from Fort Campbell pass overhead, but he said the two that flew by on Wednesday night seemed out of the ordinary.
"So it's nothing out of the norm to see helicopters, we see them all the time, but tonight there were two that were coming kind of straight up over our house, headed straight northbound, Tomaszewski said. "I told my wife, 'wow, those look really close tonight' for whatever reason. ... About a minute later, they were coming across and there was a large explosion in the sky almost look like a firework went off. And then the entire tree line lit up." Tomaszewski said.
Beshear said the Kentucky community will continue to support those who lost loved ones in the crash.
"We are going to do what we always do. We are going to wrap our arms around these families, and we're going to be there for them," he said. "We're going to let them know they are loved, they are special, and if they'll allow us to carry some of their grief, we will do that for as long as we can."
Last month, two Tennessee National Guard pilots were killed when their Black Hawk helicopter crashed along an Alabama highway during a training exercise, the Associated Press reported.
Copyright 2023 WSMV via Gray Media Group, Inc. All rights reserved.