Young Thug prospective juror arrested after filming court proceedings
Judge initially sentenced Juror 1004 to three days in jail but released her five hours later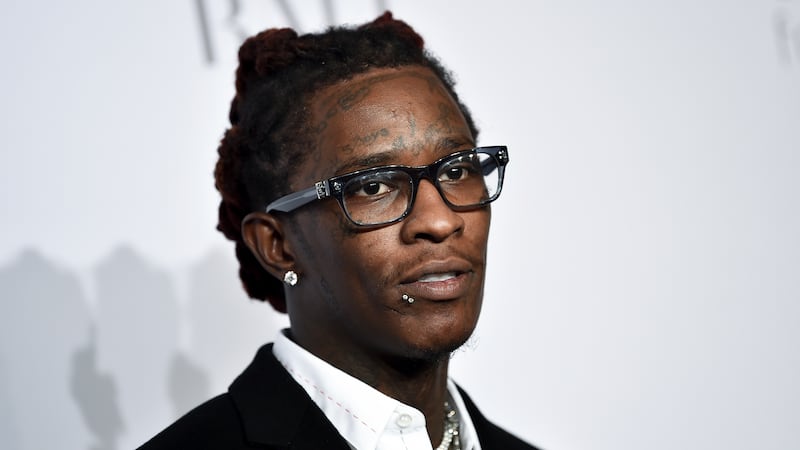 Published: Apr. 3, 2023 at 4:57 PM EDT
|
Updated: Apr. 3, 2023 at 5:08 PM EDT
ATLANTA, Ga. (Atlanta News First) - A prospective juror in the massive trial involving rapper Young Thug spent about five hours in jail Monday after filming court proceedings on her cellphone.
Judge Ural Glanville had initially sentenced Juror 1004 to three days in jail. She was arrested and led out of the courtroom in handcuffs, but released later in the afternoon.
Glanville said the juror had violated the instructions given to the jury pool last month.
"I went through a very long and arduous process of telling people what they could not do and you violated that," Glanville told the juror, "and you put this trial in jeopardy by doing that."
The juror apologized for her actions.
YOUNG THUG'S TRIAL IS TAKING FOREVER. HERE'S WHY:
According to a Feb. 23, 2023, order from Glanville, 300 more jurors were summoned on March 17, with 300 more to be called on April 28 and another 300 on May 19. These come in addition to the hundreds that have already been called in a trial that could easily become Georgia's longest in history.
The summons call is part of the trial called voir dire, the process used by prosecutors and defenders to select a fair and impartial jury. During voir dire, the jury panel is questioned by both parties' lawyers. The questions are intended to help the lawyers in the jury selection process. After voir dire, the jury is selected from the panel.
Jury selection in Young Thug's (real name Jeffery Williams) trial has already lasted longer than any other such process in Georgia history, outlasting jury selection in the Atlanta Public Schools cheating trial of 2015-16. That trial was also Georgia's longest trial in history, lasting eight weeks.
Hundreds of potential jurors have requested exemptions from service for a variety of reasons: child care and elderly patent care obligations, medical reasons and professional hardship, among others.
Williams is facing eight criminal counts under a federal law that was originally enacted to fight organized crime.
The federal Racketeering Influenced and Corrupt Organizations (RICO) law was passed and signed into law in 1970 by President Richard Nixon. According to the U.S. Department of Justice, it allows prosecutors to link apparently unrelated crimes with a common objective into a prosecutable pattern of racketeering.
Copyright 2023 WANF. All rights reserved.