Court-appointed YSL defense attorneys concerned over low pay, long hours
Not a single juror has been chosen in Young Thug's massive RICO trial.
Published: Apr. 13, 2023 at 10:52 AM EDT
|
Updated: Apr. 14, 2023 at 10:51 AM EDT
ATLANTA, Ga. (Atlanta News First) - Two of the court-appointed defense attorneys in the massive RICO trial involving rapper Young Thug are raising concerns about their low wages and extremely high workloads.
Justin Hill was appointed by the Georgia Public Defender Council (GPDC), and represents Damone Blalock, one of the 14 defendants. Suri Chadha Jimenez represents Cordarius Dorsey.
They were joined by another attorney, Eric Johnson, during a Thursday afternoon interview that streamed live on Atlanta News First's digital apps.
Jury selection in Jeffery Williams' - aka Young Thug - trial has already lasted longer than any other in Georgia history. Previously, the state's longest jury selection was the Atlanta Public Schools cheating case back in 2014, which took eight weeks. The trial itself lasted eight months, and Young Thug's trial is expected to last at least nine months.
According to a Feb. 23, 2023, order from Fulton County Superior Court Judge Ural Glanville, 300 more jurors were summoned on March 17, with 300 more to be called on April 28 and another 300 on May 19. These come in addition to the hundreds that have already been called.
The summons call is part of the trial called voir dire, the process used by prosecutors and defenders to select a fair and impartial jury. During voir dire, the jury panel is questioned by both parties' lawyers. The questions are intended to help the lawyers in the jury selection process. After voir dire, the jury is selected from the panel.
FULL COVERAGE: YOUNG THUG TRIAL
Hundreds of potential jurors have requested exemptions from service for a variety of reasons: child care and elderly patent care obligations, medical reasons, and professional hardship, among others.
Over the past year, the GPDC has struggled to hire contract attorneys, despite doubling the rates last year it pays to take on serious felonies, like murder cases.
According to records obtained from the state agency in August, about 600 people were waiting for an attorney to be appointed to them. These are individuals not convicted of a crime, but waiting for their day in court, oftentimes while detained in county jails. The council represents 85% of all people charged with crimes in Georgia who cannot afford an attorney.
In a speech to the Georgia General Assembly in March, Georgia Supreme Court Chief Justice Michael Boggs told lawmakers there are more than 4,000 pending indictments felony cases in Fulton County. There are almost 14,000 unindicted felony cases currently pending in the county as well.
Last year, Fulton County created a public defender system because it says the GPDC could not retain or hire enough attorneys to represent people languishing in jail for months without representation.
The primary focus of Fulton County's program is limited to hiring attorneys for individuals charged with crimes that include multiple defendants. Public defense in Georgia typically includes one of three tiers: an attorney who works for the state's public defender office, an attorney who works in a conflict public defender office, or a private lawyer contracted by the state, known as a "C-3″ attorney.
Fulton County's "C-3″ system is intended to be a temporary fix to the county's crisis. It's funded with money from the American Rescue Plan Act, which the county received to recover from the pandemic. Superior Court Judge Robert McBurney helped get the program get off the ground. "These are not normal times," McBurney said in an interview this past October with Atlanta News First. "What our county is doing to address this, is not normal."
According to county records obtained through a public records request, the GPDC has referred at least 105 defendants in need of a "C-3″ attorney to Fulton County's system since November.
GPDC pays a flat $7,500 fee to private attorneys who agree to represent clients charged with murder. Many attorneys say that rate is not enough to cover the cost of the time, investigative resources and expert witnesses needed to take on serious felondies.
Fulton County's "C-3″ program pays contract attorneys $140 an hour to represent defendants charged with murder. Since the program launched last summer, it's assigned at least 42 cases to attorneys.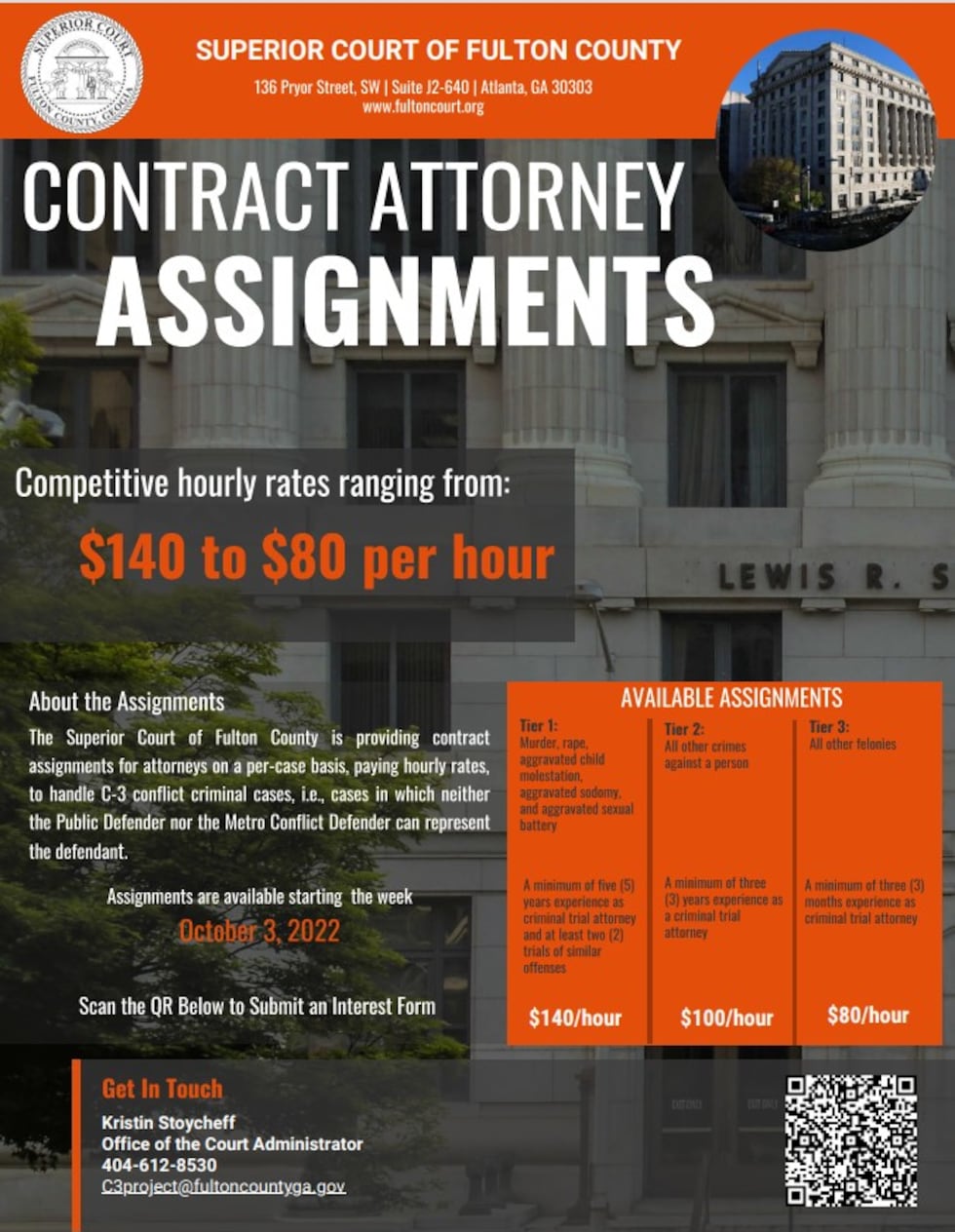 Williams is facing eight criminal counts under a federal law that was originally enacted to fight organized crime.
The federal Racketeering Influenced and Corrupt Organizations (RICO) law was passed and signed into law in 1970 by President Richard Nixon. According to the U.S. Department of Justice, it allows prosecutors to link apparently unrelated crimes with a common objective into a prosecutable pattern of racketeering.
RICO also provides for more severe penalties and permits a defendant to be convicted and separately punished for the underlying crimes that constitute a racketeering pattern.
Georgia is one of 33 states that has its own RICO law, but in the Peach State, the alleged criminal enterprises do not have to have existed as long as the federal law.
"The Sixth" is a series from award-winning investigative reporter Andy Pierrotti about the constitutionally-guaranteed access to legal representation in court, and the challenges that arise when the supply of defenders is limited. Part one in the series looks at defendants' desperate need for representation. Part two covers judges forced to take actions that may erode the public's trust in the judicial system. In part three, former public defenders explain why they left the job. Part four looks at the search for solutions. Part five interviews the head of the Georgia Public Defenders Council on her agency's attorney shortage. Part six examines the case of a murder suspect who sat in jail for years, waiting on a court-appointed attorney.
RECENT YOUNG THUG HEADLINES
Copyright 2023 WANF. All rights reserved.