Georgia native Brown, former Hawk Horford pose challenges for Hawks
Hawks are 'confident' and embracing 'underdog' role in series against the Celtics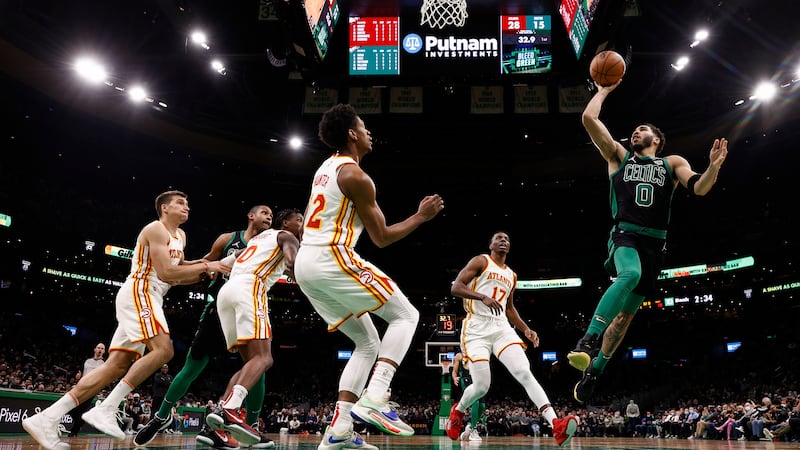 Published: Apr. 15, 2023 at 11:57 AM EDT
|
Updated: Apr. 15, 2023 at 11:58 AM EDT
ATLANTA, Ga. (Atlanta News First) - The Atlanta Hawks (42-41) will have their hands full when they travel to face the No. 2 seeded Boston Celtics (57-25) in the first round of the NBA playoffs on Saturday. But the team is fully aware of the challenges that lie ahead and remain confident and focused.
Georgia native and Celtics star guard Jaylen Brown and center Al Horford are among the leaders who aim to get the Celtics back to the NBA finals, hoping to win another championship in a city that is full of them.
"They're a tough team. They've got a lot of athleticism that can bother us," Brown said in a recent pre-game press conference. "We've got to go out there and handle our business and be very detailed. They've got a lot of energy, they're hungry, and they're young."
While he remains focused on one game at a time, the Marietta native says he's excited about the opportunity to play in Atlanta and it still holds a special place in his heart.
"It's home. Nothing like home. Went to high school there. Grew up there, and my friends and family are there," Brown said. "There are no other words to describe it as home. To be able to start this journey, hopefully encapsulating moving on to the next series will be a great feeling."
Horford continues to dominate in many ways on the court and hopes to continue to build momentum heading into the series against his former team. The 6-foot-9 veteran poses many challenges in terms of size, versatility, strength, experience, and leadership.
Horford was drafted No. 3 overall by the Atlanta Hawks in the 2007 NBA draft where he spent nine seasons of his career. In 2016, he joined a Celtics team that featured Isiah Thomas, and rookies Brown, and Jayson Tatum. He joined the 76ers in 2019 and OKC Thunder in 2020 before going returning for a second stint with the Celtics.
During the 2021 season, Horford averaged 10.2 points per game and played 29.1 minutes per game. During the 2022 season, Horford averaged 9.8 points per game, 6.2 rebounds per game, and nearly one steal and one block per game, according to ESPN stats.
Brown averaged 26.6 points per game, 6.9 rebounds per game, and 3.5 assists per game and has become one of the best players in the NBA through his relentless competitive drive, consistency, and dedication throughout his seven-year career.
While Brown and Horford are among the Celtics players to watch closely in the series, the Hawks are hoping being doubted and overlooked can drive them throughout the playoffs as well.
"The love of the game as a competitor, you believe in yourself and I believe in my teammates. For us, we don't normally worry about what people on the outside say and any type of distraction," said Saddiq Bey. "We're going to try to play as hard as we can and focus on us."
The underdog title has floated around a lot throughout the week as the Hawks were viewed by many to lose to the Miami Heat in the play-in tournament on Tuesday.
Trae Young has been one of the most dynamic players in the NBA since being drafted in 2018. The Hawks star hopes being overlooked in a series against the Celtics will motivate the team.
"I've been counted out my whole life so it's nothing new to me," said Young. "I don't let it affect me I just try to be myself and try to help my team get a win. We've got really good players who can play at a high level. We've beaten a No. 1 seed before since I've been here. I have confidence in my teammates and confidence in myself."
In addition to Young and Bey, the Hawks have Dejounte Murray, Clint Capela, De'Andre Hunter, Bogdan Bogdanovic, and John Collins who could all pose challenges for the Celtics.
Boston went 3-0 against Atlanta this season, and nearly all the rotation players from both teams missed at least one of those contests. Young averaged 31 points and 11 assists in two games against the Celtics; Jayson Tatum averaged 26.5 points, 11 rebounds, and seven assists in two games against the Hawks.
It'll be the 13th series between the Celtics and Hawks franchises, the first since Atlanta's six-game Round 1 win in 2016.
Despite the Celtics sweeping the 2022 season series, the team knows to avoid looking past the Hawks.
"Humility. Having respect for your opponent, and having respect for this whole process is a part of it. It's a beautiful game that we get to play," Brown said. "I've been in that position being the underdog, being the young team. Being young in this league and looking to make a name for yourself. We've got to be ready to go."
Brown is excited about the position the Celtics are in but feels the team still has a long way to go, starting with the Hawks.
"At the end of the day, we're all in the same position every time we step out on the court. Both teams are trying to compete to win. All of the stuff you've done in the past means nothing if you don't show up ready to play basketball."
The Hawks know the challenges of playing on the road in a tough environment can be, especially in Boston which is one of the most hostile environments for any sport.
"Playing in Boston it's going to be loud. It's going to be a fun series," said Young.
Hawks vs. Celtics Game Info
When: Saturday, April 15, 2023 at 3:30 PM ET
Where: TD Garden in Boston, Massachusetts
TV: ESPN
Watch the NBA and tons of other live sports without cable! Use the link to get a free trial with Fubo.
RELATED:
Copyright 2023 WANF. All rights reserved.