Young Slime Life attorney facing drug, battery, obstruction charges
Drama continues in massive RICO trial of Young Thug and YSL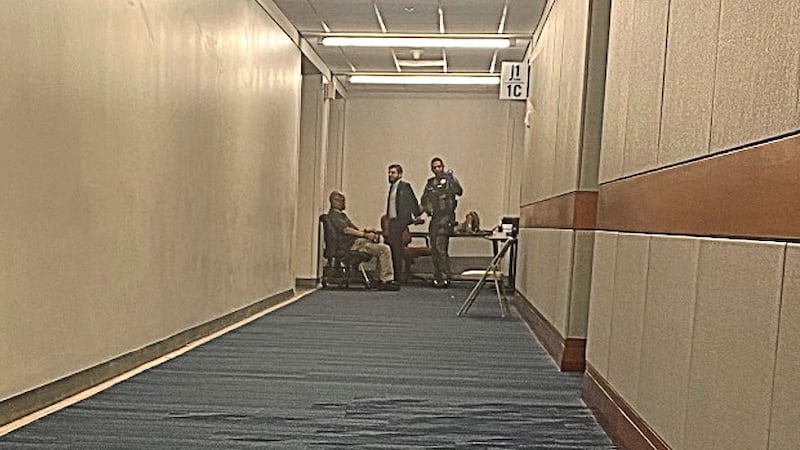 Published: Apr. 19, 2023 at 5:14 PM EDT
|
Updated: Apr. 21, 2023 at 2:19 PM EDT
ATLANTA, Ga. (Atlanta News First) - An attorney in the massive RICO trial involving rapper Young Thug was arrested Thursday morning as he was arriving for yet another long day of jury selection.
According to the Fulton County Sheriff's Office, Anastasios Manettas was arrested on charges of simple battery on law enforcement officers, possession (pills not in original container), obstruction and disruption of court proceedings.
Manettas represents Miles Farley, who is one of several defendants in the trial. Later Thursday morning, Judge Ural Glanville announced Farley's trial has been severed from the overall YSL case. That means the number of YSL-related defendants in the case is now 13.
Farley is accused in the death of Shymel Drinks in a feud between YSL and another gang.
Manettas' arrest came less than 24 hours after a Fulton County courtroom was evacuated after one of the defendants in the trial was removed from a holding cell after he began screaming. According to the sheriff's department, Rodalius Ryan, aka Lil Rod, was removed from the courtroom due to the suspicion of marijuana, "and did not want to be searched, per safety protocols."
"All of a sudden, a bunch of deputies got up, stood up, walked towards Mr. Ryan, and asked him to go to the back," Suri Chadha Jimenez, who represents defendant Coradrius Dorsey, said.
Once Ryan was taken to the back of the courtroom, where the holding cell is, the shouting started.
"When Mr. Ryan was taken to the back, we could hear him screaming from the back," Chadha Jimenez said. "So, obviously, a lot of people were upset. A lot of people were concerned."
Fulton County deputies ultimately forced everyone to leave the courtroom.
"They are making a spectacle of a very serious proceeding," said Chadha Jimenez. "Our clients have a right to a trial - a fair trial - without a circus surrounding it.
"The only thing I can think of is they're trying to get something else in the headlines to take away from the bed bugs, to take away from the steak dinners, to take away everything that is happening at Rice Street," he continued. "And our clients are suffering."
The Fulton County Sheriff's Office issued this statement:
Jury selection in Jeffery Williams' - aka Young Thug - trial has already lasted longer than any other in Georgia history.
ANF+: Criminal Defense Attorney Suri Chadha Jimenez talks about recent charges in YSL trial
RECENT YOUNG THUG HEADLINES
A few weeks ago, a potential juror was jailed for filming court proceedings. Back in January, the mother of Deamonte Kendrick - aka Yak Gotti - was arrested and charged with criminal attempt to commit a misdemeanor and issued a $1,500 bond. Latasha Kendrick is accused of trying to pass tobacco products to her son.
Also in January, Kahlieff Adams, a rapper who is also on trial with Young Thug was charged with possession of a schedule 2 controlled substance; possession of less than an ounce of marijuana; possession of an alcoholic beverage by an inmate; and two counts of willful obstruction of law enforcement officers.
Glanville has served on the court since 2005 and is also the chief judge of the Atlanta Judicial Circuit.
Glanville served on the magistrate court of Fulton County from 1995 to 2004. He earned a bachelor's degree in history from the University of Georgia in 1984 and a juris doctor, also from UGA, in 1987. He earned a master's in strategic studies at the U.S. Army War College in 2008.
Williams is facing eight criminal counts under a federal law that was originally enacted to fight organized crime.
The federal Racketeering Influenced and Corrupt Organizations (RICO) law was passed and signed into law in 1970 by President Richard Nixon.
According to the U.S. Department of Justice, it allows prosecutors to link apparently unrelated crimes with a common objective into a prosecutable pattern of racketeering.
Copyright 2023 WANF. All rights reserved.