Lil Wayne scheduled to perform at Rick Ross' annual car and bike show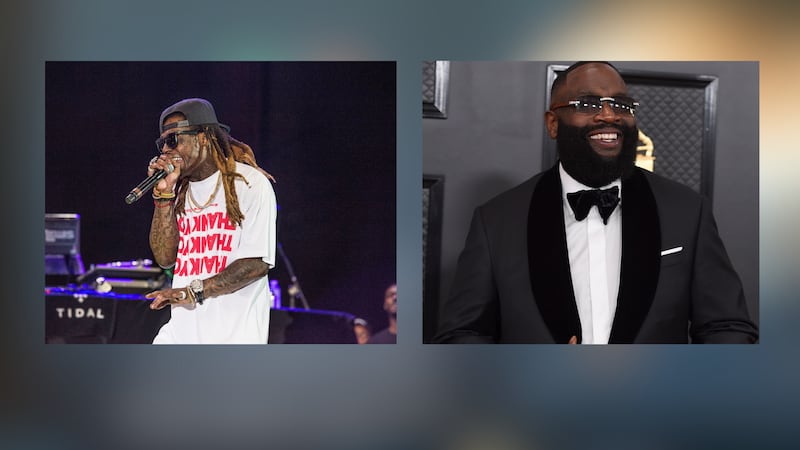 Published: Apr. 24, 2023 at 7:42 PM EDT
|
Updated: Apr. 24, 2023 at 8:26 PM EDT
ATLANTA, Ga. (Atlanta News First) - Hip-hop icon Lil Wayne is scheduled to perform at rapper Rick Ross' annual car and bike show at his metro Atlanta home in June, according to a post on Rick Ross' Instagram page and his official website.
According to the Rick Ross car show Instagram page, Lil Wayne is a scheduled performer on June 3 at Rick Ross' home in Fayetteville.
Lil Wayne's scheduled tour date at the Tabernacle in Atlanta on Saturday was rescheduled. Officials have not announced a new date or updates for those who purchased tickets.
There will be music, food, fun, and the best celebrity cars and bikes, according to the official website.
Officials advised that the car and bike show is "a closed venue. No parking on site or in neighborhoods."
Officials add that no walkups are advised and local police will be enforcing all local laws.
"Illegally parked vehicles will be towed at owners expense," officials added. No cruising is allowed.
There will be no on-site tickets offered. To purchase tickets, click here.
Rick Ross recently purchased rapper Meek Mills' Atlanta area home for $4,200,000 in cash.
The self-proclaimed "Biggest Boss" has evolved from a Miami rap legend into a successful businessman, mogul, and innovator over the last nearly 20 years. He is best known for hits such as "Hustlin", "Aston Martin Music," "Chevy Ridin High," "Pop That," "Made Men" with Drake, "Stay Schemin", "Lemon Pepper" with Drake, "Run It", and more.
In March, Ross performed at State Farm Arena for the Legendz of the Streetz Reloaded tour.
Lil Wayne and Rick Ross are close friends and frequent collaborators, teaming up for more than a dozen hit songs, including "Holla At Me Baby," "I'm So Hood Remix," "We Taking Over", "I'm On One," "100 Million," "John," "Thug Cry," "You Only Live Twice," "God Did," and more.
Known by many as one of the best rappers of all time, the New Orleans-born rapper received the Dr. Dre Global Impact Award at the 2023 Grammy Awards."I think Tha Carter V accurately displays how powerful Lil Wayne's lyrics can be. For those who don't agree, go listen to "Don't Cry," "Open Letter," or "Let It All Work Out." Plenty of introspective lyrics that are enough to give you the chills," said Chandler Power, the creator of the social media page @Liltunechiclassics.
He also helped found superstars Drake, Nicki Minaj, Tyga, and other talented rappers Euro, Gudda Gudda, and Mellow Racks on his Young Money record label.
RELATED:
Copyright 2023 WANF. All rights reserved.