Tatum and the Celtics visit Atlanta with a 2-1 series lead in playoffs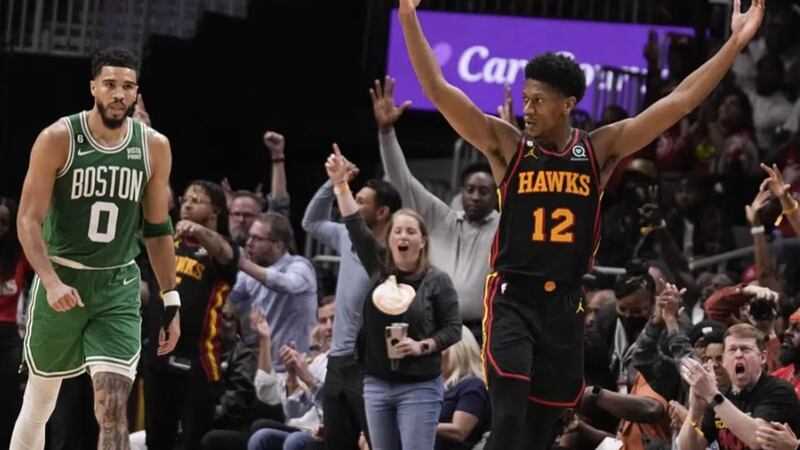 Published: Apr. 23, 2023 at 12:31 PM EDT
ATLANTA, Ga. (AP) - The Boston Celtics and Atlanta Hawks are preparing for another potential clash at State Farm Arena in Atlanta in the Eastern Conference first round with the Celtics holding a 2-1 lead in the series.
The Boston Celtics (57-25, second in the Eastern Conference) vs. Atlanta Hawks (41-41, seventh in the Eastern Conference).
Atlanta; Sunday, 7 p.m. EDT
FANDUEL SPORTSBOOK NBA LINE: Hawks -5.5; over/under is 232
EASTERN CONFERENCE FIRST ROUND: Celtics lead series 2-1
BOTTOM LINE: The Hawks won the last meeting 130-122 on April 21 led by 32 points from Trae Young, while Jayson Tatum scored 29 points for the Celtics.
The Hawks are 26-26 in Eastern Conference games. Atlanta is the top team in the Eastern Conference averaging 54.3 points in the paint. Clint Capela leads the Hawks scoring 10.7.
The Celtics are 34-18 in conference games. Boston is third in the league with 35.6 defensive rebounds per game led by Tatum averaging 9.7.
TOP PERFORMERS: Young is averaging 26.2 points and 10.2 assists for the Hawks. Dejounte Murray is averaging 20.8 points, 4.6 assists, and 1.7 steals over the past 10 games for Atlanta.
Derrick White is scoring 12.4 points per game and averaging 3.6 rebounds for the Celtics. Tatum is averaging 23.0 points and 6.8 rebounds over the last 10 games for Boston.
LAST 10 GAMES: Hawks: 5-5, averaging 119.6 points, 47.6 rebounds, 25.9 assists, 8.6 steals, and 4.7 blocks per game while shooting 47.9% from the field. Their opponents have averaged 120.2 points per game.
RELATED:
Copyright 2023 The Associated Press. All rights reserved.